How to choose this product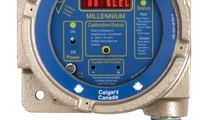 A detector monitors and signals the presence or absence of an object, a person, a substance or a danger within a certain area.
Applications
Industry uses detectors to determine the presence of an object or a product in an automated process, to monitor buildings for protection against fire or unauthorized entry, and to detect gas or potentially explosive atmospheres. In physics, they are used for particle and ray detection.
Technologies
A detector is a presence-absence device with an activation threshold. A dry-contact detector can be linked directly to a signaling device, such as an alarm. Certain models have a display. Data can be transmitted by wire, by radio signal or by bus to an automated device or a computer system programmed to react to such inputs. The information also can take the form of a test signal.

A detector is designed for a specific application, in contrast to a sensor, which can be used in a variety of settings. For instance, a fire-protection detector is sensitive to smoke or heat. Gas detectors protect workers from dangerous atmospheres. Presence, or proximity detectors signal the presence of an object or a person within a certain radius. A voltage tester enables an electrician to verify the absence of voltage in a circuit before beginning work.