How to choose this product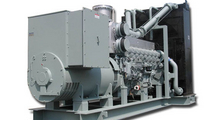 A diesel generator set consists of a diesel engine driving an alternator to produce electricity. Fixed or portable, the different models weigh from several kilograms to several dozen tons, providing a wide range of output power.
Applications
Generator sets are used where there is no access to the electrical grid or in special circumstances, such as at a construction or special event site. They are also used as emergency power supplies in critical settings, such as hospitals or data centers.
Technologies
These devices produce single- or three-phase electricity, with both amplitude and frequency regulation (50 or 60 Hz, depending on country). Mechanical induction or electronic regulation stabilizes engine rotation speed and, hence, that of the alternator.

Modern, inverter regulation employs converters and inverters to render the process independent of engine speed. This results in greater efficiency and less noise at off-peak demand.

Many generators are soundproofed. Overhead valve models are sturdier, more economical and quieter. As with any internal combustion engine, the generator is cooled by water or air.
How to choose
Choice will depend on maximum output power and fuel tank size, which determines the generator's operating time before refueling becomes necessary.