The Online Industrial Exhibition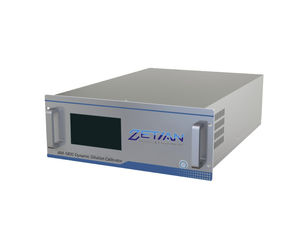 multifunction calibrator
AM-5800
Temperature: 5 °C - 40 °C
Voltage: 200 V - 240 V
Product Description Based on microprocessor technology, Dynamic Dilution Calibrator is developed for precise gas analyzer and supports multi paths calibration. With high-accuracy mass flow controller and standard gas, ...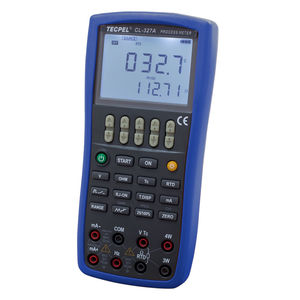 multifunction calibrator
CL-327A
Process Calibrator CL-327A general characteristics: 1, The basic accuracy of the output of up to 0.02%, the output is displayed as 6 digit 2, The output functions: DC voltage, DC current, ohms, analog transmitters, ...

pressure calibrator
HPC40 Series
Temperature: -20 °C - 50 °C
Pressure: 0 bar - 1,000 bar
The HPC40 Series handheld pressure calibrator is the world's first combined pressure and mA loop calibrator to be fully temperature compensated from -20 to 50°C. You can count on the same accuracy whether ...

temperature calibrator
Tynical series
Temperature: 0 °C - 50 °C
It has double function of simulation as well as generation and measurement. It features rechargeable batteries. The configuration can be done by keyboard. The accuracy is high around 0,015% FS - 0,025% FS (according to model). It is ...
See the other products
Gometrics, S.L.

multifunction calibrator
MF680 (PE)
... between performance, dimensions, ease of use and cost. The MF680 calibrator is a microprocessor-based digital pressure gauge. The instrument is equipped internally with a strain gauge sensor in stainless ...
See the other products
Gometrics, S.L.

pressure calibrator
G-586
Pressure: 1.01 bar - 20 bar
... electro-pneumatic calibration case is designed to generate and measure pressure. It is equipped with two digital pressure gauges and a 4-20 mA electronic calibrator and includes a ...
See the other products
Gometrics, S.L.

temperature calibrator
CS174
Temperature: -20 °C - 85 °C
Voltage: 220, 110 V
The CS Series is available in three versions, each of which provide a highly accurate, very stable temperature output which is ideal for the calibration and servicing of reference thermometers as well as general purpose temperature measurement ...

The calibrator KAL 84 is used for calibrating pressure sensors. It represents a combination of a pressure generator (hand pump) and a pressure meter with digital display. The instrument provides a simple ...

pressure calibrator
Druck DPI612 Flex
Pressure: 0 bar - 1,000 bar
These fully self-contained pressure test and calibration systems have interchangeable pressure modules for flexible ranging, generate pneumatic or hydraulic pressures, measure process signals and supply loop power. They ...

loop calibrator
Fluke 707Ex
Voltage: 0 V - 28 V
The 707Ex is an instinctively safe loop calibrator. It is a quick, one-handed tool with a large display and a simple quick-click push rotary button that is ideally used for mA loop checks in Ex zones. It is certified ...
See the other products
FLUKE

• Сalibration stands for digital and analog indicators • Micrometer heads with resolution 1 or 0,1 μm • Modification with Multifunctional electronic module with Touchscreen, error compensation and internal ...

temperature calibrator
1000 SERIES
Voltage: 0 V - 1,000 V
... edge digital and analogue electronics, combined with the latest manufacturing techniques to create the world's first ultra-portable full-function calibrator. Transmille have applied their expertise ...

pressure calibrator
LR-Cal LPC 300
The electronic pressure calibrator LR-Cal LPC 300 is used for high precision calibration of pressure instruments, e.g. pressure gauges, pressure transmitter, digital manometer, pressure ...
See the other products
DRUCK & TEMPERATUR Leitenberger GmbH

accelerometer calibrator
159.2 Hz, ± 1% | VX-1100
... combined in one compact body. * Corresponds to the charge output type and built in amplifier type accelerometers. * Digital display makes it possible to directly read the sensitivity on the spot. * Continuously ...

vibration calibrator
VC20, VC21, VC21D
Application • Rapid and easy calibration of vibration transducers for acceleration, velocity and displacement • Calibration and fault detection of vibration measuring systems • Calibration of low frequency equipment for whole-body vibration to ...

temperature calibrator
PTB 1100
Temperature: 200 °C - 1,100 °C
... high temperature thermocouples. The PTB 1100 Temperature Calibrator comes in two different models: - PTB 1100-TS temperature calibrator/source - PTB 1100-TC Temperature Calibrator/source ...
See the other products
Eurotron Instruments UK ltd

multifunction calibrator
GF302
Voltage: 75 mV - 1,000,000 mV
... The core technology function with digital signal processor (DSP) and 16 high-speed digital converters composed of high precision work frequency communication terminal. The signal source is DSP and 16 ...
See the other products
BEIJING GFUVE ELECTRONICS CO.,LTD.

thermocouple calibrator
MTP 7201
Temperature: -200 °C - 1,800 °C
Voltage: -100 V - 1 V
See the other products
MTP Instruments Inc

Voltage: 750, 300, 100, 30, 10 V
... accuracy DC voltage sources: 825V@20W max, accuracy 0.05% DC current sources: 30A@25W max, accuracy 0.05% Analog/Digital instruments Calibration Transducer and Energy meter calibration 3-years ...

temperature calibrator
MK 1300
Temperature: 0 °C - 1,200 °C
Weldotherm® recommends this robust precision measurement and calibration device for use on construction sites. Through the use of a toggle, temperatures can be simulated or measured precisely. The measurement device has a built-in reference ...

current calibrator
4835 series
Voltage: 0 V - 24 V
- Current source: 4-20mA, 0-20mA, 0-24mA - Voltage source: 4-20V, 0-20V, 0-24V - Basic accuracy: 0,025% - Ramp function in current and voltage source - Step function in current and voltage source - Simplified data ...

voltage calibrator
TK 100 C, KHT 1000 C, KHT 6000
... the probes in action. Depending on the application, they need to be calibrated and adjusted on a regular basis. These calibrators generate squarewave pulses of 100 V up to 6000 V with fast risetimes.

temperature calibrator
3000 series
Temperature: 33 °C - 300 °C
The 3000 series thermometer calibrators are small and lightweight heat sources, ideal for checking the accuracy of digital thermometers and temperature probes. The thermometer calibrators ...
See the other products
Electronic Temperature Instruments Ltd

temperature calibrator
02
Temperature: -200 °C - 1,370 °C
Portable Handheld Thermocouple Calibrator with an Accuracy of ±0.05% capable of measurement & simulation of variety of Thermocouples like R, S, B, E, K, J, T & N
See the other products
Nagman Instruments & Electronics (P) Ltd.

digital calibrator
MFP 30 / MFP 30 BV
suitable for analogue and digital dial gauges, precision indicators and lever gauge measuring devices as well as for each kind of electronic measuring sensors version BV (with image analysis): ...
See the other products
Feinmess Suhl GmbH

pressure calibrator
PI PRO series
Digital Test Gauge takes the concept of an analog test gauge, and brings it to a new level. The BetaGauge PI PRO combines the accuracy of digital technology with the simplicity of an analog gauge and ...
See the other products
Martel Electronics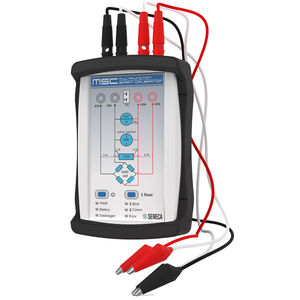 multifunction calibrator
MSC | Multifunction Smart Calibrator
MSC (Multifunction Smart Calibrator) is a flexible and universal tool for maintenance, calibration, testing, diagnostics and testing sessions. With an accuracy class better than 0.05% for each type of input/output and ...