How to choose this product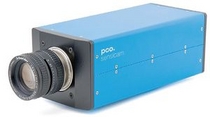 Digital cameras have charge-couple device (CCD) or complementary metal-oxide sensor (CMOS) array sensors.
Applications
Applications for digital cameras are many. Digital cameras have replaced analog camera, which are no longer manufactured.
Technologies
CCD cameras and CMOS cameras have the same operating principle. Each pixel (intersection of a line and a row) is read; information on brightness (the quantity of received photons) is extracted. Every pixel yields a value; the ensemble of pixels forms an image. An image is thus reduced to a table of numbers.
How to choose
These cameras digitally manipulate images and store them in digital memory. According to the application, one will choose between CCD and CMOS sensors, determine the desired sensitivity and the necessary resolution.
Advantages
- Price
- Easy to use
- Versatility