The Online Industrial Exhibition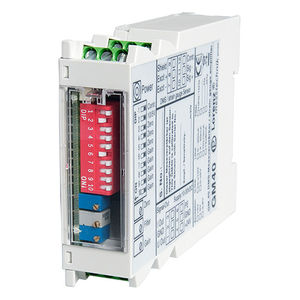 Voltage: 10 V - 30 V
Current: 4 mA - 20 mA
The DIN Mounting Rail Amplifier GM 40 amplifies the signals of SG sensors to output signals conforming to standards The narrow housing shape allows space- saving mounting near the sensors ...
See the other products
Lorenz Messtechnik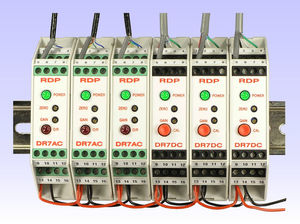 voltage amplifier
DR7 series
Voltage: 20 mV - 4,000 mV
Current: 4 mA - 20 mA
The DR7 is a DIN rail mounting amplifier designed to install in suitable cabinets along with other similar devices. To reduce electrical noise, system problems and the risk of accidental ...

signal amplifier
2730 series
Voltage: 10 V
Current: 0 A - 0.02 A
... wire technology > Output voltage +/- 10 VDC or 010 VDC > Output current 420 mA > Signal filtering > For installation on DIN top-hat rail

isolation amplifier
STV 5104 B
Voltage: 21.6 V - 253 V
Power: 3 W
... isolation as well as amplification with a high level of galvanic isolation for both input and output. The unit is available in a DIN rail housing with IP20 protection level.

isolation amplifier
KFA6-SR2-Ex1.W, KFA6-SR2-Ex2.W series
Voltage: 230 V
Current: 2 A
Power: 0 W - 1 W
Service intended: Isolation amplifier with intrinsically safe control circuit class [EX ia] II C for inductive contacts to DIN 19234 respectively NAMUR or mechanical contacts for hazardous area industrial ...
See the other products
Manfred Jünemann Mess- und Regeltechnik GmbH

Voltage: 0 V - 10 V
Current: 0 mA - 20 mA
For standard signals – with wide range power supply. For mounting on DIN rail (DIN EN 50 022 - 35). The universal isolating amplifier DTVU20 is applied for transforming ...

electronic amplifier
LKV-100-PUK-ST3-4
Voltage: 12 V - 26 V
Current: 100 mA
Frequency: 1 kHz
Fibre optics made of glass or plastic are used to transport the light from the sensor to the target and back.Fibre optics are especially suited for space-limited applications or for diffucult environmental conditions e.g. high temperature ...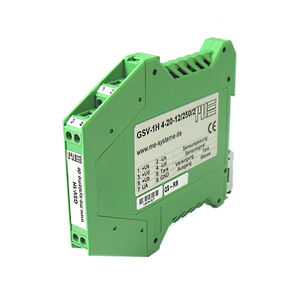 Voltage: 10 V
Current: 4 mA - 20 mA
Frequency: 3, 10, 250 kHz
... supply voltage: 11V..29V DC; weight: 83 g; environmental protection: IP40; The measuring amplifier GSV-1H is ideal for mounting on DIN rails (according to DIN EN50022). 2.5kHz ...
See the other products
ME-Messsysteme GmbH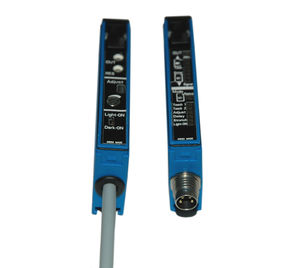 DIN rail amplifier
FX series
The Fiber Optic Amplifier is a photoelectric sensor from the FX Series. It is designed with a standardized DIN rail fiber optic for mounting power supplies. This device comes with a Teach-in ...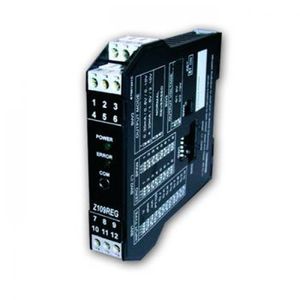 Voltage: 75 mV - 20,000 mV
Current: 0 mA - 20 mA
Altheris offers a wide range of industrial amplifiers, specially designed for use in industrial applications and tough surroundings. Some of these amplifiers are designed to accept up to six wire inputs ...

strain gauge sensor amplifier
AME2
Voltage: 10 V
Current: 4 mA - 20 mA
The amplifier AME2 has been designed for amplifying small sensor signals of full bridge strain gauges to standardized voltage and current levels. The narrow design of the AME2 amplifier is exceptionally ...
See the other products
HAEHNE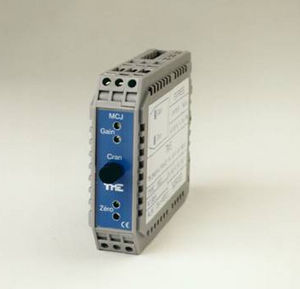 Voltage: 24 V
Current: 10 mA
Designed for strain gage sensors or potentiometers DIN rail fixture Front panel calibration shunt Compatible with the MCS trigger level modules The MCJ conditioner is fixed on a DIN ...

Voltage: 230 V
The switch amplifier transmits digital signals from a potentially explosive area. Available in designs with one or two channels.

voltage amplifier
IsoBlock Q
Voltage: 10 mV - 20,000 mV
... isolation DC to 100kHz Bandwidth Simple setup Drop in Voltage Sensing to channel isolation to any DAQ DIN rail fixturing for fast setup Details The IsoBlock Q module was designed ...
See the other products
Verivolt

Voltage: 0 V - 10 V
Current: 0 mA - 20 mA
... The amplifier is housed in a DIN-Rail-enclosure with 10 poles according to DIN 43604. The HE 500 is a powerful measuring transformer with galvanic isolation. Besides ...
See the other products
HESCH Industrie-Elektronik GmbH

signal amplifier
LP22, LP12.1
Voltage: 0 V - 10 V
Current: 0 mA - 20 mA
... as Eurocard wit front panel type 3U/14HP, supply voltage 230V AC Option: EMC-protective housing (IP20) for mounting on DIN-rail; PID-Controller Z2 for tension/pressure/dancer control; data logger ...
See the other products
LIEDTKE

Voltage: 24 V - 230 V
Current: 4 mA - 20 mA
The MIU10 amplifier is suitable for measuring high DC currents in power distribution systems for public transport networks. The MIU10 measuring equipment, with its high voltage isolation, ensures safety for the equipment ...
See the other products
Secheron

Voltage: 24 V
The PA-10 Series, manufactured by PULSElectronic, is a compact load cell transmitter equipped with a DIN-rail mounting and trimming potentiometer. It has a voltage supply of 12 V DC, power supply of 24 ...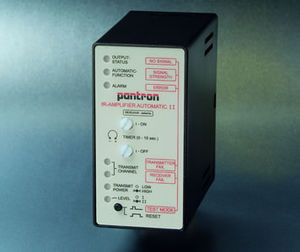 amplifier with manual or automatic setting
ISG-Serie
Voltage: 115, 230, 24 V
ISG-A series: Single channel opto sensors with automatic setting, providing high sensitivity over the full range. ISG-N series: Single channel opto sensors with manual setting, providing high range, high power and dust immunity.
See the other products
Pantron Instruments GmbH

... effects or the digital filters on the input weight. The information can be stored in a CSV file. The series is mounted on a DIN-rail. The series is used on machine engineering, processing industry, asphalt ...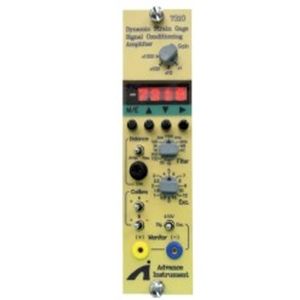 ... conditioning of strain gage and transducer inputs in the most severe operating environments. 7310 Signal Conditioning and amplifier's low- level signals to high-level outputs for multiple channels can be simultaneously ...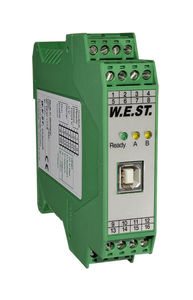 Digital power amplifier for single solenoid and double solenoid valves Usable as a replacement of PAM-195, PAM-196 and PAM-197 For all typical proportional valves of all manufacturers USB interface ...
See the other products
W.E.S.T.

switching amplifier
RLS01
Voltage: 250 V
Current: 6 A
... RLS01 series from IMB, is an output relay that is especially designed for switching amplifiers that have a relay output of 250 VAC/6 A. Its specific use is for amplifier switching to PNP DC outputs.
See the other products
IMB Industrielle Messtechnik

signal amplifier
M-3200 series
Voltage: 0 V - 10 V
Current: 5 mA
Montalvo's Standard M-3200 Strain Gauge Load Cell Amplifier is used in conjunction with one or two load cells to indicate and monitor web tension by amplifying the load cell signal.
See the other products
MONTALVO

Voltage: 0 V - 10 V
EM-M26 is designed to control the standard signals in automation systems. Input range is selected with DIPswitches. Trip value and hysteresis are set with user accessible adjusts. Adjusts and scale are located on top of the unit. In addition ...