How to choose this product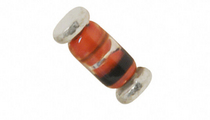 A diode is an electronic component which allows current to flow in only one direction. It can range from a tiny model for an electronic board to larger, screw-in types for high-current use.
Applications
Diodes are used principally to rectify alternating current, including in Graëtz bridges for full-wave rectification. They also can protect against reversed polarity in DC circuits. Light-emitting diodes (LED) are used for lighting and displays in optoelectronics. Laser diodes carry information and are found in some lasers and optical amplifiers, in telemetry and in disc readers and writers.
Technologies
A p-n semiconductor junction is the heart of the diode. It allows current to flow in the forward direction with a small, steady voltage drop. It prevents current flow in the reverse direction up to its breakdown voltage. Zener diodes, which are used as voltage regulators, are not damaged by this reverse flow. TVS diodes use the Zener effect in their avalanche, or surge protection role. Schottky diodes are characterized by reduced DC voltage drop and fast operation. They are used as rapid power rectifiers in converters and switched mode power supplies.
How to choose
Choice will depend primarily on DC power range and reverse breakdown voltage.