How to choose this product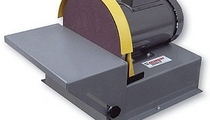 A disc sander is a device that sands a surface with a rotating abrasive disc. It can be handheld or mounted on a base.
Applications
Sanders are used to alter the finish of a surface before polishing or the application of varnish, paint or another coating.
Technologies
Disc sanders are rotary devices.The discs are usually made of abrasive paper with different grit characteristics for gradual smoothing of the surface. Eccentric, or orbital sanders add planetary motion to rotary movement.
How to choose
Workshop models are stationary; the workpiece is moved into contact with the rotating disc. This offers greater safety when sanding a large number of workpieces. Handheld models are suitable for small surfaces.
Advantages
- Precise sanding
- Even surface roughness
Disadvantages
- Sands small surfaces