The Online Industrial Exhibition

The IMPACT technology suite is designed to lead mining communications and digital infrastructure into the future. MSTs' Proximity Detection System provides additional engineering control to risks associated with mobile equipment ...

graphic displays
REX004864A
0.71" Graphic Small OLED Display, 48x64 OLED Small Display Model No. REX004864A
See the other products
Raystar Optronics, Inc.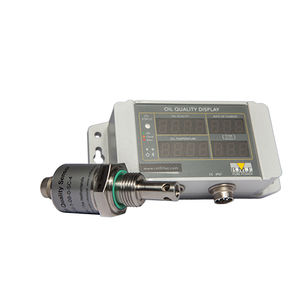 The Oil Quality Display is a simple but powerful device which allows you to read the quality and temperature of the oil from a sensor without a PC. This enables you to set up the display box on site and ...

... effective, metal-enclosed industrial display with an optional integrated PC. It can be mounted to a wall, ceiling or column and it can operate 24/7. 32" to 98" LED Industrial Displays Integrated ...
See the other products
Ann Arbor Technologies

The multi function display MFD-Titan combines the functions of a control relay easy800 with user-friendly visualization. It offers the opportunity to display, operate, control, regulate and communicate ...

The LED Tank Display EA01 is developed especially to fit into heavy duty applications in fire engines. It serves as an exact level teleindicator of water and foam tanks. Principles of Operation Filling ...

Local display of process pressure improves safety and quality control of the gas delivery systems. The LR056 series pressure transducer display allows a 4-20mA sensor to digitally display ...

Monochrome, graphic data display with three illuminated keys. The display is 128 x 64 pixels. Display is encased within a toughened bezel with a hard coated polycarbonate window. For ...
See the other products
Storm Interface

TFT displays
UReady-14300 series
... integrated displays that offer a range of features from exceptionally high resolution in small format sizes to rugged, robust, 4K ready options with slim designs and fantastic readability. Our original UReady family ...
See the other products
Densitron Technologies

Red Lion's LD2 2.25 inch (57 mm) high LED displays are easily read from a distance of up to 130 feet. Housed in an extremely rugged aluminum case the product meets NEMA 4X/IP65 specification making this ...
See the other products
Red Lion Controls

... robust unit for operation and display of controller components Usable with sysTemp® and flexotemp® Well-readable three-digit 7 segment LED display for each zone Four-digit ...
See the other products
psg

Large display VP100/20 with good visibility and 50mm height LED characters, working as radio clock with integrated DCF77 receiver free running clock (with or without automatic changeover in daylight saving) or ...
See the other products
Meinberg Funkuhren

numeric displays
PAX-LC-TG
Micro- Processor Controlled Display Device in Small Housing, for Passive and Active Signals, RS 232- Interface.
See the other products
Lorenz Messtechnik

dot-matrix displays
VE100-304SU
The Patlite VE100-304SU is a real-time LED display board that deliver simultaneous monitoring of product performance to workers and supervisors. This device shows 100 mm character size, and fully supports ...
See the other products
PATLITE

Stores up to 26 pages of messages 100,000 Hr. Multi-color LED Lamp Technology Five message speed settings 7 message operation modes 1 month typical memory retention Built-in real-time clock, 12 or 24 hour format ...
See the other products
EDWARDS SIGNALING

numeric displays
LH70 series
High performance counter for Mille and Lathe applications. Counter for Milling machine and Lathe Display Resolution Switching Machine error compensation Data Storage. Reset/Preset Detecting Reference ...

OLED Display A SmartSwitch OLED display is a display with capability to run video or image sequences. It has a push-button form factor for use in control panels and keyboards. Ideal ...
See the other products
NKK Switches

... Tehnologies manufactures display systems that can be used in a countless types of applications. These display systems are produced with distinct features and functions for each unit making them suitable ...

numeric displays
DA 10, 12
... with additional relay outputs (DA 12/14) for electronic t ransducers. Description Digital display unit in plastic housing for control cabinet mounting. With grey display and automatic ...
See the other products
AFRISO-EURO-INDEX

... HF 87 series is an array of digital load cell displays and force management monitors that is suitable for DYNASAFE™ sensors. This device has dynamic effects damper as well as 3 adjustable ...

graphic displays
HD Series
... range of displays: the HD1 handheld display with 3.5-in LCD, the HD2 rugged, versatile handheld display with 3.5-inch LCD, and the HD3 small form-factor display with ...

LED displays
KCSA02 series
Features - 0.2 inch digit height. - Low current operation. - Excellent character appearance. - Mechanically rugged. - Package :300pcs / reel. - Gray face, white segment. - Moisture sensitivity level : level 2a. - RoHS compliant. Description The ...
See the other products
KINGBRIGHT ELECTRONIC

numeric displays
max. ± 9999.99 mm | DG-1270
English / Metric switchable display. * 2 Gage Sensor inputs. * Upper and Lower Limit settings. * 1 Revolution TIR ( Max. - Min. = Range ) * Preset Capability * Add / Subtract function * RS-232C Output
See the other products
Onosokki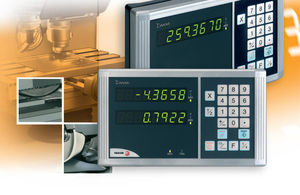 numeric displays
40i series
Preset function Absolute, Incremental and Io reference (home) signals Resolutions from 0.1 microns on Feedrate and movement alarms Axis coupling Hysteresis factor Linear axis sag compensation Calculator function Easy setup and diagnosis Energy ...

graphic displays
3.5" | enGage® VI
CAN and Serial Communication instruments from Curtis display vehicle data and fault information. These gauges connect directly to Curtis controllers and I/O modules, easily, seamlessly and conveniently. The communication ...
See the other products
Curtis Instruments