How to choose this product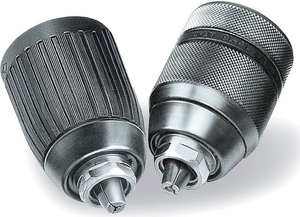 Drill chucks are three-jaw, self-centering chucks that hold drill bits in place for drilling operations. They can be used on cordless drills, drill presses, lathes and computer numeric control (CNC) milling machines.
Applications
These devices hold bits in place for drilling operations. They also can hold other rotary tools, such as reamers and screwdriver bits.
Technologies
Drill chucks consist of three concentric jaws whose diameter does not exceed 25 mm (about one inch). The jaws are manually opened and closed, either with or without a key.
How to choose
Choice of drill chuck depends on the nature of the machine or tool to which it will be attached. For CNC or lathe drill chucks, be sure to determine the machine's spindle type.