The Online Industrial Exhibition
{{#pushedProductsPlacement4.length}} {{#each pushedProductsPlacement4}}

{{#if company.requestButtonsVisibility.requestButtonQuestion == "ACTIVE"}}
{{elseif company.requestButtonsVisibility.requestButtonWhereToBuy == "ACTIVE"}}
{{/if}}
{{product.productLabel}}
{{product.model}}
{{#each product.specData:i}} {{name}}: {{value}} {{#i!=(product.specData.length-1)}}
{{/end}} {{/each}}
{{{product.idpText}}}
{{#if product.newProduct}} {{/if}} {{#if product.hasVideo}} {{/if}}
{{/each}} {{/pushedProductsPlacement4.length}}
{{#pushedProductsPlacement5.length}} {{#each pushedProductsPlacement5}}

{{#if company.requestButtonsVisibility.requestButtonQuestion == "ACTIVE"}}
{{elseif company.requestButtonsVisibility.requestButtonWhereToBuy == "ACTIVE"}}
{{/if}}
{{product.productLabel}}
{{product.model}}
{{#each product.specData:i}} {{name}}: {{value}} {{#i!=(product.specData.length-1)}}
{{/end}} {{/each}}
{{{product.idpText}}}
{{#if product.newProduct}} {{/if}} {{#if product.hasVideo}} {{/if}}
{{/each}} {{/pushedProductsPlacement5.length}}

Washing effluents from the steel industry with high flows and a low to moderate content of well defined solids like mill scales and slag has been proven optimal for the spiral dewaterer. Optimal for dewatering of slag and mill scales AddThis ...

The steam tube dryers manufactured by metso is an indirect dryer that has been developed to provide efficient, and reliable quality performance by utilizing steam as its heating mechanism and is widely ...

With the fluidizing phenomena developed by fluid bed dryers, the materials can act like a fluid when the right amount of velocity is passed through the bed. The excellent solids/gas contact leads to high heat transfer ...

These Impact dryers utilizes rotary impaction to disperse agglomerated material as well as a vertical entrainment pipe for drying materials. It features straightforward maintenance via its retractable carriage design, ...

Features Metso has installations all over the world that serve almost any industry's cooling and drying needs. What sets Metso apart from the competition is the specially designed lifters that allow the material to be showered into ...

The Rotary Dryer is designed for effective drying, polishing and producing shiny surfaces. The dryer is filled with Supervelat (drying agent) while the other wet components are loaded into the machine ...

The Rosler Belt dryer R is a heavy duty belt fed dryer designed to deliver versatility and efficiency for a wide range of applications. The unit is capable of processing asymmetrical, large components ...

centrifugal dryer
R ... HTZ
The Rösler HTZ series are high performance centrifugal dryers designed to provide efficient and stain free drying for a myriad of applications. The units are manufactured from high grade materials and components and uses ...

centrifugal dryer
R ... TT
... polishing cup-shaped or flat components which would otherwise carry out drying media or 'blank' the separation sieve in rotary dryers.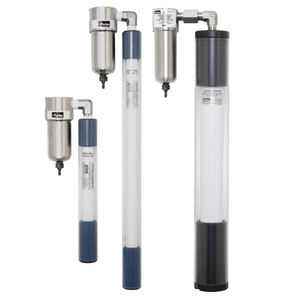 desiccant dryer
PNEUDRI series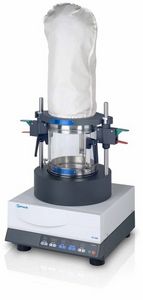 fluidized bed dryer
TG 200 | 40 - 130 °C
The Fluid Bed Dryer TG 200 from Retsch is designed for gentle drying of organic, inorganic, chemical or pharmaceutical bulk materials without localized overheating. The powerful fan of the fluid bed dryer ...

dry air dryer
DRYMAX E30, E60
The DRYMAX E30 and E60, that is manufactured by WITTMANN BATTENFELD, is a dry air dryer that has been developed to provide efficient, and reliable quality performance. Its compact, minimal footprint design is integrated ...

The PDC, Portable Drying Conveyors, is a maintenance free vacuum blower that features a 3 motor that is sensible for simply in time and integrated dry air conveying that determines the minimum material that can be stored. It has a central ...

dry air dryer
DRYMAX G30, G70, G120
The Wittmann DRYMAX Aton2 F70 is a segmented wheel dryer particularly manufactured for the integration of a vacuum blower in the frame under the drying unit. Up to six conveying units can be connected to this blower thus, ...

dry air dryer
DRYMAX Aton VS
The BS/6 compact dryer option for the DRYMAX Aton2 allows for the integration of a vacuum blower in the frame under the drying unit. Up to six conveying units can be connected to this blower. Thus maximum flexibility ...

desiccant dryer
DRYMAX E 180–1200
The DRYMAX E 180–1200 Battery Dryers are equipped with 2 desiccant beds, that provides continuous process air with constant dry air quality for excellent drying of plastic resin. It also features four switch over valves ...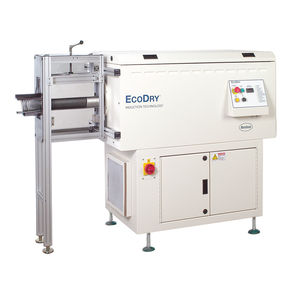 ... measures at 45 inches long. The product requires a part of the floor space with the conventional dryers but still it only consumes low wattage. The dryer also features open door interlock switches, alarms, ...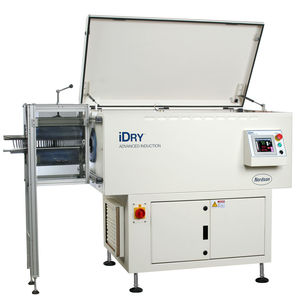 ... iDry® Induction Compound Dryers utilize patented induction-heating technology for water-based end compounds. These dryers feature low cost operation and occupy a smaller floor space than convection dryers. The ...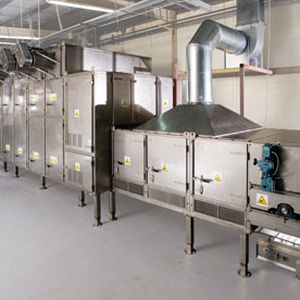 dryer with belt conveyor
AeroDry™
AeroDry™ Multi-Pass Conveyor Dryer Maximum drying results with a small footprint. Bühler designs and manufactures its custom multi-pass conveyor dryers and ovens for use in drying and cooling a variety ...
See the other products
Bühler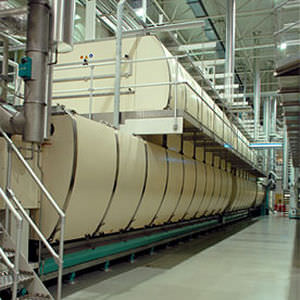 fluidized bed dryer
C-line™ TDHE/ TDHF
C-line™ Long-Goods Pasta Dryer TDHE/ TDHF An optimal drying process is decisive in ensuring the consistent high quality of pasta. Bühler's C-line™ long-goods pasta dryer applies modern process control ...
See the other products
Bühler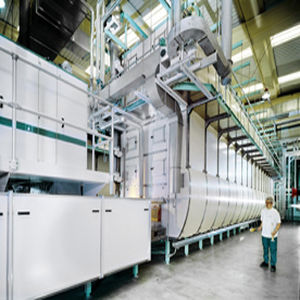 fluidized bed dryer
TTHD/TTHE
C-line™ Short-Goods Pasta Dryer TTHD/ TTHE A product-friendly drying process plays a decisive role in creating high-quality pasta. With the C-line™ short goods pasta dryer, absolutely gentle drying of ...
See the other products
Bühler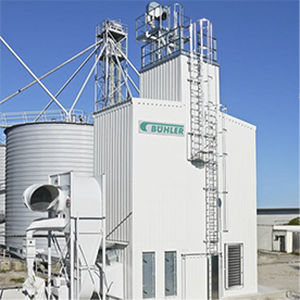 The proper conservation of grain and oil seeds safeguards their quality and their value for the producer. In addition to cleaning and the method of storage, drying plays a key role as well. It is only when the moisture has been removed ...
See the other products
Bühler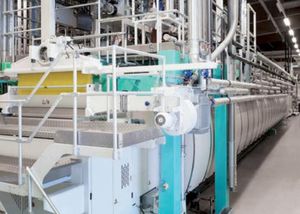 hot air dryer
Ecothermatik™
Ecothermatik™ long-goods pasta dryer The Bühler Ecothermatik™ dryer is a revolutionary new development for drying long-goods pasta. Sophisticated control of the drying air means that Ecothermatik™ dryers ...
See the other products
Bühler

PVA vacuum / gas or air circulation drying systems are available as batch systems in chest type construction for integration in cleaning lines or as a separate cabinet version and, where special applications are involved, ...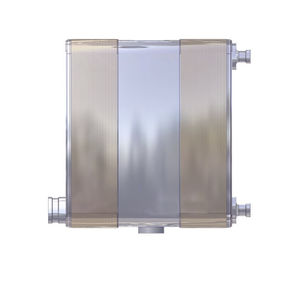 hot air dryer
ADWIS series
SWEP has achieved a breakthrough in compactness with ADWIS, one of the smallest air dryers on the market. The ADWIS combines two BPHEs (a refrigerated heat exchanger and a recovery unit) sandwiching an integrated separator ...

... LUXOR E A and LUXOR EM A dryers with optional ETA plus® energy saving technology are specifically designed to supply consistently low dew-point air to one drying bin, while reducing energy consumption. The LUXOR E ...

... energy costs. motan's fully insulated LUXOR HD hot air dryers cover a performance range from 7 to 1100 kg per hour. The dryers can either be mounted directly on the throat of the processing machine ...

LUXOR S dryers operate at maximum efficiency and with minimum operating maintenance. The opportunity to have multiple material bins connected to one dry air generator provides our customers with maximum flexibility and ...

LUXOR A series dryers with ETA-process® and ETA plus® energy saving technology are specifically designed for supplying dried plastic granulate for many different plastics processing applications. They have either two ...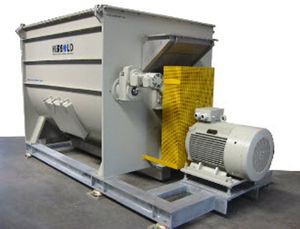 centrifugal dryer
TM series
... wet material fraction is fed into the upper hopper situated on the end of the dryer establishment. The rotor of the mechanical dryer conveys the material through the dryer from the inlet ...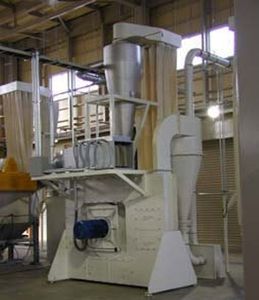 hot air dryer
TT series dryer
The TT series, manufactured by NEUE HERBOLD Maschinen-u. Anlagenbau GmbH, is a drying unit for plastics recycling. This machine is a down stream unit designed to attain an ultimate material (granulate/film flake) moisture level of 3% ...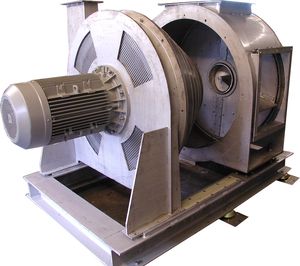 centrifugal dryer
T Series
The NEUE HERBOLD - step dryer Series T are used for gentle drying of Kunststoffmahlgütern from PET plastic. Besides these PET regrinds this aggregate shall be dried gently other ground materials also capable. They ...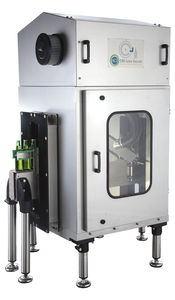 air blast drying system
DRI-Line LNL series
ACIs LNL drying system is a fully enclosed unit as both the EP10A compact blower and the chosen air delivery device(s) are housed within a sealed, robust acoustic enclosure. This not only protects the blower unit from ...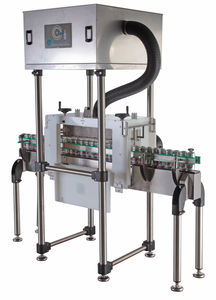 can drying system
DRI-Line EL series
... to a leg kit that can be easily positioned either to the side or directly above the conveyor / filling line. ACIs EL Drying System configuration protects the compact blower from any spray contamination emanating from ...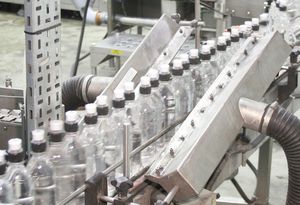 cylinder drying system
RM series
Without compromising reliability or performance, ACIs RM Remote Blower System is designed to offer a bare bones drying solution that does not compromise drying performance efficiency. This system is ideal particularly for budget restricted ...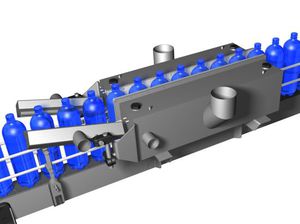 Derived from ACI Air Knife Technology, JetPlates have been purposely designed to improve the efficiency of ACIs drying systems whilst also simplify installation and on-site maintenance. The benefits and features of ACIs ...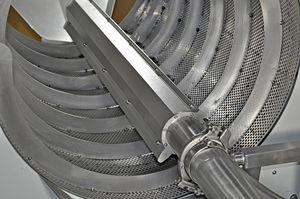 ACIs Spiral Component Dryer comprises a single helix rotating drum constructed from perforated stainless steel, mounted horizontally. Parts enter the drum via a simple chute whereupon they are exposed to a blower-driven ...

... from dust, the dryer can also be fitted with a dust extractor.Easy integration into the mass finishing processA rubberised feed hopper for your workpieces is located on the side of the unit, so that you can effortlessly ...

rotary drum dryer
DLT series
... screen drum and automatically fed back into the heating zone. The DLT dryer has a screen basket extension for full granulate emptying of cup-shaped parts.Dust-free workpieces The DLT dryer features an ...

hot air dryer
BF-HL series
Contactless drying by means of hot airThe BF-HL belt dryer allows you to dry your workpieces using hot air. This procedure is particularly beneficial when your workpieces have the following characteristics: Sensitive ...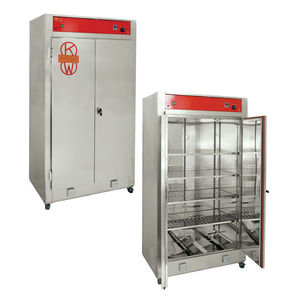 Structure and system the internal chamber and shelves are made of stainless steel. The external cabinet is brushed in AISI 0 stainless steel sheet and comes equipped with a split opening door as well as sealing. Heating is accomplished ...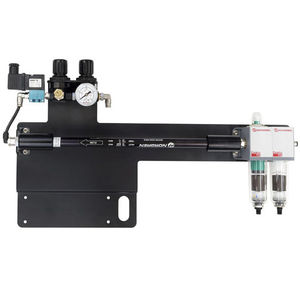 THE PERFECT SOLUTION FOR AVOIDING MOISTURE IN THE EQUIPMENT Polyurethane-based reactive adhesives need a completely dry atmosphere before they are applied as they crosslink in contact with the moisture in the atmosphere, hardening quickly.

plastic pellet drying system
EVS series
... pellets drying system specifically designed to be used on materials with high filler content including mineral fillers and glass fibers. The vibration drying mechanism is fitted which is a better substitute to the conventional ...

fluidized bed dryer
S+L series
ECON's pellet dryers, S+L, can be combined with the ECON water treatment and drying system, but they are also suitable for stand-alone operation. These dryers are often used in the recycling industry ...

For more than a century, food products have been dried industrially. Since its early years ANDRITZ Gouda has been specialized in food processing lines, based on advanced drum drying technology. Nowadays it is used for a large range of ...
See the other products
ANDRITZ AG

A process for drying and granulating The ANDRITZ drum drying system, DDS, dries and granulates different types of municipal, industrial, and agricultural sludges. The dewatered sludge is granulated in a mixer tailored to the application. ...
See the other products
ANDRITZ AG

The rotary drum dryer is suitable for drying woody biomass, agricultural products, and municipal solid waste (MSW). For the production of alternative fuels as well as in the area of waste-to-energy, ANDRITZ Vandenbroek ...
See the other products
ANDRITZ AG

... bed drying system with direct feeding converts dewatered sludge into almost dust-free granules with > 90% DS. The thermal heat for evaporation of the water is transferred indirectly by a heat exchanger immersed in the ...
See the other products
ANDRITZ AG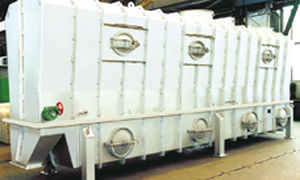 ... resulting in higher operational availability and lower maintenance costs. he DDC can be designed as dryer only, cooler only, or as a combination of dryer and cooler. Heat and mass transfer between the ...
See the other products
ANDRITZ AG

fluidized bed dryer
SGA series
EURODIFROID gas dryers operate on the principle the "Direct expansion " . They allow to ascertain the absence of water in the analyzers . The gas to be cooled enters a separator exchanger cooled by the refrigerant gas ...

... has many other benefits... We offer dry air dryers which dry any materials, as you require. If drying is required immediately before processing, our mobile dryers in the KKT range or our very small ...

... drying quality. Depending on the version, the KKT dryers are fitted with containers with drying volumes ranging from 40 to 100 litres. Containers can be added if higher volumes are required. Like the dryer ...

From a dew point control system to the patented ECO control system, the CKT dry air dryers are designed to function reliably and for easy operation. The sophisticated technology in the CKT meets all the demands for careful ...

The EKO dry air dryers meet the demand for contemporary design and proven technology. They are based on the much-tested CKT technology. The design and technology of details such as the sliding lock, the flow monitor, ...

We at KOCH-TECHNIK have a great deal to offer processors of PET granulate, particularly where a customised solution is needed. The Koch PETKO systems were developed in collaboration with the Fraunhofer Institute especially for the PET ...

... characteristics of the mixer and vacuum dryer This jacketed and vacuum rated version is an ideal mixer dryer, vacuum dryer, and reactor. Spiral tools, arms and shaft are jacketed and ...

... characteristics of the conical vertical dryer and powder dryer This jacketed and vacuum rated version is an ideal conical mixer, vertical dryer, and reactor. Spiral tools, arms and shaft ...