How to choose this product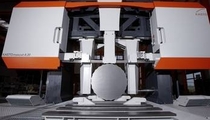 A dual column band saw is a horizontal band saw guided by two vertical columns. The blade rides on two wheels.
Applications
The dual column band saw is used for all types of cross-cutting.
Technologies
Various versions of the dual column band saw exist. It can be automatic or semi-automatic and comes in heavy-duty models. As with all band saws, it can effectuate angled, or miter cuts.
How to choose
Required cutting depth will determine the height of the columns. Cross-section and hardness of the material to be cut will affect capacity.