The Online Industrial Exhibition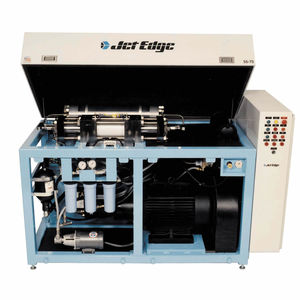 Flow: 5.7 l/min
Pressure: 4,100 bar
... bar) UHP flow rate: 1.5 gpm (5.7 lpm) Max rated orifice size: .018 in (.46 mm) Single piston, dual plunger, reciprocating pump Motor output: 75 hp (56 kw) The IP60-75 is our straight-tothe-point waterjet. ...
See the other products
JET EDGE

Flow: 0 us gal/min - 30,000 us gal/min
Pressure: 0 psi - 750 psi
... coupled, single or multistage submersible motor pump, with a cast or fabricated discharge pipe. The Floway® VSB (Vertical Submersible Pump) vertical close coupled, single and multistage ...
See the other products
WEIR Oil & Gas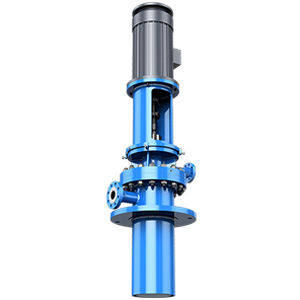 Flow: 6.8, 636 m³/h
Pressure: 69 bar
Head: 1,372 m
Product Description The VICR is a type VS6 vertically suspended can radial high performance pump that is suitable for prime fluids. Delivering High Head at Low Flows Nominal Rotating Speeds for Extended Life Cycle Design ...
See the other products
Goulds Pumps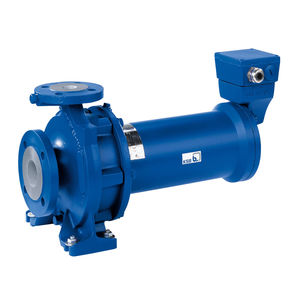 Flow: 3 m³/h - 250 m³/h
Pressure: 0 bar - 16 bar
Head: 9 m - 100 m
... single-stage centrifugal process (horizontal/vertical) pump which comes in a back pull-out framework construction. This pump is encased in a canned motor and is accompanied by a radial ...
See the other products
KSB S.A.S. - France

deep well pump
Byron Jackson SubM
Flow: 4,500 m³/h
Head: 800 m
Power: 1,650 kW
The Byron Jackson SUBM Deep-Well Submersible (Oil-Filled Design) Pump is ideally designed for the tough deep well operations. It features a heavy-duty, dependable, cost-effective, and long lasting design. Also, the tool ...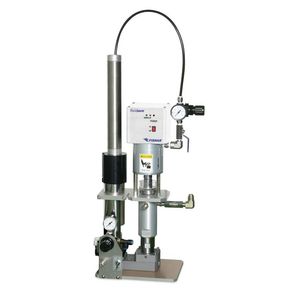 Flow: 80 l/min
Pressure: 30 psi - 995 psi
The EP1310C from FISNAR is a strong, single cartridge pump system that is used for controlled fluid transfer of 310 ml plastic cartridges and is suited with silicone type fluids. Its compact, lightweight design constructed ...
See the other products
Fisnar Inc.

self-leveling floor screed pump
S 5 EF
Flow: 90 l/min
Pressure: 25 bar
Head: 60, 40 m
S5 plastering machine a universal worm pump for dry mix and wet mortar that works from a big or a silo. The machine features an innovative modular design. The plastering pump comes in TM version too. ...
See the other products
Putzmeister

Flow: 5 l/min - 200 l/min
Pressure: 10 bar
Power: 180 W - 4,000 W
Vane-type pump as direct drive version for the low-pressure range. Standard-equipped with internal pressure relief valve. Nominal pressure: max. 10 bar Suction pressure: max. -0.4 bar Medium: Mineral ...
See the other products
HYDAC

Flow: 3.6, 6.2 m³/h
Power: 260 W
Engineered by Eaton, the nXDS61 range of dry scroll pumps are capable of enhanced pumping rates, minimized pressure output, reduced noise and power usage. With a gas ballast, these oil free units process ...
See the other products
EDWARDS

Pressure: 6 bar - 8 bar
Power: 20 W
... interval monitoring with easy start up and is best suited for organic and enamel powders. The Powder Pump PP06 offers the most powerful and versatile powder pump in the powder-coating market. These are ...

... 5000 is an ingenious gas measurement system that requires a single device for sampling and measuring. It has an automatic tube pump that is suitable with Dräger short-term tubes in addition to sampling tubes and systems. ...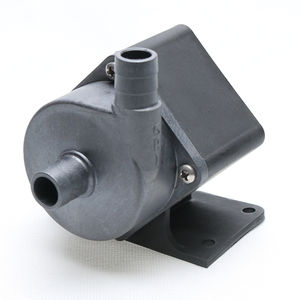 Flow: 9.46 l/min
Pressure: 50 psi
Head: 12'09"
... of fluids, GRI's Integrity Series Magnetic Drive Circulator Pumps offer a flexible and robust pumping solution to OEM fluid circulation applications. By manufacturing the motors and ...
See the other products
Gorman-Rupp Industries

capillary pump
1260 Infinity
Flow: 0 l/min - 0.0001 l/min
Pressure: 0 bar - 400 bar
... improved control and low flow rate flexibility. The capillary pump uses industry-leading Electronic Flow Control (EFC) for accurate gradient delivery, and ensures retention time reproducibility. It is ...
See the other products
Agilent Technologies - Life Sciences and Chemical

Flow: 2 m³/h - 100 m³/h
Pressure: 0 bar - 10 bar
Power: 0.75 kW - 90 kW
... the largest hose pumps around the world and can produce m³/h maximum flow. The unique roller design of Flowrox enables the pump to deliver 31 liters per single 360 degree rebellion with just 25 liters ...
See the other products
Flowrox Oy

torque wrench pump
PME, PMU series
Flow: 0.33 l/min - 3.3 l/min
Pressure: 48 bar - 800 bar
Power: 0.37 kW
The PME and PMU-Series of portable electric torque wrench pumps includes a portable two-speed pump. It is equipped with a standard heat exchanger package that cools the pump ...
See the other products
ENERPAC

food product pump
GP series
Flow: 0.56 l/min - 3 l/min
Pressure: 3 bar - 7 bar
Johnson Electric utilizes its wide range of DC Motor, Synchronous and EC Motor technologies to develop customized impeller mechanisms which generate high power, high efficiency, low noise subsystems. Platform modules ...
See the other products
Johnson Electric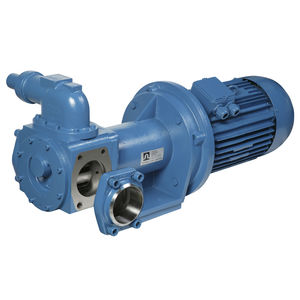 adhesive pump
1000 series
Flow: 0 us gal/min - 13.7 us gal/min
Pressure: 0 bar - 20.7 bar
The 1000 Series pumps work on interior gear formula and has been developed to meet the OEM customer's requirements of a pump with modern functions for simple set-up. These pump are side-mounted ...
See the other products
Tuthill

Flow: 2.3 l/min
ProSpray PS 3.23 is a compressed paint applicator that operates on 0.89 kW motor output and 2.3 l/min optimal delivery yield. It is applicable for samples with dimensional requirement of 200 m2. Specifically, it works ...
See the other products
WAGNER

Flow: 9 ft³/min
Pressure: 10 psi
... Ambient Air Pump The Apollo Ambient Air Pump conveys breathing air from a clean environment outside the work area to a low-pressure type CE supplied-air respirator worn by an operator inside the blast ...

Flow: 6 l/min
Pressure: -750 mbar
Power: 55.2 W
One pump supplier for all your CEMS* needs Our new 1610 series pump works in perfect harmony with our SR25 peristaltic pump for the ultimate continuous emissions monitoring systems performance. ...
See the other products
Gardner Denver Thomas

chemical pump
PAF3000 series
... moment this pump is available in two options. There is an air operated model with valve and electric circuits are separated from the pump. The automatic model has a selenoid valve integrated ...

Flow: 111 l/min
Thermo Scientific™ RAP (Regulated Air Pump) is a compact, portable system containing an oil-free vacuum pump, motor and airflow regulator. It is ideal for collecting sampling media onto ...

paint pump
PermaFlo® series
PermaFlo® Series Pumps with its strong construction and intelligent design can handle the rigors of pumping abrasive, higher solids coatings. It can also accept a varied range of pressure and volume, thanks to its modular ...
See the other products
Nordson Industrial Coating Systems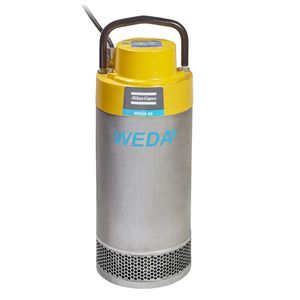 Flow: 260 us gal/min - 6,100 us gal/min
Head: 11 m - 85 m
Power: 1.1 kW - 3 kW
Truly Portable All models in this range of submersible dewatering pumps have outstanding power to weight ratios. Thanks to the light weight and compact design the pumps ...
See the other products
Atlas Copco Construction Tools

chemical pump
Silencer series
Flow: 1 l/min
Pressure: 0 bar - 5 bar
... manufacture every component using Diener Precision Pumps superior production techniques, resulting in a very high quality product at a relatively low cost. All gear pumps and piston pumps ...
See the other products
Diener Precision Pumps Ltd