The Online Industrial Exhibition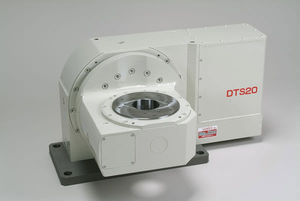 motor-driven rotary table
RT series
The DTS is a compact cantilevered tilting table consisting of two sets of roller gear cams and a servomotor. It ensures high rigidity by designing compact devices with a smaller stress path and employing dedicated large ...
See the other products
Sankyo America

With our rotary collecting tables, you can avoid unplanned interruptions to the material flow while reliably smoothing out variations in cycle times. Systematically collect and position goods as you ...

motor-driven rotary table
... Application example Aerostatic round table with direct drive Combined radial / axial bearing Running surfaces coated with slide coating providing emergency running properties Angle measuring device ...

motor-driven rotary table
TT2000/TT4000
... control with robot motion Unlimited Rotations Unnecessary return motion can be eliminated Designated cable routing Options Rotary joint (10 signals, 1 pneumatic port) Motion locking device

motor-driven rotary table
... plate bearing's layout scheme characterizes the performance data of the rotary table. The structural construction enables a simple and easy-to-maintain system. The Rotary Drive ...
See the other products
EXPERT-TÜNKERS GmbH

electric rotary table
B-axis series
... Allows five-axis machining High axial and rotational accuracy Immunity to collisions Can be installed in any arbitrary position Technical details that inspire enthusiasm In the design of the B-axis rotary ...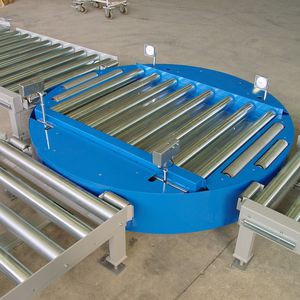 motor-driven turntable
TTxx series
... stainless or galvanized Turntable with powered rollers : rollers coated with zinc, diameter 89, thickness 3.25 mm Turntable with chain : Chain 15.8 double Turntable with transfer system Conveying ...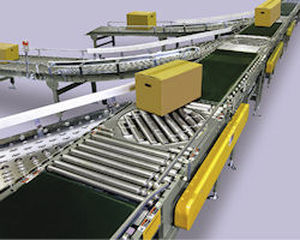 electric turntable
max. 3 000 p/h
Features Cost Effective Modular System to increase/decrease chutes easily Dual-Sided Sorting Capability Low Maintenance

motor-driven rotary table
GD5C2
Hardinge GD5C2 Rotary Indexing Systems are available in single, dual, triple and quad spindle configurations. The Hardinge 5C threaded-nose spindle will accept collets, expanding collets, step chucks and jaw chucks without ...
See the other products
Hardinge Workholding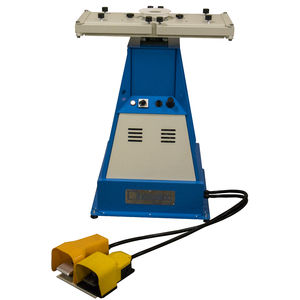 motor-driven rotary table
Machine for the manual last sealing of the insulating glass panels flat and curved . This machine is easy to use and, thanks to its extensible arms, adaptable to all the dimensions of glass. Equipped with one big central suction ...

Diameter: 505 mm - 1,390 mm
The Rotary Table is located on the Press' Movable Plate and allows the positioning of the mold according to your needs. Control and activation are fully electric to ...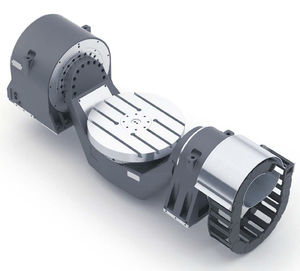 motor-driven rotary table
2AT Series
Diameter: 400 mm - 800 mm
... 5-axis machining. KESSLER`s very latest torque motor generation, the ultra-flexible rotary and rotary tilt tables feature high acceleration and tilting speeds for maximum ...

motor-driven turntable
UT-1
Diameter: 600 mm
... robot for the manipulation of the gun and a turntable as a work piece handling.Thermal Spray Handling UT-1 The model UT-1 turntable is designed for thermal spraying operations controlled by a robot. ...
See the other products
AMT AG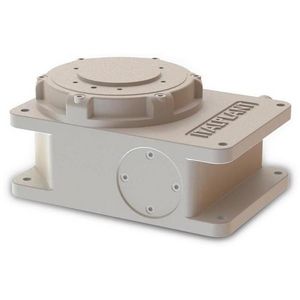 motor-driven rotary table
PSX series
The Compact Clean room rotary table PSX Series is manufactured by ITALPLANT. The product is made of plastic, making it very light. It is suitable for corrosive and explosive environmental conditions. ...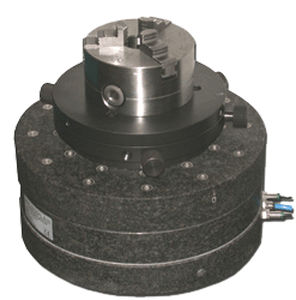 motor-driven rotary table
TR
Microplan's TR rotating tables are designed and manufactured out of 2 granite disks each, moving on pressure/vacuum air bearings in ways to obtain highest possible stability. These apparatuses exhibit ...

electric turntable
petriturn-E
Diameter: 160 mm
electrically driven with sensor body from stainless-steel handling of the turntable contactless by sensor for Petri dishes up to Ø 100 mm (to Ø 150 mm optional) For uniform plating of liquids on agar-surfaces in Petri ...

motor-driven rotary table
90:1
Precision rotary table - for horizontal and vertical applications - ratio 90:1 - 360° graduation, 1' graduation - parallelism 0,02, squareness 0,02, runout 0,015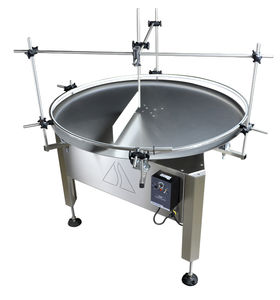 motor-driven turntable
max. 150 p/min
Our 40 inch diameter Rotary Bottle Loading Turntables are manufactured in 1/8″, 304 stainless steel. Power is provided for the TAU-4000 by a DC gear motor. Variable speed up to 150 containers ...
See the other products
APACKS

electric turntable
DT 900 T
Diameter: 800 mm - 1,200 mm
The bottles, cans or boxes left sporadically by the operator on the rotary tray are fed onto the conveyor of the primary machine with the help of the rotation speed-adjustable tray and the guiding elements mounted on ...

motor-driven rotary table
Diameter: 1,000, 1,300 mm
The rotary table is used for collection of filled containers. The rotary table is height-adjustable, and can thus be employed at any machine. Round containers, and up ...

motor-driven rotary table
serie DCNI
Diameter: 400 mm - 4,000 mm
... milling rotary table Size from 400 to 4000 mm Load capacity from 1 to 100 Ton - Interpolation and positioning milling on CNC machine tools - Mechanical rotation drive with one or ...
See the other products
Delken Automazioni

motor-driven rotary table
SX-A/B 100 MC
A CNC indexing axis and B manual Programmable A and manual B tilting axis for the work piece position. Available with 3R, Erowa and ER32 collet chuck.

motor-driven rotary table
DM-3441 series
Diameter: 160 mm - 250 mm
... Tilting rotary machining table is the basic device used with milling machines, lathes and drills Allows machining of holes and surfaces at specified angle in one clamping Device can be used ...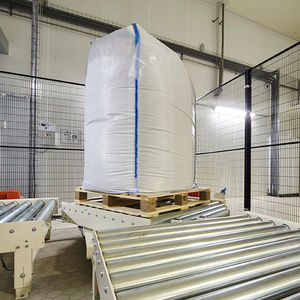 The turntable roller conveyor is used for rotating a pallet to any desired angle. The transport direction of the pallet remains the same. Its modular structure consisting ...

motor-driven rotary table
Low-Cogging series
Diameter: 62 mm - 120 mm
See the other products
AxNum AG