How to choose this product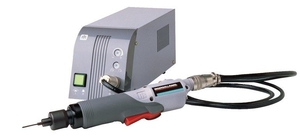 An electric screwdriver, sometimes called a screw gun, offers effortless tightening and loosening of screws. It usually has speed and torque controls. Some models are cordless.
Applications
These devices are used in mechanical engineering, construction, the furniture industry and for assembling machinery, wooden packing crates and many other items and structures.
Technologies
Cordless versions have a rechargeable NiCd, NiMH or lithium ion battery. Others have a power cord, especially those found at work stations. They are usually driven by a brushless DC motor. These devices can turn in either direction and have a torque control. This distinguishes them from drills, though there are also combination models. Speed is also adjustable.

Some are equipped with an LED light to facilitate work in poorly-illuminated areas. Configuration can be straight, pistol grip or switchable from one to the other. The chuck is usually self-locking. Some models can be used as a manual screwdriver. More complex versions have an automatic screw feed system. This speeds operations, especially work on a ceiling.
How to choose
These drivers are characterized primarily by speed range and torque limitation capabilities.