How to choose this product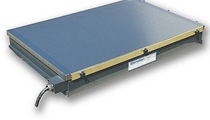 Electro-permanent magnetic chucks are used to hold ferromagnetic workpieces on metalworking machines. They are designed to maintain their holding power even if there is a power failure.
Applications
These chucks are used for machining applications such as surface grinding, light- to heavy-duty milling and turning operations. They can hold small to large workpieces, as well as circular pieces for rotary chucks.
Technologies
Such chucks require a control system to provide power to the chuck. Holding power can be varied in order to align the workpieces on the chuck.
How to choose
Selection depends on the size of the workpiece. Chucks come in standard dimensions or can be custom-built to required specifications.
Advantages
- Set-up time
- Holding power