How to choose this product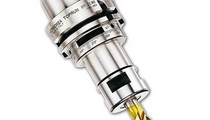 End mill holders provide a secure link between the tool and the rotating spindle of milling machines.
Applications
These devices can be used for any type of milling application on both vertical and horizontal milling machines. They are suitable for operations such as roughing, semi-finishing and finishing.
Technologies
Holders have a variety of mounting systems to suit different milling machines spindles. These include CAT, Weldon, BT, HSK, Morse taper, R8, NST and others. Liquid-cooled end mill holders have coolant passages through the spindle in order to increase tool life and reduce overheating of workpieces and cutting tools.
How to choose
When selecting an end mill tool holder, be sure to determine machine's spindle attachment.