How to choose this product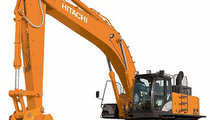 Excavators are construction vehicles sometimes called diggers or mechanical shovels. Small models are referred to as mini or compact excavators. They differ from backhoe loaders, which combine some aspects of the excavator with the features of a loader.
Applications
Excavators are mostly used for digging, including terracing and quarrying. They can nonetheless accomplish a wide variety of other functions after replacement of the bucket with vibratory plates, saws, wrecking tools, jackhammers, demolition tongs, grapples or other attachments.
Technologies
Excavators have an X-shaped chassis riding on wheels or tracks. The chassis encompasses the hydraulic motors and supports a 360-degree rotating platform called the house.

The house holds the operator's cab, the engine, the counterweights and the boom attachment point. The boom is connected to the bucket by the stick (or dipper arm). Boom and stick length directly affect the excavator's mechanical capacities.
How to choose
The main elements to consider are:
- Excavator dimensions and operating weight
- Bucket capacity
- Maximum and minimum lift and unloading height
- Maximum excavation depth
- Penetration and breakout force