The Online Industrial Exhibition

data connector
C 737 series
Voltage: 15 kV
... KVDC to 70,000 ft. - Operating temperature: -55°C to +95°C - Mating connectors: All C 730 lead assemblies All series 737 lead assemblies All LGH 1/2I lead assemblies - Solder flange: Brass with ...
See the other products
Teledyne Reynolds

rectangular connector
BUZ965
Current: 12 A
Voltage: 400 V
Pitch: 7.62 mm
7.62mm pitch rising-cage clamp 2 - 16 poles single mold wire entry parallel to plugging direction with fixing flange
See the other products
Hartmann Codier

... Inc. Electro-Optic Connectors are designed for use in hostile environments where reliability is crucial. Using Military Specifications Mil-C-24217 as a guide, we have combined the ruggedness and high pressure tolerance ...

optical connector
Heavy Duty 200
Heavy Duty class connector series for extra robust applications, for 2 fibers. Different strain relief types allow adaptation to various cable types. multi mode and single mode detachable connector ...
See the other products
Rosenberger OSI

electrical power supply connector
M-A series
Current: 10, 4, 2 A
Voltage: 250, 230, 24 V
The M-A is series of rectangular connector manufactured by Binder-USA, LP. The binder solenoid connectors is best suitable for low profile or standard size housings. It is build with a protection class ...

HellermannTyton offers a variety of high quality audio visual connectors that coordinate with our faceplates, surface mount boxes and modular patch panels.

electrical power supply connector
Current: 2 A
Voltage: 250 V
The IEC connectors and NEMA receptacles from Arcolectric are specially designed with inlets and outlets that comply to IEC 320 standards. A flange and snap system is engineered for panel fixing to ensure ...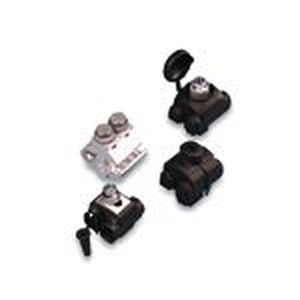 electrical power supply connector
Ensto connectors have been used around the world since the mid 1960s. Our connectors are designed to resist corrosion and bimetallic electrochemical reactions and to endure varying mechanical tensions ...

DILAS has just the right diode laser accessories to support your application and integrates its products into high quality production lines for industrial applications. Fiber Cables DILAS provides fiber cables for multimode with core ...

... Cable-mount plugs with 90-degree cable attachments (pictured to left) facilitate connector mating and cable routing in confined spaces. Panel-mount plugs are also available in flange mount ...
See the other products
Cooper Interconnect

data connector
revos MINI
... MINI fits into machine building, control and switchgear applications as well as small motors and lighting technology. With connector housings in die-cast zinc or polyamide, revos MINI withstands even the toughest of application ...

board-to-wire connector
LC6-2.5 series
Current: 4 A
Voltage: 160 V
Pitch: 2.5 mm
Connector, Male & Female Terminal blocks Part number: LC6-2.5 Center Spacing: 2.5mm Number of Poles: 2-24 Poles Approvals: UL, CE Certified, RoHS Comply SPECIFICATIONS: IEC: 160 V / 4 A / 0.5 mm2 UL: 125 V / 4 A / ...
See the other products
Elinker Electric

data connector
PotCon series
Custom PotCon RFW application required a 3 X D-Sub connector and 3x coaxial connector inside a 2 ¾ conflat flange. Our unique potting extension solved our customer's fit problem when ...
See the other products
Douglas Electrical Components

Voltage: 200, 100, 115 V
MINI-MIL CONNECTORS Mini-MIL Circular Filtered Connectors API Technologies' Mini-MIL circular connectors are small and lightweight offering space and weight savings while providing ...

electrical power supply connector
SDZ300-300-054
Current: 3 A
Voltage: 250 V
... 250V. It can operate in thermal ranges of -25°C ÷ 80°C for connector and -25°C ÷ + 70°C for cable in fixed position. In addition, this connector can accommodate 3mt PVC-cable and can resist insulation ≥ 100 M Ω.

electrical power supply connector
10 - 25 mm
See the other products
Trafimet Distribution

coaxial connector
SMA-xx series
Data rate: 40 GB/s
Subminiature interconnects with screw-type coupling. FEATURES Performance up to 6 GHz Available in a wide variety of cable assemblies Available in a wide variety of orientations and PCB terminations
See the other products
SAMTEC

Current: 3 A
Voltage: 125 V
Product Description ITT XLB male and female PCB flange mount receptacles are plastic Low cost alternative to our metal XLM-CPB Connectors
See the other products
ITT Cannon

... compressed air piping system network, and this product is one of the components. One piec of AIRPIPE Flange Connector is needed to connect the flange to the pipe.And we guarantee 10 ...

Current: 25 A
Voltage: 600, 1,000 V
Product Type: Solar Connector Serial No:C101-XXMAX01 Model (1) Mate Series: ULLable: YES Package: Tube/T&R MOO: 2000 Delivery Time: 20-25Day Brand Name: WCON Advantage 1.All kinds of products 100% tested before delivery. 2.Well-equipped ...

... ZINC-PLATED STEEL CONNECTORS FOR STRAIN RELIEF AND AFFORDABILITY Liqua-Seal zinc-plated steel connectors resist corrosion! The waterproof, oil-tight design of Remke's Liqua-Seal Connectors ...
See the other products
REMKE

Current: 30 A
Voltage: 10,000 V - 40,000 V
The high-voltage circular connector from the S series is manufactured by GES. It has an IP50 class protection, with a round or 4-hole flange mount. The connector operates with a voltage ...
See the other products
GES Electronic & Service GmbH

RF connector
CAM-F77B, F77C
Current: 0.5 A
Voltage: 40 V
[FEATURES] 1. 19 pins connectors that conform to HDMI interface. 2. There are two types of CAM-F77B, and F77C: those with a flange for mounting to external case and those without. There is also a F77B ...
See the other products
Mitsumi Electric

audio/video connector
MM, SM,
... Two or four channel bulkhead Suitable for use in harsh environment Easy to terminate IP 67 Compatible to: Connectors MIL-DTL-83526/20 Use Military Video and TV transmissions Industry
See the other products
EUROMICRON Werkzeuge GmbH

Current: 13 A - 245 A
Voltage: 200 V - 7,000 V
... compatible MS connector, which had been distributed for over 50 years. RoHS compliant product. Hazardous substances contained in MS connectors (Lead, Cadmium, hexavalent chromium) are not used. Compatible ...
See the other products
Japan Aviation Electronics Industries