How to choose this product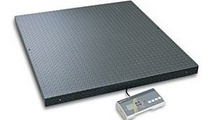 Floor scales are general use platform scales that are mounted on a level floor for industrial weighing applications. They are generally used to weigh large objects that require simple maneuvering onto the scale.
Applications
Floor scales are used in industrial and commercial applications to measure the weight of products and equipment at reception and expedition. They can be fitted with access ramps on each side in order to weigh rolling loads. Floor scales can also be used to weigh pallets or barrels before shipment.
Technologies
In most cases floor scales are designed with a steel frame mounted on four compression type load cells and covered by a steel deck. Their low height is easily accessible to rolling cargo, drums, pallets and other heavy equipment.
How to choose
Make sure to specify the maximum and minimum load capacities when selecting a floor scale. If your application is subject to certain extreme environmental conditions, there are floor scales with protection ratings such as explosion proof, fire-proof and waterproof.