The Online Industrial Exhibition
{{#pushedProductsPlacement4.length}} {{#each pushedProductsPlacement4}}

{{#if company.requestButtonsVisibility.requestButtonQuestion == "ACTIVE"}}
{{elseif company.requestButtonsVisibility.requestButtonWhereToBuy == "ACTIVE"}}
{{/if}}
{{product.productLabel}}
{{product.model}}
{{#each product.specData:i}} {{name}}: {{value}} {{#i!=(product.specData.length-1)}}
{{/end}} {{/each}}
{{{product.idpText}}}
{{#if product.newProduct}} {{/if}} {{#if product.hasVideo}} {{/if}}
{{/each}} {{/pushedProductsPlacement4.length}}
{{#pushedProductsPlacement5.length}} {{#each pushedProductsPlacement5}}

{{#if company.requestButtonsVisibility.requestButtonQuestion == "ACTIVE"}}
{{elseif company.requestButtonsVisibility.requestButtonWhereToBuy == "ACTIVE"}}
{{/if}}
{{product.productLabel}}
{{product.model}}
{{#each product.specData:i}} {{name}}: {{value}} {{#i!=(product.specData.length-1)}}
{{/end}} {{/each}}
{{{product.idpText}}}
{{#if product.newProduct}} {{/if}} {{#if product.hasVideo}} {{/if}}
{{/each}} {{/pushedProductsPlacement5.length}}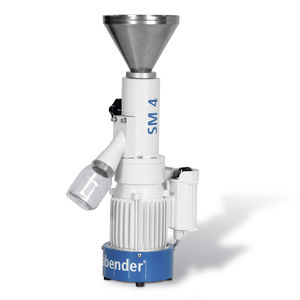 Output: 300 g/min
Break Mill SM 4: Laboratory mill for sample preparation for further analyses What is it used for? The Break Mill SM 4 is applied for the preparation of samples for moisture, protein ...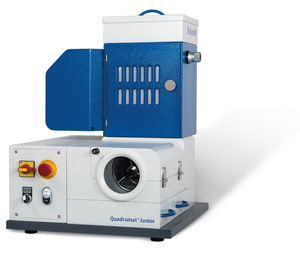 roller mill
Quadrumat Junior
Output: 100 g/min
Quadrumat Junior: New roller mill for user-friendly lab flour preparation What is it used for? The Brabender Quadrumat Junior is a universal laboratory roller mill with integrated separation and aspiration ...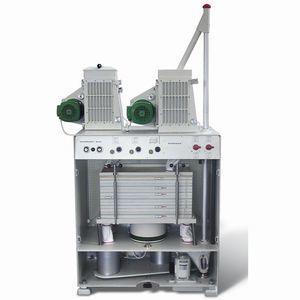 roller mill
Quadrumat Senior
Output: 8 kg/h - 10 kg/h
The Brabender® Quadrumat® Senior is an industrial laboratory mill of 300 kg net body mass and approximately 65 - 75% output yield. It is applicable in preparation of production of equivalent test flours, identification ...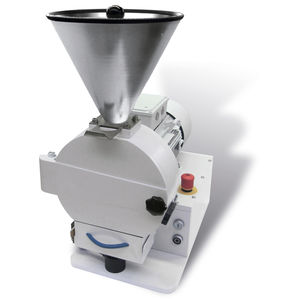 Brabender's Rotary Mill is used for grinding various materials in accordance to the analysis that is done properly, reliably and with a variable degree of fineness. The Rotary Mill possesses a speed of ...

Output: 33 g/min
Sedimat: Special mill for the Zeleny sedimentation test What is this mill for? The Sedimat laboratory mill was created to aid in laboratory grain sample preparation of Zeleny sedimentation ...

rotor mill
ZM 200 | <40 µm
Rotational speed: 6000 rpm - 18000 rpm
... rate. The Ultra Centrifugal Mill ZM 200 is a versatile instrument that can be easily adapted to a variety of applications. It has become the standard for sample homogenization in the food and feed industry ...
See the other products
Retsch GmbH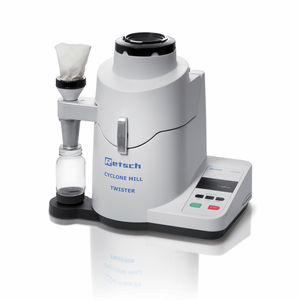 cyclone mill
TWISTER | <250 µm
Rotational speed: 14000, 10000, 12000 rpm
The cyclone mill TWISTER is designed for sample homogenization of food- and feedstuff for subsequent NIR analysis. The form of rotor and grinding chamber has been optimized to generate an air jet which ...
See the other products
Retsch GmbH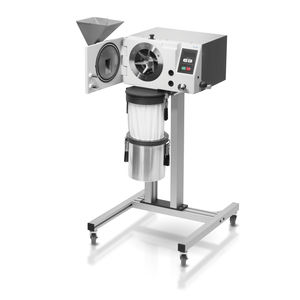 rotor mill
SR 300 | <50 µm
Rotational speed: 3000 rpm - 10000 rpm
... Beater Mill SR 300 is suitable for coarse and fine size reduction, either in batches or continuously. It can process dry, soft, medium-hard, organic and inorganic substances. With its adjustable speed of 3,000 to 10,000 ...
See the other products
Retsch GmbH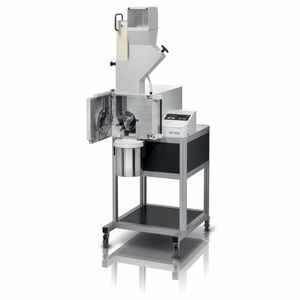 fine cutting mill
SM 300 | <0.25 - 20 mm
Rotational speed: 700 rpm - 3000 rpm
Cutting mills are designed for grinding soft, medium-hard, tough, elastic, fibrous materials, as well as heterogeneous mixes of products. The heavy-duty Cutting Mill SM 300 excels especially in the tough ...
See the other products
Retsch GmbH

knife mill
GM 200 | <300 µm
Rotational speed: 2000 rpm - 10000 rpm
The knife mill GRINDOMIX GM 200 is perfectly suited for grinding and homogenizing foodstuff and feedstuff. It accepts sample volumes up to 0.7 liters and homogenizes substances with a high water, oil or fat content as ...
See the other products
Retsch GmbH

roller mill
Variomill, Powermill
Output: 5 t/h - 40 t/h
... with protection at the same time of the well steeped husk. To do this, the mill has to be adjusted exactly to the particular ground stock. The ideal situation is when the mill can adjust to changes in ...

The construction of the Pin Mill is performed in compliance with customer-specific requirements. Design: particle size: 2 - 2.5 mm hardness class: 2 - 3 Mohs Applications: Foods, chemicals, ...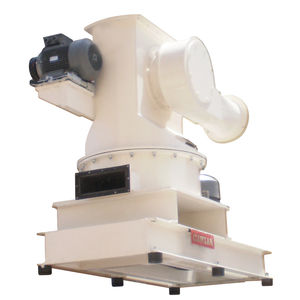 Output: 500 kg/h - 1250 kg/h
The grinding mill can be designed for heat-sensitive goods, for micro ranged grinding results and for a wide range of hardness classes as well too. The construction is performed in compliance with customer-specific requirements. Design: Particle ...

Flaking mill Flaking mill In order to produce flakes, you will need - apart from a steamer and a tempering bin - one thing above all: a flaking mill which shapes the moistened and ...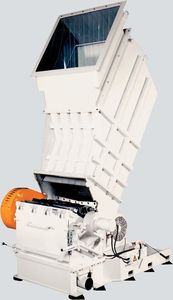 Output: 50 kg/h - 1500 kg/h
LM series granulators are equipped with rotor and stator knives in a crossed manner for scissor like exact cutting action. This machine helps in finer and identical cutting and keeps the heat formation stable. This type of cutting also ...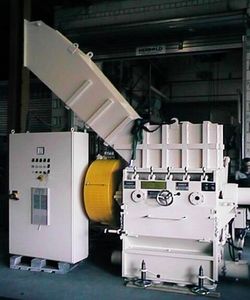 Output: 150 kg/h - 8000 kg/h
These granulators are designed by Neue-herbold. The bearings of the rotor shaft are mounted within solid steel housings which offers more reliable service and eliminate any chance for the housings to crack or break under heavy shock loads. ...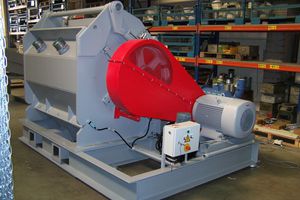 NEUE HERBOLD HM series hammer mills offer flexibility in their application range. Through the installation of material oriented rotor milling hammers tools various types of brittle plastics such as electronic scrap, wood ...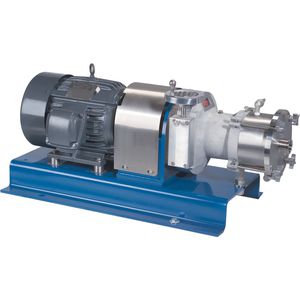 ... Colloid Mill is the most versatile high shear mixer available. With a simple turn of the wheel, you can achieve the process results you have been looking for. Description Mixing Mechanism The first mixing zone utilizes ...

coffee mill
WMK Series 250
Output: 1050 kg/h - 6000 kg/h
Neuhaus Neotec's WMK Series is part of the company's product line of coffee grinders. Models of the series feature dust-tight designs, servo adjustment capabilities of the grinding gaps, and reproducible, constant grinding operations. ...

Output: 300 kg/h - 1400 kg/h
The WMS series coffee grinders are especially designed for smaller capacities and has many features. They perform phased grinding in one, two or three stages and have a simple roller change. The central drive has ribbed V-belts and double ...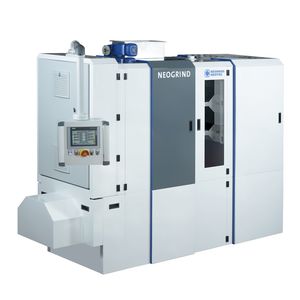 Output: 750 kg/h - 2500 kg/h
Most modern grinder for medium capacities and specialities The newly designed coffee grinder Neogrind S3 has been developed specifically for the requirements for filter coffee, pad/pod production and fine grinding. Technically, this ...

Output: 500 kg/h
The LWM-100 Model, manufactured by Neuhaus Neotec, is a roll mill suitable for laboratory and small-production use. It has a stainless steel grinding chamber which has a mirror finish. The unit also has transparent front ...

Rotational speed: 16800 rpm
... Perten Instruments can offer two types of Laboratory Mills, the hammer type mill and the disc type mill. Disc mills are used when grinding samples for moisture determination, ...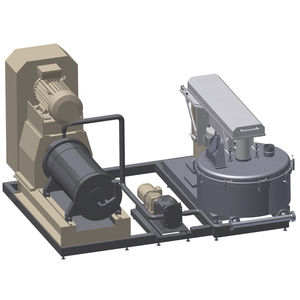 Output: 750 kg/h - 4000 kg/h
... beater blade mill type MasterNibs is supplied by a pump to the agitator bead mill type MasterRefiner for fine grinding in one passage. The on-top-drive oft the MasterNibs allows additional cooling in ...

Rotational speed: 6000 rpm - 20000 rpm
The PULVERISETTE 14 is a variable speed rotor mill that is suitable for fast, effective comminution of soft to medium-hard, brittle and fibrous materials as well as temperature sensitive samples and for the utilization ...

knife mill
PULVERISETTE 25
Rotational speed: 300 rpm - 360 rpm
The Pulverssite 25 is a power cutting mill from Fritsch. The machine is used to pre-crush dry, medium-hard, soft, brittle, tough or fibrous materials and plastics. It cam accommodate 120 x 85 mm with a throughput quantity ...

Colloid mill works with shearing,grinding high-speed stirring. Grinding process occurs in the relative movement between the two teeth with one revolving in high speed, which makes the material between the teeth receive ...

The JM-F/L, from Xinsheng Light Industry Machinery, is a colloid mill designed with shearing and grinding high-speed stirring working capacity. Grinding process occurs in the relative movement between the two teeth, with ...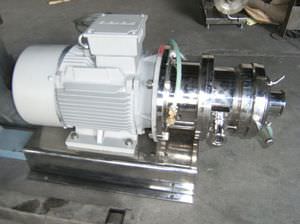 The device is an in-line colloid mill manufactured by Zhejiang Xingsheng machinery Co.,LTD. The grinding process happens between the movement of the two teeth with the other revolving in high speed. The materials in between ...

Colloid mill works with shearing, grinding high-speed stirring. Grinding process occurs in the relative movement between the two teeth with one revolving in high speed and another still makes the material between the ...

rotor lump breaker
Sievmaster DISINTEGRADER
... greater flexibility • Variable or fixed speed models • Configured to suit your installation • Full validation packages for Food/Pharma • Fully automated versions

Rotational speed: 3800 rpm
Output: 2 kg/h - 500 kg/h
Gusu Machinery® sugar mill is used for the secondary milling of sugar and flour, the average degree of fineness is 100 meshes (150 μm). To enhance the production capacity of sugar mill, Gusu Machinery® ...

Rotational speed: 250 rpm - 630 rpm
Output: 1500, 2000 kg/h
... Machinery® Ball Mill Machine is the ideal machine for ensuring efficient and uniform refinement of chocolate and similar masses with relatively low fat contents. Though this ball mill machine can be ...

Rotational speed: 12000 rpm
Wahal's Multi processor is the latest machine for the very fine cutting of all types of fine food products without any distractive heat. The main Motor with IP-55 class is comprised with a fitted brake which can stop ...

chain mill
Bio-TQZ Series
Output: 0 t/h - 25 t/h
... materials: Energy crops (corn, grass, sunflowers, sugar beets) Liquid manure, cow / horse dung with straw organic waste food craps packed foods fruits and vegetables (beyond expiration date) etc. All ...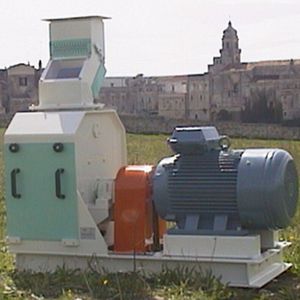 Rotational speed: 3000 rpm
Output: 800 kg/h - 1800 kg/h
The MM Series of Hammer mill mod, manufactured by Defino & Giancaspro S.r.l., is specifically designed for use in flour milling and zootechnical industry. This device is suitable for any kind of product such as wheat ...

hammer mill
HM S/R Series
No matter if cereals, straw or wood, mixtures or individual components are to be processed: KAHL AKANA hammer mills crush soft to medium-hard products with a high throughput. Benefit from these advantages for your production: Simple ...

Output: 10 t/h - 60 t/h
The Roller mill is manufactured by Amandus Kahl. This roller mill is integrated with standard adjustment of the grinding gap with quick roller change. The product has low wear with silent operation. It ...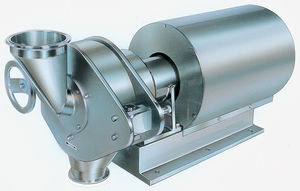 Rotational speed: 5500 rpm - 9000 rpm
... an impact type pulverizer excellent in disassembly/cleaning performance, developed to comply with GMP (Good Manufacturing Practice) thoroughly. Mainly SCM fits for milling pharmaceutical products and foods. ...

Chopping system Barth CM The chopping system Barth CM is a continuous process developed by Bühler Barth in which the product is crushed between rotating rolls. This enables an optimal yield to be achieved for a required particle size ...
See the other products
Bühler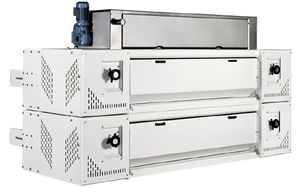 Output: 1000 t/h
Crushing Mill OLCB The high-capacity Bühler crushing mill OLCB is a true all-rounder talent: It can be applied for cracking oilseeds such as soybeans, sunflower seeds, rapeseeds, and corn (maize) as well ...
See the other products
Bühler

... impact mill MJPB, the grinding process can be optimized efficiently: Thanks to its high speeds, the fine impact mill MJPB achieves an intensive impacting effect thereby increasing the fine particles ...
See the other products
Bühler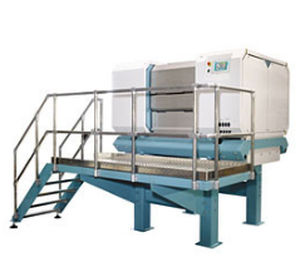 roller mill
POLYfloc™ BCFA
Output: 6000 t/h
Flaking Roller Mill POLYfloc™ BCFA The flaking roller mill POLYfloc™ is especially well suited for the flaking or rolling of grain or grain pellets into breakfast cereals or grain flakes. The POLYfloc™ ...
See the other products
Bühler

Flaking Mill DOQB As a manufacturer of food processing machinery, Bühler is also a leading supplier of oilseed processing equipment used in oilseed preparation and handling. The Bühler flaking mill ...
See the other products
Bühler