Force sensors
128 companies | 1430 products
How to choose this product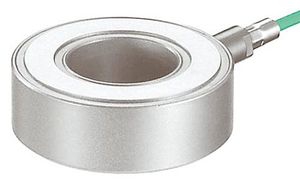 A load cell, also known as a load transducer, converts an applied force or weight into an electronic signal. Load cells can measure compression forces, tension forces, shear forces and bending forces.
Applications
Load cells can be found in many industrial applications, including force measurement in hydraulic presses, in weighing machines, for batch weighing and dosing, and in crane scales, just to name a few.
Technologies
The most common type of load cells found in industry are the strain-gauge load cells. This consists of four strain gauges mounted in a Wheatstone bridge configuration. The resistance in the strain gauges changes as they become deformed by the applied load. Piezoelectric load cells use a quartz crystal layer to produce a voltage signal proportional to the applied force.

Load cells can be found in several different forms, depending on the type of load be measured. The different types include bending beam load cells, shear beam, load pin, pancake, S-beam, button, ring and single column load cells.
How to choose
Important parameters to take into account when selecting a load cell are the maximum and minimum forces to be handled.
Advantages
- Large measuring range