How to choose this product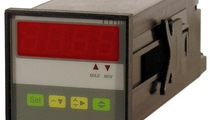 A frequency counter measures a signal's frequency. Automatic models are DIN rail-mounted or built into a control panel. In the laboratory, it is a stand-alone instrument, back panel-mounted or in the form of a computer expansion card.
Applications
Counters ensure phase stability in electricity production and distribution systems by furnishing real-time data to the operators. These data are used to compensate for power losses when machinery is started, so as to avoid slowing the generators. Frequency counters are also used to control motor speed. They can have digital or analog (needle) displays. Laboratory use includes development of radio frequency applications and ensuring proper functioning of period meters and pulse counters.
Technologies
Input signals are conditioned and pulses counted over a given period of time. The timebase consists of a quartz oscillator. Industrial models have electric or sensor inputs.
How to choose
These measurement instruments are chosen on the basis of precision, resolution and bandwidth. Industrial counters are characterized by their sensor or electric line inputs, by the type of output signal and by the display.