How to choose this product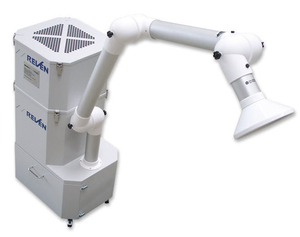 A fume extractor removes and treats noxious air produced by a particular process, preventing workers from inhaling dangerous substances.
Applications
These machines are used in work settings during welding, gluing, mixing and laser use. They protect operators against toxic gases and particulates, which also might affect other machinery.
Technologies
Adjustable arms and intakes are used to place the suction point as close to the fume source as possible. In multi-head models, the turbine automatically adjusts to the number of intakes, saving energy and filters. The air can be recirculated or vented to the exterior. The extractor often is remotely controlled and acoustically insulated.

Easily-replaceable pre-filters save wear on the main filter. Particulate or activated charcoal filters trap pollutants. HEPA filters trap 99.97% of particles over 0.3 microns in diameter. Permanent-charge electrostatic filters trap particles of any size. An electronic monitoring device indicates when they must be cleaned or replaced.

Soldering irons may have an integrated aspiration tube or make use of an adjustable intake placed very close to the work surface.
How to choose
Choice will depend on the number of intakes that can be attached, suction rate and the specific filtration needs of the application.