underwater granulator
SLC series
The SLC unit is an economic and efficient solution for processes concerned with basic polymer production at low rates. This unit makes use of a constant spring pressure in order to configure the cutter blades to the die plate. This feature ...
See the other products
Gala Kunststoff- und Kautschukmaschinen GmbH

underwater granulator
MAP series
The Manually-Adjustable Pelletizer (MAP) is designed with an adjusting wheel that is capable of placing the blades opposite to the die plate. Its blade adjustment feature offers visual blade wear indication, as well ...
See the other products
Gala Kunststoff- und Kautschukmaschinen GmbH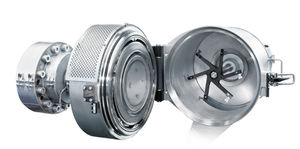 air-cooled granulator
HG D
The proven EREMA hot die face pelletising systems have undergone another stage of development. The focus has always been on straightforward handling and easy maintenance. The new HG 154 D, HG 244 D and HG 344 D systems set higher standards ...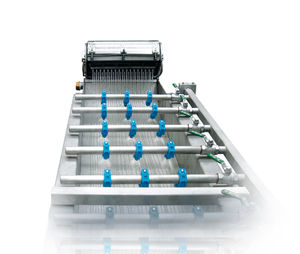 underwater strand granulator
ASP
EREMA's semi-submerged strand pelletising systems are used to pelletise technical thermoplastics such as PET and PA. The straightforward operation and minimum labour requirements contribute to the very high degree of operational reliability. ...

water ring granulator
max. 2 000 kg/h | NGR HD
This NGR water ring, hot die pelletizer is designed by Ngr. NGR hot die pelletizer has been further developed and apart from an excellent price-performance ratio, offers rapid cutter setting, constant ...

fluidized bed granulator
HD, HDG, HDGC
... required the Oystar Hüttlin fluid bed system can be configurated as: HD Hüttlin dryer HDG Hüttlin dryer granulator HDGC Hüttlin dryer granulator coater Hüttlin GmbH concept solutions mark a clear ...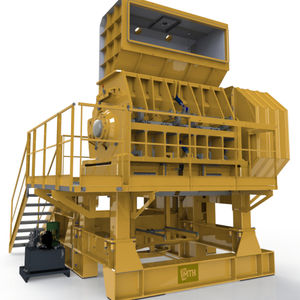 blade granulator
SRP 1600, 2400, 2800
The SRP granulators range has the advantages that made the BDR shredders such a success (robustness, reliability, 5 metric ton inertia flywheel, simplicity of maintenance, very low operating costs) with a few modifications ...

The sandwich design means that the hopper and grinding chamber are completely soundproofed. The extensive multi-layer sound insulation results in low noise emissions of just 75-80 dB(A).

granulator
VORTEX IMD 999
Overview The MPE Vortex Super Densifier* design can increase density levels to twice the previously achievable range with less than half the temperature rise and energy consumption. The Vortex Super Densifier achieves these previously ...

water ring granulator
Repro-Print
The Repro-Print machine is developed for reprocessing the film with surface with large prints or high water content. The feeding is achieved by conveyor belt and nip roll feeder. Its extruder has a single screw and two stage extrusion. ...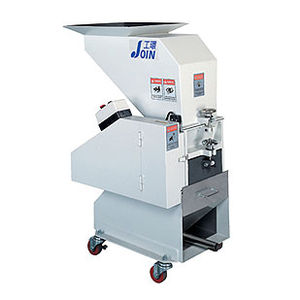 waste granulator
JW series
Widely cutting chamber of JW series aims in huge sprue design, JW series is designed to have wide cutting chamber, small motor and big feeding hopper, and the steel board design also avoid the pollution of casting. JW Series is the best ...
See the other products
Pulian International Enterprise Co., Ltd.

waste granulator
AR series
AR series aims to granulate wide board material, waste material, film, and thermo forming edge material; we develop this model with roller design to automatically transport the material into granulating ...
See the other products
Pulian International Enterprise Co., Ltd.

dry strand granulator
OG-2
Dry Granulator is designed to process bigger and irregular granules into uniform sizes of granules after the drying process. The principle of the Dry Granulator is ...
See the other products
Yenchen Machinery Co., Ltd.

A pellet machine is used to compress a variety of resources into a tiny pellet. Yenchen provides a qualified machinery here, offering a practical way to produce them. The equipment is designed for various types of pharmaceutical and ...
See the other products
Yenchen Machinery Co., Ltd.

granulator
max. 17 150 kg | PCL series
Welded by rigid steel structure, with high manganese steel blade. Mainly for recycling the metal product with thin wall smaller than 8mm, roll up the thin metal sheet. For example, the shell of washing machine and refrigerator, aluminum ...

The pellet mills PROMILL STOLZ of series B280 are very small capacity machines, used mainly by breeders, small producers of special products (pesticides, fertilizers, mineral compounds), etc... They are also frequently used by research ...
See the other products
Promill Stolz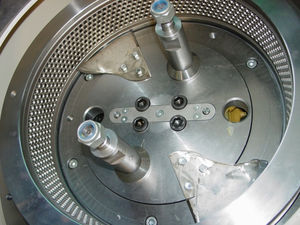 They are extremely simple and sturdy machines, easy to install on thanks to their compactness and they are very easy to operate. The B360E is made up of the following elements : A steel frame supporting both the pellet mill body and ...
See the other products
Promill Stolz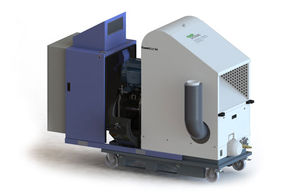 plastic granulator
max. 1 500 kg/h | CentriCut®
Nuga Systems granulators were designed and developed for the needs of the plastics industry. The following requirements were the basis for the development of the CentriCut®: High energy efficiency and long blade lifetime, ...

water ring granulator
1800 Kg/hr | WRP 12i
Xaloys water ring pelletizer connects directly to the end of the extruder, Xaloy Screen Changer or Melt Pump via a short coupled adapter allowing polymer to flow horizontally from the extruder to the in-line die plate. The ...

water ring granulator
WRP-35s/36s
Nordson XALOY's Water Ring Pelletizing Systems offer a modern, cost-effective method of pelletizing a wide range of unfilled and filled thermoplastic polymers. The Water Ring Hot Die Face ensures a consistent, ...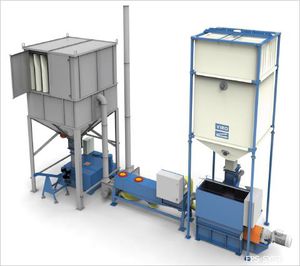 ... Prebreaker Side/Front/Rear/Bottom Scrap Sheet Recovery Fine Granulation Collecting Silo for Coarse Regrind VTS-10 Metering Airlock Cell Wheel ZRS-50 Granulator Type VBM 1300 Pro Fine Regrind Transportation Blower

air-cooled granulator
700 - 1500 kg/h | TTC series
Neck for connection with the screenchanger. Vertical axle extrusion head with interchangeable horizontal die-chaser. Stainless steel circular cooling chamber. Knife-bearer rotor controlled by 6 HP c.c. motor with cutting pressure control. ...

Granulators belonging to the GS series, designed for use beside a press, originate from the basis of warehouse granulators. In fact they revert to the concept of granulation with blades ...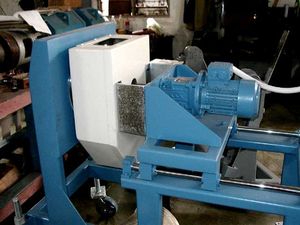 1 unit - Pelletizing Head with die face cutter made of German steel 1 set - Motor helical gearbox (WATTS – Austria) 1 set - Of stainless steel cover on die face cutter 1 unit - Of Mobile trolley ...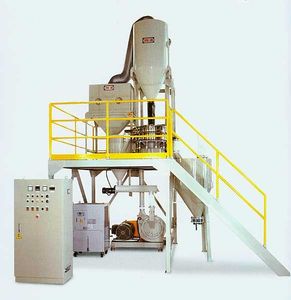 dry strand granulator
20 - 1 800 kg/h
... pulverize materials like U-PVC from pipes, profiles, foam and film fakes. Furthermore LDPE. MDPE, HDPE, UHMW-PE, PP and EVA granules. The estimated outputs, depending on the material and micron size, will be between 20 - 1800 kg/h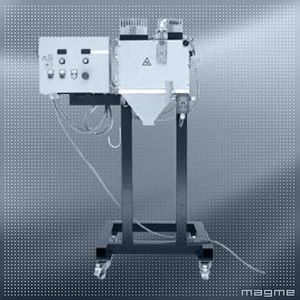 dry strand granulator
0 - 30 m/min
venting speed of 0-30 m/min for a max. of 3 strands ength of granulator adjustable on-line