How to choose this product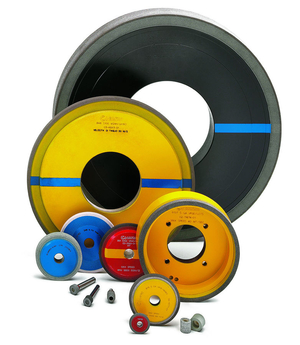 A grinding wheel is a disc or cylinder for machining via abrasive or cutting action, or for sharpening cutting tools. It is mounted on a grinder or a machine tool.
Applications
These devices are employed in mechanical engineering, the iron and steel industry, foundries, automobile manufacturing and stone and marble quarrying. They are used for resurfacing, burnishing, cutting, polishing and deburring workpieces, as well as for sharpening tools.
Technologies
The various wheel types include flat, lapidary, straight or conical cup, dish, cylindrical, recessed, peripheral or centerless. They consist of abrasive particles that are bonded together. Particles are chosen for their hardness, and can be natural (sandstone, emery or diamond) or synthetic (corindon or crystallized silicon carbide). CBN wheels are made of cubic boron nitride, intermediate in hardness between diamond and silicon carbide.

A straight cup grinder of white corindon is used to sharpen milling cutters, while a green silicon carbide conical cup is used on carbide tools. Unreinforced flat wheels with a Bakelite binder are used to cut steel. Wheels for the precise grinding of metals, glass, stone marble and ceramics use vitrified binders.
How to choose
Choice will depend on the wheel's shape and profile, its hardness and mounting system.