Grit chambers
How to choose this product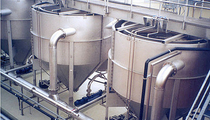 Grit chambers are settling tanks designed to remove inorganic substances from flowing water by sedimentation. These include sand, glass and stones. Flow rate is reduced to allow grains of sand and other heavy particles to fall out of suspension.
Applications
These devices are used to prevent siltation in watercourses, and contribute to the proper functioning of pumps, turbines and other machinery. They also are installed in wastewater treatment plants just downstream of pretreatment screening equipment.
Technologies
Grit chambers remove inorganic particulates, while allowing organics to proceed to the next treatment phase. The flow rate must be slow enough to allow sufficient time for inorganic matter to fall out of suspension, but fast enough to keep organic particles in the stream.
9
companies |
19
industrial products
Evoqua Water Technologies
Dissolved air flotation and induced air flotation are two separation methods used to separate liquid from solids. Floatation...
Circular
PISTA® 360™

Smith & Loveless Inc.
The PISTA® 360™ Grit Chamber is equipped with the patented V-FORCE BAFFLE™, which is an integral flow control baffle for both the inlet and outlet of the main chamber. The V-FORCE BAFFLE™...
PISTA®

Smith & Loveless Inc.
High removal efficiencies originate from the PISTA® Grit Chamber's unparalleled hydraulic design, including its...
Longitudinal
COUTEX
This is a system of removing grit and degreasing using the longitudinal moving bridge. It is usually positioned on rails and has scrapers to collect floating elements; these are activated by a hoisting...
Circular
240 - 11 400 m³/h

Passavant Geiger
Application Circular grit chambers are preferably used in the mechanical treatment stage of small to medium size sewage treatment plants to remove sand and other heavy solids from the waste water to avoid...
Circular
10 - 40 m² | SANDEXX

Binder+Co AG
Sand catching or sand trapping serves to recover fine grain sizes. Sand traps can be used to simultaneously clean and drain wet sand from upstream screening machines with spray facilities. The...
Refine the search
Grit chambers
Extend the search
Search by manufacturer
Search by catalog