How to choose this product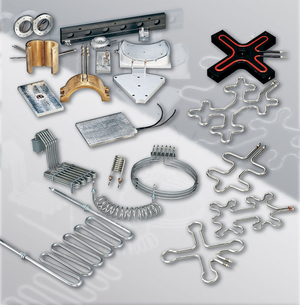 A heating element generates heat when an electric current runs through it. While all electrical devices carrying current produce heat by the Joule effect, a heating element is one specifically designed to do so.
Technologies
There are many different types of heating element.
- Tubular models, some with flanges, have a wound resistance perfectly centered within a cylindrical metal sheath or shielding filled with a compact, powdered insulating material. The outer sheath ensures very good heat transfer and excellent mechanical properties.
- Cartridge heaters are used in the plastics industry to warm molds and tools.
- Flat versions are analogous to tubular models, but with a different configuration whose surface offers better heat transfer to solid substances.
- Heater bands are designed to heat cylindrical parts.
- Flexible elements consist of a particularly flat resistance sandwiched between two sheets of flexible insulation with low power density.
- Immersion heaters heat the liquid in which they are submerged.
- Heating belts and blankets are used to warm drums and IBC containers.
- Heating cable and tape is used especially to keep pipes, ducts and lines from freezing.
How to choose
The proper type of heating element depends on the specifics of the application. Choice of model will depend on the size, required power and the compatibility of materials.