The Online Industrial Exhibition

Torque: 3 Nm - 5 Nm
Power: 0.3 kW - 0.6 kW
Rotational speed: 3,600 rpm
MOTORS FOR ELECTRIC POWER STEERING (EPS) Compared to the conventional steering systems, EPS systems bring many advantages, which are reflected in greater system efficiency and comfort ...

Power: 1 ch - 200 ch
... features and high reliability Satisfies the efficiency standard defined by the EPAct and CSA Uses quality electric materials to minimize electricity loss; the use of precision ...
See the other products
Hyosung Power & Industrial Systems PG - Industrial

FT-NEMA Standard High Efficiency Motors Are Totally Enclosed Fan-Cooled Machine(IP54).This Series Motors Are Designed And Manufactured In Accordance With NEMA Standard ...

Power: 0.75 kW - 315 kW
Three-phase asynchronous motors of the HGIE2 series with IE2 efficiency in a cast iron framework.
See the other products
CAG Electric Machinery s.r.o.

Power: 0.8 kW - 13 kW
JO2 three phase electric motor Technical spec: Totally enclosed fan cooled (TEFC) three phase, squirrel cage type induction motors. Beautiful modeling, compact structure, low noise, high ...

Power: 0.75 kW - 15 kW
* Compact dimensions * Possibility of mechanical customisation * Possibility of having all types of voltages * Available on self-braking units * Possibility of having speed transducers - Encoder - Resolver * Low noise level * IP55, ...
See the other products
Carpanelli

Power: 1,150 kW - 3,575 kW
Three Phase motor TEFC High Eff. or High Torque: FEATURES: 1HP thru 200HP 60HZ208-230/460 VoltageNEMA Service Factor 1.15Continuous Duty 40%u2103 AmbientTEFC (Totally Enclosed Fan Cooled)Class ...

Torque: 0.05 Nm - 0.29 Nm
Power: 15 W - 104 W
Rotational speed: 3,000 rpm
DCmind Brush Motors are extremely quiet, highly efficient and have a long working life.The motor's performance is built on the precision of its components and sub-assemblies, where accuracy, ...

Torque: 0.9 Nm - 680 Nm
Power: 0.18 kW - 45 kW
DEMAG Z cylindrical-rotor motors are capable of performing a variety of industrial drive tasks in a reliable and effective manner. This makes them ideal for a wide range of applications, with its impressive ...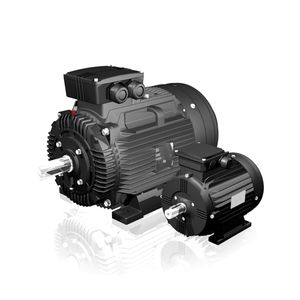 AC motor
2MLA / WE(A) / SWE(A) series
Torque: 0.63 Nm - 2,701 Nm
Power: 0.18 kW - 315 kW
Rotational speed: 860 rpm - 2,985 rpm
... 2MLA, WEA, WE, SWEA and SWE represent a new complete range of high-efficiency motors, characterized by frames made of aluminium and cast-iron and designed to satisfy the standards of ...