The Online Industrial Exhibition

The stable, welded sheet steel case makes the KIND hinged door cabinet EASY a robust cabinet variant for use in factory and workshop. Hinged door ...
See the other products
Otto Kind GmbH & Co. KG

... Provision Light Weight Description E200 Plastic Outdoor Enclosure - The E200 is a Plastic NEMA 3R rain tight enclosure with hinged door and latch. It offers provisions for mounting up to four of ANY ...
See the other products
KEP

protective cabinet
SERIE ARMADI DRC
Width: 400 mm - 1,600 mm
Height: 1,400 mm - 2,200 mm
Depth: 400 mm - 1,000 mm
THE EQUIPMENT INCLUDES: SOLID DOOR INTERNAL PLATE BACK PANEL Structure: 1,5 mm thick steel sheet drawn-columns bearing frame; drawn-columns are fixed and welded to die-cast aluminum joints. 25 mm pitch drilling scheme; ...
See the other products
Zanardo SpA

Industrial Storage Lockers, Heavy Duty Steel Lockers WireCrafters RapidWire™ bulk storage lockers are a good solution for securing employee items or company equipment. Stored items are not accessible, but remain visible. The open but ...

workshop cabinet
7030.M series
- Tested and approved Type 30 according to EN 14470-1 (04-2004) and EN 1363-1 (06-2000). - (1)Tested and approved Type 10 minutes according to FM 6050 (Factory Mutual internationnal) (except for 7031T and 7032T models). - Standardized ...
See the other products
Ecosafe S.A.

workshop cabinet
max. 1 500 x 1 500 x 2 150 mm | LBA, LBC series
Width: 975, 990, 1,500 mm
Height: 1,180, 1,660, 1,900, 2,150 mm
Depth: 520, 500, 1,040, 1,500 mm
The storagebins can be fitted with racks and are sealable with a cylinderlock. The racks are made for inside and outside use. We have an offer for standard racks, but customizing them to make one suitable especially for you, height and ...

Width: 718 mm
Height: 1,625 mm
Depth: 754 mm
Steel sheet construction 718 x 754 x 1625 mm (W x D x H) Monitor door lockable with 4 mm thick acrylic glass window, door hinged on right or left hand side Monitor housing efective ...
See the other products
LOKOMA

Width: 1,020 mm
Height: 1,900 mm
Depth: 500 mm
... modularity - Framework / frame type welded material thickness 0,8 mm Door type material thickness number of doors in height suspension and opening angle doorstop ...
See the other products
metal design slovakia a.s.

network cabinet
31-1382 series
Width: 550 mm
Height: 990 mm
Depth: 440 mm
Renown Drum Cupboard Lockable door. Suitable for storing paints. Compatible with most chemicals, guide available on request.
See the other products
Lubetech

network cabinet
7000 series
Width: 800 mm
Height: 1,645 mm
Depth: 600 mm
The 7000 Series NetworkRack cabinets are robust racks specially made for large amounts of Network cabling applications in conjunction with active equipment like, Servers, Modems ADSL/XDSL, KVM and keyboards plus many ...

workshop cabinet
A.SECU, AGM1, APM1, BAC ETAG 22
Width: 600 mm - 990 mm
Height: 850 mm - 1,660 mm
Depth: 470 mm - 520 mm

electric cabinet
16 - 63 A | 690 series
Width: 870 mm
Height: 720 mm
Depth: 375 mm
Contruction site assembled distribution boards ASC type Plugs and sockets 16 / 32 / 63A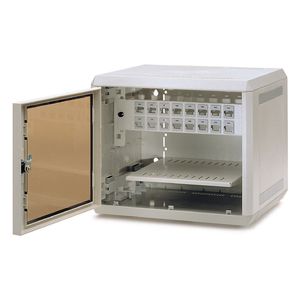 storage cabinet
5U | MININET
Width: 332 mm
Height: 272 mm
Depth: 282 mm
Made in high impact ABS, optimum for Wireless. Wall mounted (10'') cabinets adapted to small installations 5U height, made in high impact ABS, optimum for Wireless technologies Flat pack delivery Quick assembly ...

storage cabinet
RB-DC Series
Width: 600 mm
Height: 1,197, 1,997, 2,264 mm
Depth: 1,086 mm
... Specifications RB-DC4242 Server Cabinet includes: One (1) locking front cabinet door with curved surface for added stability. One (1) pair of split rear cabinet ...
See the other products
Hammond

electric cabinet
univers series
Width: 600, 850 mm
Height: 550, 850, 1,150 mm
Depth: 300 mm

electrical distribution cabinet
Width: 27 in
Height: 75 in
Depth: 31 in
The Communications Distribution Rack Cabinet will fulfill your requirements for orderly and secure signal distribution. It comes completely assembled, ready for use and accepts all of Bud's standard accessories. Design ...
See the other products
BUD INDUSTRIES

electrical distribution cabinet
Modular cabinet "comfort'' FOR 8 TO 40 RJ45 SOCKETS - EASY TO INSTALL : Its configuration in 3 parts offers a real comfort during the installation. The middle door with large opening allows a simply ...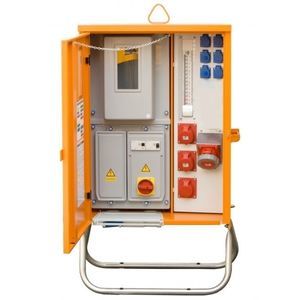 electric cabinet
24 - 173 kVA | max. 125 A | AVEV series
Width: 710 mm - 1,300 mm
Height: 970 mm - 1,340 mm
Incoming Supply Distribution Cabinets (AVEV) These products form the intersection between the supply network and the site distribution system. They measure the consumed amount of electrical energy and the distribution ...
See the other products
Merz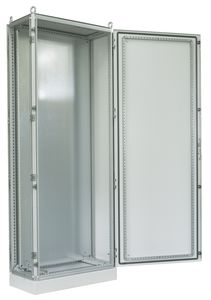 Width: 600, 800, 1,000, 1,200 mm
Height: 1,800, 2,000, 2,200 mm
Depth: 400, 500, 600, 800 mm
... untypical dimensionsare also possible. SZE3 cabinets are also available in a version suitable for outdoor applications (special painting), or in stainless steel. CABINET DESIGN Screwed framework of the ...
See the other products
ZPAS Gorup

Width: 300, 600, 400, 800 mm
Height: 1,300, 1,800 mm
Depth: 350, 500 mm
Do you want to equip the workspace for the team? This problem can be solved without any extra efforts if you pay attention to the metal wardrobes. Submitted kinds of wardrobe are metal furniture which main features are reliability and ...
See the other products
PJSC "UHL-MASH"

The Electric Panel, designed for each line, has the function to control each phases by PLC system.

protective cabinet
660 V, 1 000 A | SAFYBOX ART
The Outside floor standing nooks in series Ip43/ Ik10 , Ip55/ Ik10. It has a fiberglass strengthened fenced in areas (GRP Cabinets) with high effect safety and remarkable execution in great situations.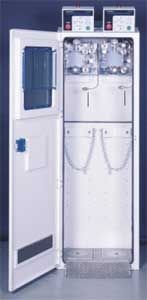 The total package For smaller or more specialized applications, we offer our complete line of Praxair gases in high-pressure gas cylinders and liquid containers in a variety of sizes. With over 400 Praxair stores, depots, cylinder filling ...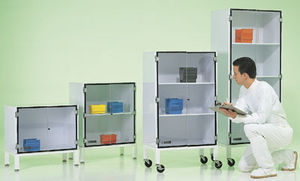 electric cabinet
max. 25.75 x 16.75 x 55"
Width: 26 in
Height: 13 in - 62 in
Depth: 17 in
All cabinets feature double full-height access doors that require minimal clearance space. The durable hinges are spring-loaded and, together with gaskets, ensure a tight seal and a clean environment ...
See the other products
Terra Universal Inc.

storage cabinet
max. 198 x 92 x 40 cm | GT 2021-2023
Width: 92 cm
Height: 198 cm
Depth: 40 cm
Adjustable shelves, each shelf has a weight capacity of 50 kg, doors that can be opened in 180 degrees, hinged and blind hinged, locked, electrostatic powder painted.
See the other products
Goktun Celik