How to choose this product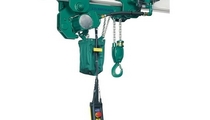 A hoist is a mechanical device used to multiply lifting or traction force. The load is attached to a hook or another mechanism at the end of the cable.
Applications
Common industrial uses include lifting heavy loads, truck loading, mining operations and construction.
Technologies
The chain or cable linking two groups of pulleys transmit the force. The multiplication of force is determined by the relative diameters of the pulleys and the number of times the cable or chain passes through each.

Ratchet lever hoists are hand-operated. Power versions are driven by an electric, pneumatic or hydraulic motor. Explosion-proof models can be used in an explosive atmosphere. They are operated with a remote control equipped with an emergency stop button and a motor brake.

A hoist is designed for installation on a bridge crane, a jib crane, a gantry or half gantry, a single or double girder crane or attached to a cable for cable yarding. Low-headroom versions are used where there is limited vertical lift room.
How to choose
Choice of hoist will depend on its load capacity, lift and unloaded descent speeds, load-lifting height, chain weight and motor power.