The Online Industrial Exhibition
{{#pushedProductsPlacement4.length}} {{#each pushedProductsPlacement4}}

{{#if company.requestButtonsVisibility.requestButtonQuestion == "ACTIVE"}}
{{elseif company.requestButtonsVisibility.requestButtonWhereToBuy == "ACTIVE"}}
{{/if}}
{{product.productLabel}}
{{product.model}}
{{#each product.specData:i}} {{name}}: {{value}} {{#i!=(product.specData.length-1)}}
{{/end}} {{/each}}
{{{product.idpText}}}
{{#if product.newProduct}} {{/if}} {{#if product.hasVideo}} {{/if}}
{{/each}} {{/pushedProductsPlacement4.length}}
{{#pushedProductsPlacement5.length}} {{#each pushedProductsPlacement5}}

{{#if company.requestButtonsVisibility.requestButtonQuestion == "ACTIVE"}}
{{elseif company.requestButtonsVisibility.requestButtonWhereToBuy == "ACTIVE"}}
{{/if}}
{{product.productLabel}}
{{product.model}}
{{#each product.specData:i}} {{name}}: {{value}} {{#i!=(product.specData.length-1)}}
{{/end}} {{/each}}
{{{product.idpText}}}
{{#if product.newProduct}} {{/if}} {{#if product.hasVideo}} {{/if}}
{{/each}} {{/pushedProductsPlacement5.length}}

impact mill
Tube Mill control
Rotational speed: 5,000 rpm - 25,000 rpm
This batch mill has Tube Mill control with disposable grinding chamber removes the likelihood of any kind of cross-pollution and makes for easy cleaning. The grating chamber and cover are made of a translucent ...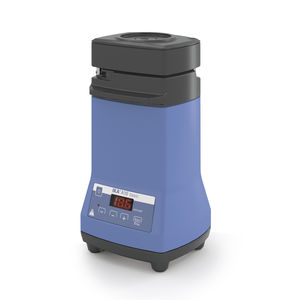 Rotational speed: 25,000 rpm
... redesigned batch mill grinds hard, brittle, soft and fibrous materials for volumes up to 50 ml. Because samples may be embrittled directly in the grinding chamber; tough, oily and aqueous samples can also be grinded. ...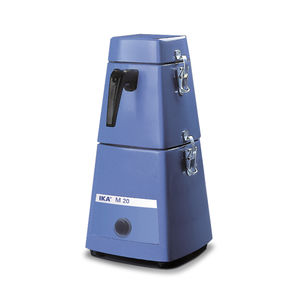 Rotational speed: 20,000 rpm
The M 20, manufactured by Ika, is a universal batch mil suited for dry grinding hard and brittle materials. It features a double walled grinding chamber that can bee cooled with water through two hose adapters. The grinding chamber may ...

The top of the line ball/pebble mills designed by Metso feature dimensions ranging from 5 ft. x 8 ft. with 75 HP to 30 ft. x 41 ft. with 30,000 HP, flexible feed sizes that can accommodate both hard ores and soft ores, ...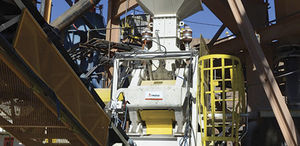 High pressure grinding rolls are an energy efficient grinding solution, and now Metso has improved this technology even further. The HRC™, our innovative approach to HPGR technology, is like no other HPGR on the market. Main features ...

... ball mill, pebble mill, or a VERTIMILL® or a stirred media detritor (SMD). Simplifying wet grinding with Metso AG/SAG mills AG/SAG mills are often the optimum solution ...

The feed limit to this mill is reduced to the maximum size that can be transferred and fed into the mill. The mill product is either an immediate size ready for final grinding in a pebble ...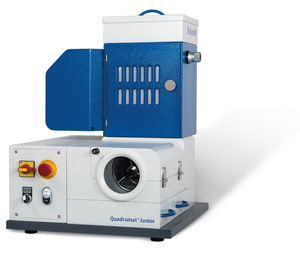 roller mill
Quadrumat Junior
Output: 100 g/min
Quadrumat Junior: New roller mill for user-friendly lab flour preparation What is it used for? The Brabender Quadrumat Junior is a universal laboratory roller mill with integrated separation and aspiration ...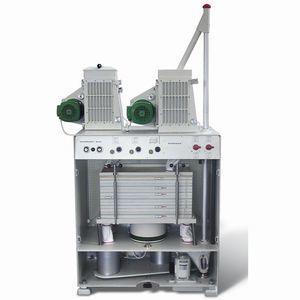 roller mill
Quadrumat Senior
Output: 8 kg/h - 10 kg/h
The Brabender® Quadrumat® Senior is an industrial laboratory mill of 300 kg net body mass and approximately 65 - 75% output yield. It is applicable in preparation of production of equivalent test flours, identification ...

Output: 33 g/min
Sedimat: Special mill for the Zeleny sedimentation test What is this mill for? The Sedimat laboratory mill was created to aid in laboratory grain sample preparation of Zeleny sedimentation ...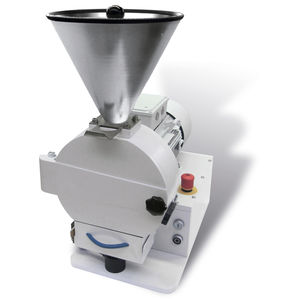 Brabender's Rotary Mill is used for grinding various materials in accordance to the analysis that is done properly, reliably and with a variable degree of fineness. The Rotary Mill possesses a speed of ...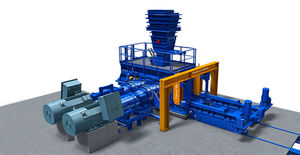 Output: 0 t/h - 7,500 t/h
The HPGR technology has demonstrated to be a leader with low energy consumption, low maintenance requirements and high availability compared to other crushing and grinding options. The outstanding size reduction capability of an Enduron ...

Output: 0 t/h - 750 t/h
Requiring less process stages, an Enduron HPGR significanlty reduces overall circuit energy consumption, grinding media consumption and wear cost. The Enduron HPGR can be utilised in a wide variety of minerals and size reduction duties. ...

roller mill
RS 75b, 90 series
Rotational speed: 955 rpm - 1,070 rpm
Output: 350 kg/h - 900 kg/h
The RS 75b/90 is a granulator manufactured by Illig. It has integrated interlinkage kits that guarantee excellent synchronization of mechanical and control-related interfaces. Key features include a maximum material draw-in width ...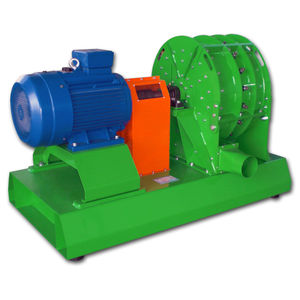 rotary drum mill
TURBO 625/2
The TURBO 625/2 Series of Centrifugal Type Mill, manufactured by Guidetti S.r.l., is specifically designed as a new concept of dry-milling. This device is composed in the self-grinding of the materials by the collision ...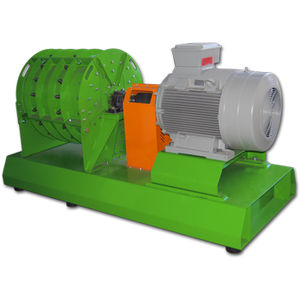 rotary drum mill
TURBO 625/3
Pulverizer series TURBO mills introduces the new concept of dry-milling that consists in the material's self-grinding through the collision and the friction among the particles. The machine includes vortex. ...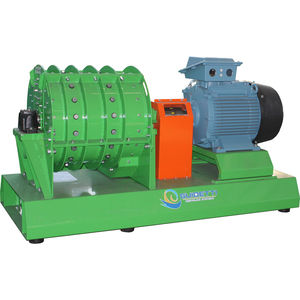 rotary drum mill
TURBO 625/4
The Turbo 625/4 from Guidetti Recycling Systems has different areas of application, such as minerals, plastics, chemicals, metals, foods and miscellaneous. Concentration of the wear on small surfaces can be easily replaced. It has a ...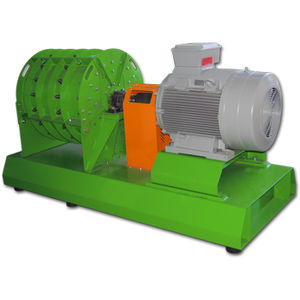 rotary drum mill
TURBO 900/5
The TURBO mills in the Pulverizer series offer a new concept of dry-milling, which is included in the self-grinding of the materials through particle collision and friction. This is made possible with ...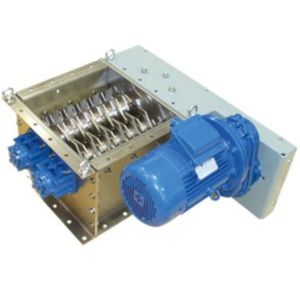 double-roller lump breaker
DLP
The DLP Lump Breaker model comprises of cutting knives mounted on two revolving shafts, as well as a square cross section housing with both top and bottom flanges. The unit also features a compact drive model with its ...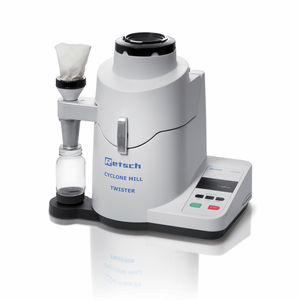 cyclone mill
TWISTER | <250 µm
Rotational speed: 12,000, 14,000, 10,000 rpm
The cyclone mill TWISTER is designed for sample homogenization of food- and feedstuff for subsequent NIR analysis. The form of rotor and grinding chamber has been optimized to generate an air jet which transports the ...
See the other products
Retsch GmbH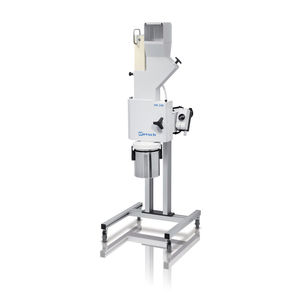 Rotational speed: 1,500 rpm
The Cutting Mill SM 100 from Retsch is an economical unit especially designed to achieve powerful and quick grinding of materials for routine applications. It offers defined fineness due to the bottom sieves with aperture ...
See the other products
Retsch GmbH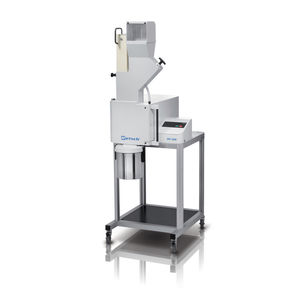 Rotational speed: 1,500 rpm
Cutting mills are utilized to grind soft, medium-hard, fibrous, elastic and heterogenous mixes of products. The SM 200 is a new and powerful cutting mill which is easy to operate for convenient cleaning. ...
See the other products
Retsch GmbH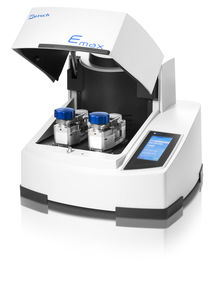 Rotational speed: 300 rpm - 2,000 rpm
... impact which results in ultrafine particles after very short grinding times. The speed of 2,000 rpm is unmatched in a ball mill. The high energy input is effectively used for the grinding process thanks to an innovative ...
See the other products
Retsch GmbH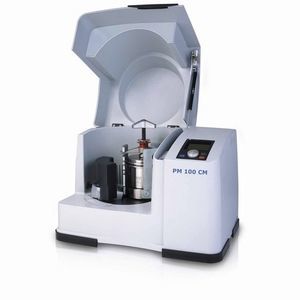 planetary ball mill
PM 100 CM | <1 µm
The PM 100 CM is a planetary ball mill with 1 grinding station. It operates in centrifugal mode which leads to a more gentle size reduction process with less abrasion. Planetary ball mills comminute by ...
See the other products
Retsch GmbH

disc mill
Junior 2 Compact
Output: max 20.0 kg/h
The Junior 2 C, manufactured by Wittmann Battenfeld, is specifically created with less floor space requirements for the purpose of recycling sprues and filled plastic parts. This can help reduce the heating of equipment and dust. It is ...

knife mill
Junior double series
Output: 70, 60, 40 kg/h
The Junior Double Rotor is used for processing and machining large sprues as well as parts. It comes with two rotors which are located in the cutting chambers. These rotors are intended to process substantial sprues or parts. The double ...

Output: 12 kg/h
The Minor series of Screenless beside-the-press granulators from WITTMANN BATTENFELD employs 1.1 kilowatts of power, which offers 7 - 12 kilograms of throughput every hour. This product is designed with the gear motor straight on the ...

Output: 70 kg/h
The MAS2 Auger is a regular granulator with auger and came from concept of the MAS2 beside-the-press granulator. It can be utilized straight from the injection molding machine. It has a 247 x 255 cutting chamber and the open rotor is ...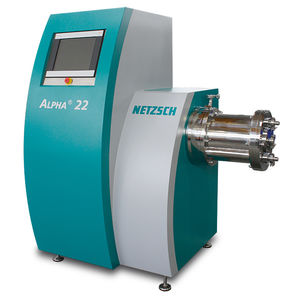 Output: 70 kg/h - 12,000 kg/h
Performance and Efficiency - more than a step ahead General The agitator cooling with the newly-developed Neos grinding system stands for maximum performance, product quality and efficiency. Coupled with the reliable use of extremely ...
See the other products
NETZSCH Grinding & Dispersing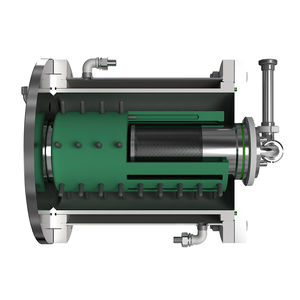 circulation grinding mill
Zeta®
... structural design of the agitator mill, there is already a number of advantages: the horizontal orientation guarantees a homogeneous fill of the grinding media in the grinding tank. The start-up performance ...
See the other products
NETZSCH Grinding & Dispersing

... narrowerd well time distributions and therefore more intensive grinding with uniform impact intensity. The power input of the mill increases considerably, with a simultaneous increase in energy efficiency. The Discus ...
See the other products
NETZSCH Grinding & Dispersing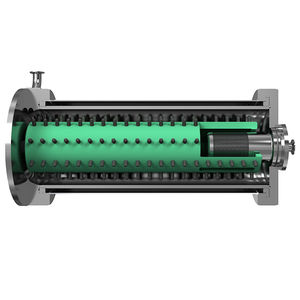 The Macro grinding system represents the logical advancement of the John System annular chamber mill with the centrifugal force separation device. The new peg system is designed for high power input in single and multi-pass ...
See the other products
NETZSCH Grinding & Dispersing

... service on beads and mill is necessary to guarantee trouble-free operation. With the NETZSCH-BeadBox®, which – as a mobile unit – can be applied to several agitator bead mills, you avoid laborious manual ...
See the other products
NETZSCH Grinding & Dispersing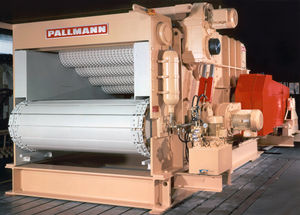 hammer mill
PHPH ''Grizzly®'' series
Output: 10 t/h - 70 t/h
... Impact Hammer Mill, series PHPH ''Grizzly®'' was developed for the economical size reduction of residual- and waste wood of any kind. Not only pre-broken waste wood but also non precut, long recycling wood can be introduced ...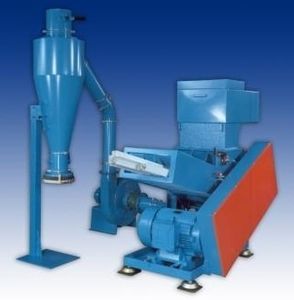 Output: 400 kg/h - 1,500 kg/h
The Pallmann Knife Mill, type PSP is the tailored solution for the size reduction of window profiles, shutter profiles and siding profiles which mainly consist of PVC. During the production of these types of products, ...

Rotational speed: 120 rpm
Output: 40,000 kg/h
... Multicrusher is an effective, universal chopping unit for use with liquids containing solids. The basic design of the twin-shaft chopper is based on the proven Börger Rotary Lobe Pump. With the wide spectrum of 5 series ...

Rotational speed: 300 rpm
Output: 10,000 kg/h
The Börger Multichopper is a perforated disk chopper with a central perforated disk and high performance blades for using with liquid containing coarse solids. The Multichopper is impressive with its sophisticated user-friendly ...

Rotational speed: 100 rpm
Output: 50,000 kg/h
The Rotorrake is a robust, single-shaft coarse chopper in an inline version. Blades and counter blades are mounted one after the other on the carrier shaft. The sturdily attached counter blades are each cleaned by rotating ...

double-roller mill
A Series
Rotational speed: 85 rpm
The reliable Series A Muncher is well proven in its ability to effectively macerate raw sewage, sludge, screenings, and industrial process flows. Available for pipeline of channel installations, the shaft speed of 85 rpm offers low cutter ...

The Series F Muncher is a heavy duty grinder, ideal for bulk reduction, material reclamation and profit from waste. Description The operating principle is based on independent drive shafts offering greater torque and variable particle ...

Rotational speed: 500 rpm - 4,500 rpm
... viscosity. It enables horizontal and vertical operation. Full volume, annular chamber and nano mill Process units are available in the executions Centex™ as full volume disc mill, ...
See the other products
Bühler

... Higher productivity from smaller mill volume The reduced energy requirement and the option, due to high quality of mill lining materials, to increase the power input entail an enhanced productivity from ...
See the other products
Bühler

Chopping system Barth CM The chopping system Barth CM is a continuous process developed by Bühler Barth in which the product is crushed between rotating rolls. This enables an optimal yield to be achieved for a required particle size ...
See the other products
Bühler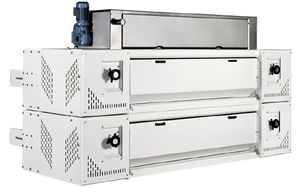 Crushing Mill OLCB The high-capacity Bühler crushing mill OLCB is a true all-rounder talent: It can be applied for cracking oilseeds such as soybeans, sunflower seeds, rapeseeds, and corn (maize) as ...
See the other products
Bühler

roller mill
G™ 1300 / 1800 / 2500
Output: 4 t/h
Finer G™ 1300 / 1800 / 2500 The semi-automatic Bühler five-roll refiner has been designed for monolines or product recipe types with similar plasticity and fineness properties. It thus allows a broad range of chocolate, filling, and coating ...
See the other products
Bühler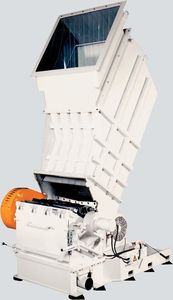 Output: 50 kg/h - 1,500 kg/h
LM series granulators are equipped with rotor and stator knives in a crossed manner for scissor like exact cutting action. This machine helps in finer and identical cutting and keeps the heat formation stable. This type of cutting also ...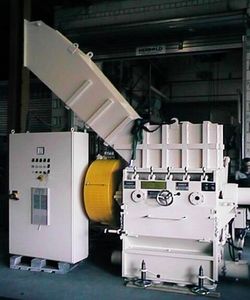 Output: 150 kg/h - 8,000 kg/h
These granulators are designed by Neue-herbold. The bearings of the rotor shaft are mounted within solid steel housings which offers more reliable service and eliminate any chance for the housings to crack or break under heavy shock loads. ...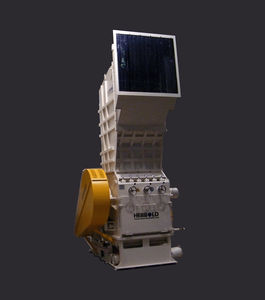 Output: 150 kg/h - 8,000 kg/h
The modern SM1000 series granulator from NEUE HERBOLD features a 1000m rotor diameter in numerous widths. It is ideal for applications that need a huge throughput ability, and where voluminous and generous sized materials need to be ...

In order to produce flakes, you will need - apart from a steamer and a tempering bin - one thing above all: a flaking mill which shapes the moistened and heated grains as desired. Via a feed roller, the product is fed ...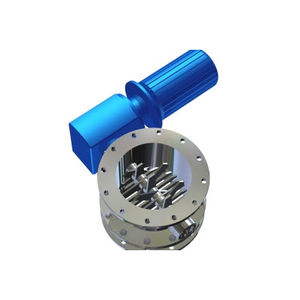 single-roller lump breaker
Rotational speed: 50 rpm
The lump breaker enables the safe and smooth deagglomeration of bulk materials that tend to compact and form lumps. Its double bearing design allows gentle crushing of even hard products and works well with high product ...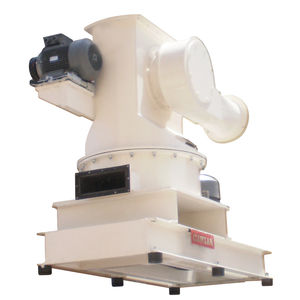 Output: 500 kg/h - 1,250 kg/h
The grinding mill can be designed for heat-sensitive goods, for micro ranged grinding results and for a wide range of hardness classes as well too. The construction is performed in compliance with customer-specific requirements. Design: Particle ...

The construction of the Pin Mill is performed in compliance with customer-specific requirements. Design: particle size: 2 - 2.5 mm hardness class: 2 - 3 Mohs Applications: Foods, chemicals, building materials, etc.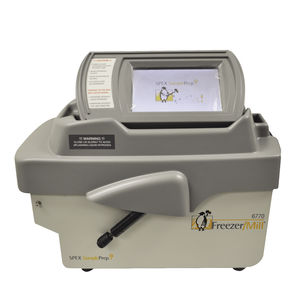 horizontal mill
6770 Freezer/Mill®
The Freezer Mill 6770 accommodates sample sizes ranging from 0.1 up to 4 grams. It is suitable for the applications like cryogenic grinding and pulverizing of tough and/or temperature sensitive samples immersed in liquid ...
See the other products
HORIBA Scientific

The Large Cryogenic Ball Mill (model: 6870), manufactured by Horiba Scientific, is capable of accommodating samples sizes ranging from 0.1 up to 50g. In addition, this type of mill is particularly devised ...
See the other products
HORIBA Scientific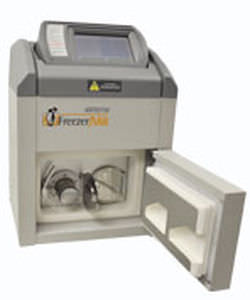 horizontal mill
6970EFM Freezer/Mill®
... Grinder 6970EFM, built for DNA or RNA extraction without shearing. The device is a large capacity, high-throughput, cryogenic mill that accommodates samples from 0.5 up to 100 grams. This equipment is particularly engineered ...
See the other products
HORIBA Scientific

Rotational speed: 3,000, 2,500 rpm
The 5100 Series, manufactured by Horiba®, is a shaker mill or high-energy ball mill designed for grinding samples in the 0.2 - 1.5 gram range or mixing up to 5 mL of sample suited for grinding and pulverizing. ...
See the other products
HORIBA Scientific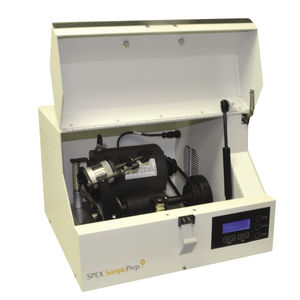 Rotational speed: 1,425, 1,725 rpm
The High Energy Ball Mill (model: 8000M), manufactured by Horiba Scientific, is capable of accommodating samples sizes ranging from 0.2 up to 10g. In addition, this type of mill is best applicable for ...
See the other products
HORIBA Scientific

coffee mill
WMK Series 250
Output: 1,050 kg/h - 6,000 kg/h
Neuhaus Neotec's WMK Series is part of the company's product line of coffee grinders. Models of the series feature dust-tight designs, servo adjustment capabilities of the grinding gaps, and reproducible, constant grinding operations. ...

Output: 300 kg/h - 1,400 kg/h
The WMS series coffee grinders are especially designed for smaller capacities and has many features. They perform phased grinding in one, two or three stages and have a simple roller change. The central drive has ribbed V-belts and double ...

Output: 500 kg/h
The LWM-100 Model, manufactured by Neuhaus Neotec, is a roll mill suitable for laboratory and small-production use. It has a stainless steel grinding chamber which has a mirror finish. The unit also has transparent front ...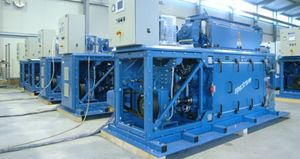 The WMC chemical grinder offers crushing via narrow particle size distribution, eliminating dust. In order to create a narrow particle size spectrum this unit uses non-stop compressive shear action between two corrugated rollers, with ...

The GMP Series features an innovative design with drive framework and control components housed together in one stainless steel case permits speedy and simple cleaning. All item reaching parts are planned in stainless steel 1.4404 (316 ...