How to choose this product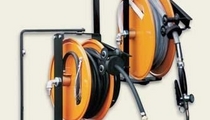 A hose reel holds the hose on a drum, storing it in a compact manner and allowing any length to be unrolled.
Applications
These devices hold compressed air hoses for inflating tires and removing dust in workshops and garages. They also store lubricant, fuel and coolant hoses in service stations and marine and aviation settings. Reels for water hoses used to wash floors and work surfaces are common in the food industry, commercial kitchens and laboratories.
Technologies
The reel is often made of steel or stainless steel, in an open or closed configuration. A swivel base allows the hose to be unrolled in any direction. Hand-held and cart-mounted models are portable. Others are fastened to the floor, the wall or the ceiling. Most have a crank handle or a spring-loaded system with a ratchet. The latter allows a set length to be unrolled and rolls the hose automatically. Some are motorized.

There are also double-drum models, as well as those which store two hoses on the same drum. These are useful where two fluids are needed for the same operation, as in welding. Hoses are of polyurethane or food-grade rubber, depending on use.
How to choose
Choice will depend on hose length, material and the temperature and pressure of the fluid to be carried.