The Online Industrial Exhibition

relative humidity transmitter
THR series
New R.H. Transmitters THR Series, with capacitive or fiber dilation sensor. Dual 4-20 mA 2-wire RH% and ºT outputs. Available types for wall rooms, chambers or process mounting. Special types for high pressure and temperature. ...

in-line humidity transmitter
IR-3000 series
The IR-3000 moisture transmitter is MoistTechs NIR (Near Infrared) online moisture sensor for instant, non-contact measurement of virtually any product and raw material in the harshest ...
See the other products
moisttech

relative humidity transmitter
LF/LF-T
Applications: Humidity tramsitter for laboratory- and climate control, drying, wood processing industry, food industry, humidity in constuctions, agriculture, printing and paper industry, animal feed ...
See the other products
Messtechnik Schaller

relative humidity transmitter
SEM164
The SEM164 Series Relative Humidity (RH) and Temperature Transmitters accurately measure relative humidity and temperature to provide two 4-20 mAoutputs. Depending upon your application, you can choose ...
See the other products
Indumart

solid humidity sensor
MoistScan® MA-700
... are: Online moisture analysis of processed cheese Real time moisture determination of Butter Continuous sensing of moisture in creamed cheese Online moisture ...
See the other products
Callidan Instruments

MCM sensor and accessories Brookhuis developed a unique MCM sensor (multi-channel moisture sensor) for continuous wood moisture measurement in drying ...

cement mixer moisture sensor
H3

HS14: Sensor for monitoring of relative humidity in air. Supply voltage 18-30 VDC. Output: 0-20 mA, 0-5 V or 0-10 V. HS16: loop-powered combined humidity and temperature sensor. 4-20 ...

Connect directly to any XR5-SE Data Logger. No external power required. Voltage output proportional to water content Low sensitivity to salt and temperature Accuracy ±3% typical, ±1% with soil specific calibration Five meter cable
See the other products
Pace Scientific

relative humidity transmitter
HART, 12 - 42 VDC, 4 - 20 mA | HTZ
... , host or FREE PC software and cable Process display mounts up to 9m (30ft) from the measurement location High accuracy humidity, temperature and dew point measurements

relative humidity transmitter
-50 ... 90 °C | ATF
for assembly at external walls, in cold stores and arboriums, in halls, in the industrial field and in the agriculture. measuring range: TB 1; -50°C ... +50°C (optional other measuring ranges)

relative humidity transmitter
-40 °F... +140 °F, 902 - 928 MHz | EN1721
... temperature and humidity sensor. Key Features Transmits temperature and humidity periodically and upon significant change Measurement range: -40° to 140°F and 0 to 90% relative humidity Typical accuracy of 0.5°F and 2.0% relative humidity
See the other products
Inovonics

relative humidity sensor
FS-1
The FS-1 Humidity Sensor is a top of the line component which is designed and manufactured by SKF. It does features an electrical connection via a standardized M12x1 plug as well as a sensor's ...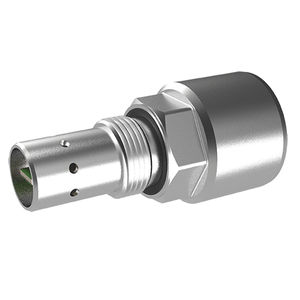 oil humidity sensor
LubCos H2O
The LubCos H2O Humidity Sensor are specifically designed to detect unwanted and potentially damaging water content in hydraulic lubricants and fluids. By measuring the relative humidity ...

solid humidity sensor
M-Sens 2
Online humidity measurement The microwave sensor for continuous humidity measurement in dry bulk solids Simple retrofitting for measurement in container outlets, conveyor screws, ...

relative moisture sensor
AquaXact 1688
The AquaXact 1688 is a rugged, ultra-thin film Aluminum Oxide moisture sensor that enables fast and accurate dew point and ppm H2O measurements of moisture in a wide variety of gas phase ...

relative humidity sensor
CHI
Humidity indicator CHI is designed for optical indication of dew point in compressed air system. Humidity / dew point is determined based on the color of the silica gel, it is orange when dry and translucent ...

oil moisture sensor
MS series
MS moisture sensors provide fast, reliable and accurate inline detection of moisture in fluids. Technology developed for preventative maintenance programmes.

grain moisture sensor
Litronic FMS II
... automation since 1985. Our sensors reliably determine the moisture in various materials. The benefit of Liebherr measurement systems is high precision thanks to 40 measurements per second, as well as ...

oil humidity sensor
MS series
Parker's MS100 Moisture Sensors feature actual time, precise and repeatable monitoring outcome as a percent of saturation of water. Percent saturation is a beneficial aid that provides the user with easy ...

... value on the upper scale. The lower scale shows the degree of moisture when the lateral button is held pressed. The model with probe allows putting the sensor in the soil so as pH and moisture ...

relative humidity sensor
CHS series
... achieved by our own polymeric materials and assembled Humidity Sensor products that are extremely simple to apply due to our unique circuit designing technology. These variable resisting humidity ...

oil humidity sensor
FG-K16946-KW
... emulsified water starts to form. The moisture sensor measures the oils percentage Relative Humidity, resulting from the dissolved water within the lubricant, using a combination of proven ...

relative moisture sensor
TDR 100
... Based on the proven time-domain measurement technology, the portable TDR 100 accurately measures soil moisture across the full range of soil moisture conditions. Choose either the 7.5cm,12cm or 20cm (3in, ...

relative humidity sensor
ZS-12
... energy Increases process repeatability Saving energy Large amounts of hot air are used to permanently evaporate new water (humidity), thus transporting the resulting mixture of hot air and water vapour out of the dryer. ...