How to choose this product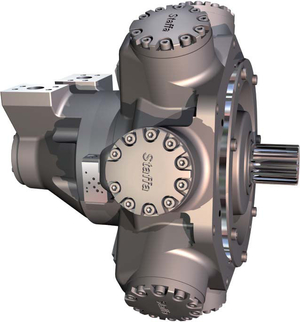 A hydraulic motor transforms hydrostatic power into mechanical power. Its operation is the inverse of that of a pump.
Applications
These motors power farm machinery, are used for goods handling and lifting, on winches, in excavators, on drilling rigs and other construction vehicles.
Technologies
Such motors offer high power-to-weight ratio, high starting torque and are explosion proof.

Vane models have relatively low torque and high rotation speeds. They are compact, silent and reversible, but wear out more quickly and are prone to leak. The rotor's axis is eccentric and features sliding vanes enclosing a compressible fluid.

Gear versions are inexpensive, light, compact and easy to maintain. They are reversible and rarely leak, but are noisy. They use a pair of toothed wheels powered by the fluid flowing between them.

Piston motors are complex but generate significant output.
Axial piston versions can reach high speeds with low torque. Hydraulic pressure moves the pistons, which operate via a ball joint connection and a journal. In contrast, radial piston models are low-speed and high-torque, and generally offer significant displacement.
How to choose
Consider the motor's power, displacement, rotation speed, fluid flow and maximum pressure rating.
Advantages
- Usually silent
- High power-to-weight ratio
- High starting torque
Disadvantages
- Often low output
- Prone to leaking