How to choose this product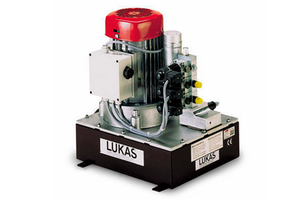 A hydraulic power unit generates, controls and supplies hydraulic power to one or more tools or mechanisms. It is the most important control element of the system.
Applications
These devices are widely used in settings requiring constant and/or repetitive exertion of directional force. These include agricultural machinery, forklifts, loaders, road maintenance equipment and other vehicles. In industry, they are found on machine tools, systems for automation and in steel production and mining. They also are employed in automobile manufacturing, shipbuilding and the aerospace industry.
Technologies
A hydraulic power unit consists of:
- an internal combustion engine or an electric motor driving a pump
- an accumulator, generally connected to one or more actuators, which stores energy in the form of fluid under pressure
- a reservoir containing the hydraulic fluid
- a filtering system
- valves to control pressure and flow
- a heat-control mechanism to keep the system within required operational parameters
- a control panel to monitor and adjust the system
Advantages
- Safety and reliability
- Cost control