How to choose this product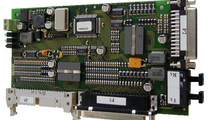 An I/O (input/output) card uses digital and analog channels for signal acquisition and generation.
Applications
These cards are used to control automated industrial processes, design and prototype development.
Technologies
I/O cards add fast memory and direct memory access to the computer in which they are installed. Streaming exchanges are possible. Clock speed regulates sampling and signal generation. Analog ports are characterized by their resolution, while hysteresis detection level of digital ports is programmable. I/Os are differential or pseudo-differential, can be bidirectional and often are optically coupled to isolate and protect the card.

Digital TTL outputs enable pulse-width modulation or pattern generation. Actuator outputs are open collector and equipped with inductive load suppression diodes. Digital inputs can be used to detect changes or event number and duration, and have pull-up and pull-down resistors.

Analog I/O channels have programmable gain and offset. Analog-digital converters acquire signals, storing samples in FIFO memory. A digital-analog converter generates output signals. Card format may be PCI, PCI Express, PC/104, compactPCI/PXI, PMC or VME.
How to choose
Choice will depend primarily on the number and nature of the I/Os, sampling frequency, resolution and card format.