How to choose this product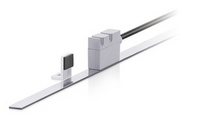 An incremental encoder measures the change in position from a given reference point. It converts the change in angular or linear position into an electric pulse. The majority of incremental encoders are optical models, but magnetic types can be found for both rotary and linear applications.
Applications
Incremental encoders can provide information such as speed, direction, displacement and position from a known reference point. For motor control applications, incremental rotary encoders can measure the shaft speed by counting the number of pulses in a given time frame. A computer numerical control (CNC) milling machine will use an incremental linear encoder to displace the X-Y stages for machining.
Technologies
Most incremental rotary encoders will use two photo-detectors in order to provide higher precision. These two output signals, commonly called quadrature outputs, are positioned 90° out of phase from each other, producing four signals for each change in position.
How to choose
For incremental rotary encoders, the number of pulses per revolution (ppr) will imply a certain performance level. For incremental linear encoders, the resolution of the encoder is specified by the maximum speed at which the encoder head can read the pulses.
Disadvantages
- Needs a home-cycle on startup