How to choose this product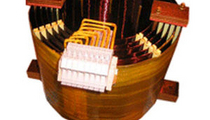 An inductor is a wound component that opposes variations in the current flowing through it. It is also referred to as a choke, coil or reactor.
Applications
Inductors are used in electronics as signal filters and in oscillators. Some are tunable. A choke coil is an inductor designed to filter high-frequency electromagnetic interference. The shunt inductor compensates for capacitive current in electrical transmission lines. Common mode inductors prevent overload by blocking power spikes in grounded circuits.

High-power inductors protect motor power factor capacitors. Harmonic inductors help eliminate undesirable harmonic distortions in single- or three-phase electrical circuits, depending on model. Rapid-discharge inductors reduce discharge time in low-voltage capacitors.
Technologies
Inductor coils are wound on a non-magnetic core or a ferrite toroid. Rating depends on the number of winding turns and the magnetic permeability of the core. Common mode inductors consist of two coils on a single magnetic circuit, resembling a transformer. Inductors are subject to electrical loss and heating due to the series resistance of the coils. Dry or oil-bath high-power inductors must be ventilated or equipped with a cooling system.
How to choose
Choice will depend on the inductor's current and excess voltage capacity, its series resistance and bandwidth. Inductance is expressed in henrys (mH or H).