The Online Industrial Exhibition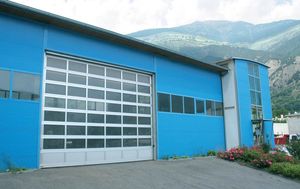 ... everything speaks about lightness and practicality. Aluminium and transparent parts, made of acrylic material, combine to create a door with both exceptional durability and lightness. Luxor guarantees safety, practicality ...
See the other products
Breda Sistemi Industriali S.p.A.

Single and double leaf sound-proof doors are installed at industrial and residencial buildings, and in technical rooms, whenever there is special need for noise insulation.
See the other products
Bosco Italia SPA

The 1-5/8" thick door panel is made of hot-dipped galvanized steel, enclosing a urethane core, providing optimal insulation for energy savings with an R-value of 12.4. The innovative Micrograin™ exterior surface finish ...
See the other products
SEUSTER

Width: 0 mm - 5,000 mm
Height: 0 mm - 5,000 mm
With the Compact Door SpeedLift you may continue the design of your Exterior wall on your doorleaf. Due to the many RAL colour combinations and the various designs of your door segments you design the ...
See the other products
ITW Torsysteme

Alapont sectional doors are designed for use in freight or vehicle access areas. Particularly suitable for industrial and commercial premises, they constitute the safest, most practical solution for ...
See the other products
TORNYMARK

roll-up door
AQUISO® T30/RS
Width: 26 mm
So far there is no roller door on the market that archives the smoke protection requirements. Jansen has successfully certificated the T30/RS roller door AQUISO in 2013. The ...
See the other products
Jansen Brandschutz-Tore GmbH & Co.KG

... with one stone? Wilcox Door, along side Bug Blocker Overhead Loading Dock Screen Door, provides the solution that is an add-on to you existing overhead door system. Using your present ...
See the other products
Wilcox Door Service Inc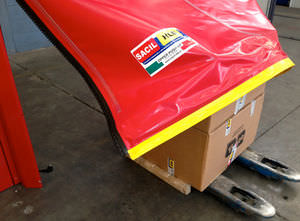 roll-up door
ZIPPER PUSH UP
... next-generation roll-up doors, designed for indoor and outdoor installation. All provided with sheet self-repairing system. In case of impact with the base sheet, after it is rolled up the sheet returns in to the side ...
See the other products
SACIL HLB

flexible strip door
Save-T®
... manufactures the largest line of Industrial Strip Doors in the United States. TMI's Save-T® Strip Doors, often called Strip Curtains, are the most economical solution to managing your ...
See the other products
TMI, LLC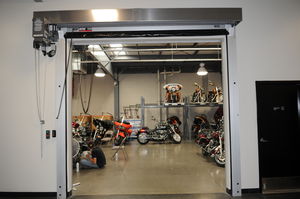 The Bantam roll door is an economical fabric door alternative for high maintenance overhead dock doors. The low profile design accommodates most dock applications. Manual operation is ...
See the other products
Rytec Corporation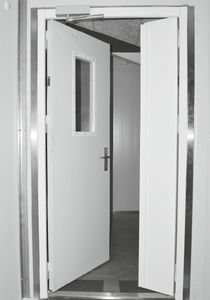 Width: 800 mm - 2,800 mm
Height: 2,000 mm - 2,500 mm
DAN-doors manufactures an extensive range of hinged doors for industrial applications. The doors are made to measures as 1- or 2-leaf doors. The ...
See the other products
DAN-doors

Height: 6,000 mm
Prime (Internal Door) are High Speed Doors that are fast, sturdy, space saving, reliable and energy efficient and is engineered for any industrial application. The simplistic curtain ...
See the other products
Gandhi Automations Pvt Ltd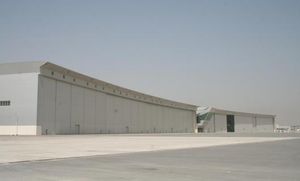 Height: 6 m - 40 m
... -sliding doors have been installed on the largest hangars in the world. With an unlimited span, it is also the most popular and cost-effective form of hangar door available. The steel-framed construction ...
See the other products
Jewers Doors Limited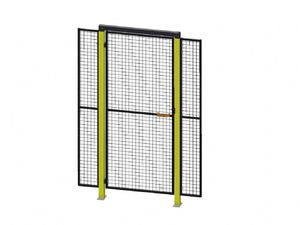 Door kits have been designed to guarantee easy and fast assembly, and maximum flexibility as they can be adjusted to integrate or re-collocate access points whenever needed, even after guard protections' final installation. Upon ...
See the other products
Access Srl

Width: 800 mm - 2,000 mm
Height: 2,000 mm - 2,500 mm
... Shielded faraday cage doors EMI/RFI/EMP Shielded doors for the use in faraday cages and EMI/RFI shielded rooms Holland Shielding Systems BV specializes in designing and manufacturing standard and custom ...
See the other products
Holland Shielding Systems BV

flexible strip door
9022xx series
Width: 570 mm
Height: 1,800 mm
Strip Curtains Made of PVC Green 9: Autogenous and electric welding at high amperage. Measurements : 570mm. width X 1.800mm length x 1mm. thickness
See the other products
MEDOP SA

Use Advantages Sliding industrial door suitable for cold rooms for preservation (+0°C), freezing (-20°C) and - (40°C) freezing tunnels. Perfect for the meat, fishing, fruit and vegetable, dairy and logistics ...
See the other products
Infraca

... or strip suspension cut to specified length, top-hung and overlapping. Industrial curtains for shielding a room or workplace from grinding sparks, dust, draughts, damp. Industrial curtains edged all ...

... where permanent movement is and where it is necessary to close places behind rolling shutter gates or the alleyway between two areas in easy and effective way. Strip doors, partitions and covering of ...

... and hinge posts for these door sets are made from a sturdy steel profile with welded four-hole base plates. Both door posts are prepared for use as corner or line posts. Owing to the positioning of the ...
See the other products
HANS GEORG BRÜHL

... optimise the flow of people, trolleys and vehicles. It has a self-repairing system capable of automatically resetting the door after being bumped accidentally which might cause the curtain to slip out of the side tracks: ...
See the other products
DITEC

... reduction of noises. The security offered by the Fenroll 150 door, with a photoelectric cell in the girder and a safety edge in the bottom of the curtain, allow this door to be one of the surest door ...
See the other products
PUERTAS FERROFLEX SL

Height: 2,050, 1,250 mm
The sliding door can be built from our mesh, polycarbonate or steel panels to fit your chosen machine guard system. You can use any of the panel heights 1250 mm or 2050 mm in up to 5 witdhs as standard. ...
See the other products
TROAX

The Single-Person door B620 allows the user to enter a small compartment, reducing the risk of the passage of more than one person. A check system prevents the door from re-opening when it has not been ...
See the other products
BOLLORE PROTECTION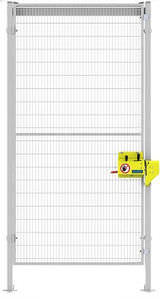 Width: 700 mm - 1,500 mm
Height: 1,250 mm - 2,200 mm
... , posts and door kit for assembly on site. The consumer can select the lock for their door in accordance to the risk assessment. The doors are available with a cylinder lock, magnetic ...
See the other products
TROAX