The Online Industrial Exhibition
{{#pushedProductsPlacement4.length}} {{#each pushedProductsPlacement4}}

{{#if company.requestButtonsVisibility.requestButtonQuestion == "ACTIVE"}}
{{elseif company.requestButtonsVisibility.requestButtonWhereToBuy == "ACTIVE"}}
{{/if}}
{{product.productLabel}}
{{product.model}}
{{#each product.specData:i}} {{name}}: {{value}} {{#i!=(product.specData.length-1)}}
{{/end}} {{/each}}
{{{product.idpText}}}
{{#if product.newProduct}} {{/if}} {{#if product.hasVideo}} {{/if}}
{{/each}} {{/pushedProductsPlacement4.length}}
{{#pushedProductsPlacement5.length}} {{#each pushedProductsPlacement5}}

{{#if company.requestButtonsVisibility.requestButtonQuestion == "ACTIVE"}}
{{elseif company.requestButtonsVisibility.requestButtonWhereToBuy == "ACTIVE"}}
{{/if}}
{{product.productLabel}}
{{product.model}}
{{#each product.specData:i}} {{name}}: {{value}} {{#i!=(product.specData.length-1)}}
{{/end}} {{/each}}
{{{product.idpText}}}
{{#if product.newProduct}} {{/if}} {{#if product.hasVideo}} {{/if}}
{{/each}} {{/pushedProductsPlacement5.length}}

electrical network analyzer
20 - 40 kHz | WCA Lite
Basic FFT analysys function Time function Sectrum Auto-power spectrum Power spectrum density function Transfer function (H1) Coherence function 1/1, 1/3 octave

combustion analyzer
WDG 1200 / 1210
"A highly flexible range of high-precision flue gas oxygen analysers developed specifically for combustion analysis and control applications. Using AMETEK's industry-proven zirconium oxide sensor technology, the WDG-1200/1210 ...

electrical network analyzer
MAP Enerdis
These MAP analyzers are designed for tasks such as HV-MV-LV parameter measurement and analysis, data processing and measurement capture. They record data and provide a comprehensive and detailed continuous analysis of ...

... noise, moisture and dust. The minimal power requirements of the Fox-IQ combined with its compact design offer easy and fast integration of new and existing operations.

metal analyzer
Q8 CORONADO
Q8 CORONADO, a user-friendly analysis automation with unmatched reliability, small footprint, simple maintenance, and low operational costs. Q8 CORONADO is a fully automated metal analyser. Just enter the sample, register on the touchscreen ...

oxygen analyzer
ZR22/ZR402 series
Zirconia Oxygen Analyzers from Yokogawa are efficient devices that assist in the monitoring and control of combustion of materials in industrial applications. While monitoring the combustion, these analyzers ...
See the other products
YOKOGAWA Europe

oxygen analyzer
ZR22/AV550G
The industry leading ZR22 in-situ type Zirconia detector provides dependable and accurate oxygen measurement. Available in lengths from 15 cm to 5.4 meters, the ZR22 can be used in process temperatures up to 700ºC (up to 1871ºC with our ...
See the other products
YOKOGAWA Europe

process gas analyzer
MG8E
... MG8E paramagnetic oxygen analyzers utilize the paramagnetic property of oxygen to measure its concentration. With a new magnetic flow ratio method, they achieve higher performance compared to conventional analyzers. ...
See the other products
YOKOGAWA Europe

On-Line TOC Sensor with Flow Control The 4000TOCe on-line TOC sensor with flow control provides continuous, fast and reliable monitoring of TOC levels from post RO waters to point-of-use. Continuous ...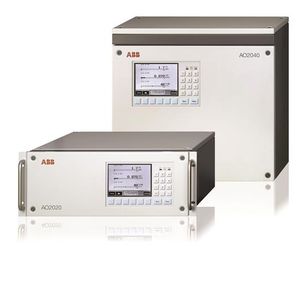 process gas analyzer
Advance Optima AO2000
... require test gas cylinders. – Photometers – In-Situ Laser Analyzer – Oxygen Analyzers − Trace Oxygen Analyzer – Thermal Conductivity Analyzers – FID Analyzers Multiple ...
See the other products
ABB Measurement & Analytics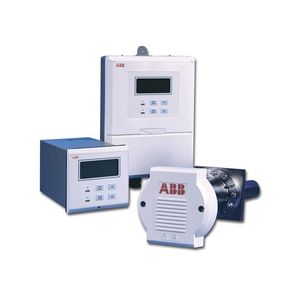 ... zirconia oxygen analyzer AZ100 is designed primarily for small gas- and oil-fired boilers in industry, power, hospitals and ships. It is also used for inert gas generators and oxygen enrichment applications. Overview The ...
See the other products
ABB Measurement & Analytics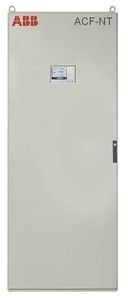 ... O2, TOC and NMHC (other gases on request) Maximum 12 measuring components (standard), simple upgrade on request Proven hot wet extractive measurement technique High stability, accuracy and reliability through proven FTIR ...
See the other products
ABB Measurement & Analytics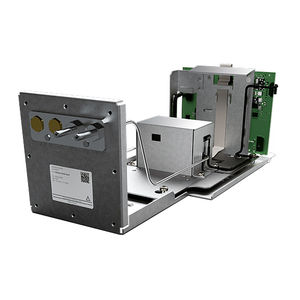 carbon dioxide analyzer
SIPROCESS GA700 CALOMAT 7
The CALOMAT 7 analysis module is primarily used for determining the amount of H2 or He in binary or quasi-binary gas mixtures. Other gases can also be measured, such as Ar, CO2, CH4. Thanks to temperature control, the module operates ...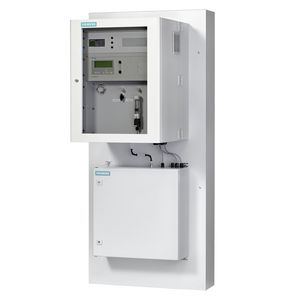 ... engineering, installation, training, and maintenance. The Set BGA measuring system consists of the four component ULTRAMAT 23 gas analyzer with selectable equipment and I/O components (basic equipment) as well as additive ...

electrical network analyzer
PQM II
Using the 4 switch inputs that allows to control functions to be added for specific applications. A power quality meter which is complex and an ideal choice when continuous monitoring. The PQM II provides metering for power factor, cost ...

total hydrocarbon analyzer
Baseline 9000 THA Series
... low range version and up to 100% as methane on the high range version. The analyzer has a generous complement of analog, digital and logic output capabilities. The analyzer is based on a flame ionization ...

metal analyzer
HAVER SOLO M4
The HAVER SOLOM4 is used for automating size and shape analysis on conveyor belts. It is for all unconsolidated materials and can be used very flexibly thanks to its compact and robust design. Space requirements are minimal and intervention ...

particle analyzer
HAVER CPA 2-1 ONLINE
... reliable solution when it comes to computerized online particle analysis. The modules of the particle analyzer are compactly designed and can be integrated almost everywhere. It is also always possible ...

electrical network analyzer
QUBO 96
... backlight setting the meter is easy readable even to at large distances and with all light conditions. New QUBO 96 analysers are available with the following communication interfaces: - Modbus RTU - Profibus ...
See the other products
FRER

electrical network analyzer
QUBO 96H
Multifunction network analysers suitable for three-phase, three or four wires unbalanced load systems. The QUBO 96h version performs also "advanced" measurements, which allow a very efficent monitoring and provide additional ...
See the other products
FRER

AC energy network analyzer
QUBO 96 MONO
Multifunction network analysers suitable for single phase systems. It displays the main electrical measurements of an electrical network, including active and reactive energy counting. Moreover it performs and displays ...
See the other products
FRER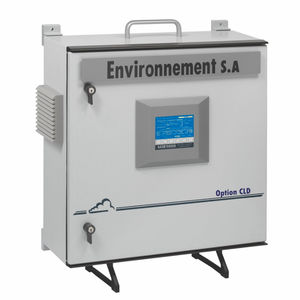 oxygen analyzer
MIR 9000CLD
MIR 9000 is a multi-gas Non Dispersive Infra-Red analyzer, using the Gas Filter Correlation technique (GFC). MIR 9000 CLD includes a built-in chemiluminescence module for the measurement of low to ultra-low concentration ...
See the other products
ENVEA (ex Environnement S.A Group)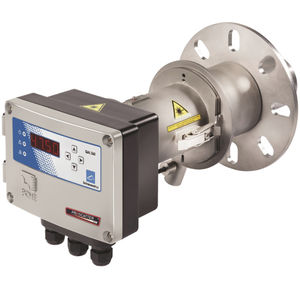 The QAL 260 series is suitable for measuring dust concentrations in Combustion, Incineration and other industrial stacks and is compliant with EN 14181. Having a 0-15 mg/m³ certification range, the QAL 260 sensor can be used at low or ...
See the other products
ENVEA (ex Environnement S.A Group)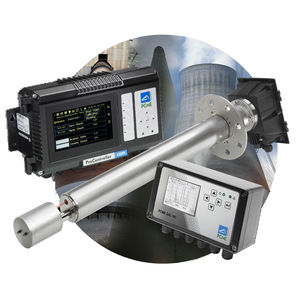 particle analyzer
PCME QAL 181
The PCME QAL 181 is an approved Particulate Continuous Emission Monitor (CEM) providing high quality emission measurement for low dust concentrations from industrial processes, especially in Incineration, Power Plant and Cement Kiln applications. ...
See the other products
ENVEA (ex Environnement S.A Group)

electrical network analyzer
PQM-701Z
ANALYZER MEASURES AND RECORDS ACCORDING TO THE EN 61000 - 4-30 CLASS-A STANDARD The device is designed to work with networks with nominal frequency 50/60 Hz. The device is designed to work with networks with nominal ...
See the other products
Sonel S.A.

electrical network analyzer
PQM-703
... 61000 for class A analyzers. This applies to measurement accuracy, measurement methods, and synchronization of time with a standard signal. The last condition is met with a built-in GPS module with an internal antenna. ...
See the other products
Sonel S.A.

electrical network analyzer
PQM-700
The PQM-700 is a power quality analyzer engineered by Sonel. It measures and records in compliance to IEC 61000-4-30 class S standard. The analyzer can be used in all types of networks with a minimum ...
See the other products
Sonel S.A.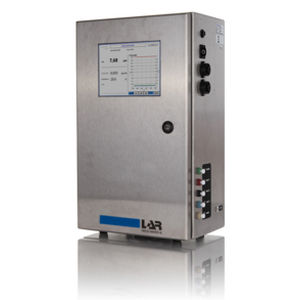 water analyzer
QuickTOCtrace
The TOC analyzer QuickTOC®trace from LAR Process Analysers is especially designed for the determination of lowest organic concentrations in ultrapure water. By means of UV oxidation and ...
See the other products
LAR Process Analysers

The Elox100 of the LAR Process Analysers AG is an online COD analyzer for the determination of chemical oxygen demand (COD) in waste water treatment plants or in the process industry. Elox100 Features ...
See the other products
LAR Process Analysers

... Benefits Reducing material consumption of the analyzer and therefore reducing the operating costs Closable Housing is functioning as a container for reagents Install underneath or at the wall near the analyzer
See the other products
LAR Process Analysers

... Arthur Grillo GmbH, is a flue gas oxygen (O2) analyzer. The transmitter works with a zirconia probe for O2 determination, and with a resistance thermometer Pt 100 for thermal determination. The analyzer ...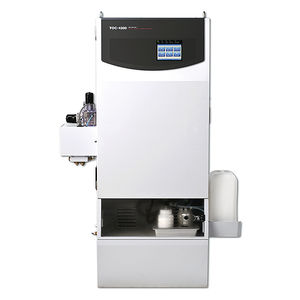 total organic carbon analyzer
TOC-4200
... component an on-line TOC Analyzer that is suitable in a wide range of applications. It is based on the proven 680°C catalyst-aided combustion technology. Its applications includes the powerful oxidation ...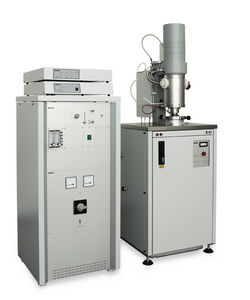 gas analyzer
0.1 - 2 000 W/mK, max. 2 800 °C | LFA 427
The FA 427 is a laser flash apparatus/pyrometer version for temperatures up to 2,800 C. When it comes to the characterization of the thermal transport properties of a component or material, thermal diffusivity and thermal conductivity ...

solids analyzer
STENOGRAPH
For MDF boards, the raw density profile has a decisive influence on the panel quality. For the economic production of wood based panels, this parameter is essential and needs to be monitored and optimised. The GreCon Raw Density Measuring ...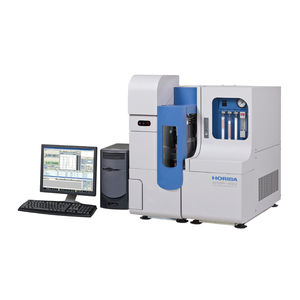 The EMGA-930 O/N/H Analyzer is ideally designed with a modern and sophisticated finish to enhance the device's features and functionality. It is considered as the latest flagship model for several O/N/H analyzers ...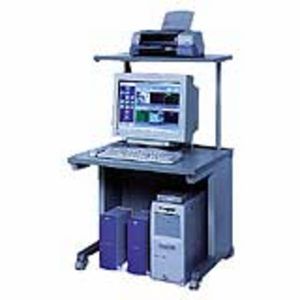 X-ray fluorescence analyzer
EX-250/350/450
Overview EMAX ENERGY combined with SEM is an energy dispersive X-ray analyzer which is suited for foreign material and composition analysis. It matches the samples in many applications. Analyzer is ...

... measurement requires the fulfilment of two key criteria: reliable and robust analyzer measurement technology reliable and robust process interfacing to guarantee that the analyzer measures representative ...

grease analyzer
MM710e series
The MM710e uses precision NIR (near infrared) technology to make a continuous non-contacting measurement of the moisture content. The MM710e On-Line Food Moisture Gauge is designed to help food processers optimize their process by providing ...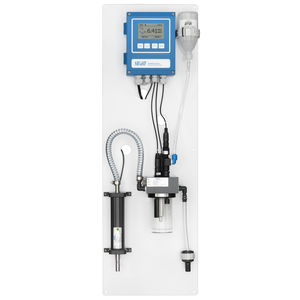 ammonia analyzer
AMI ISE Universal
You can use this product for applications such as continuous measurement for Ammonium, as well as Nitrate in potable water. In addition to being complete, this system can be mounted on PVC panels, with the transmitter included in the ...
See the other products
Swan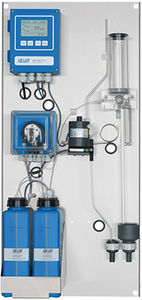 water analyzer
AMI Codes-II O3
... assures integrity of measured data Your benefits Straight forward instrument set-up and qualification allows rapid plant integration Save time due to easy maintenance and no running-in time after maintenance Confidently ...
See the other products
Swan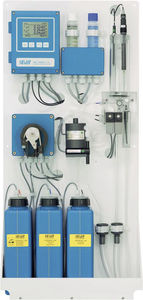 chlorine analyzer
AMI Codes-II TC
Swan's Analyzer AMI Codes-II TC is a colorimetric process analyzer used for the measurement and dosing control of total chlorine and calculation of dichloramine. The instrument's measurement time tc1 ...
See the other products
Swan

... Analysis cycle takes 20 min including Automatic cleaning of the system Release of laboratory personnel Ash color turbidity analyser SCHMIDT + HAENSCH has developed modular, computer aided automated laboratory systems, ...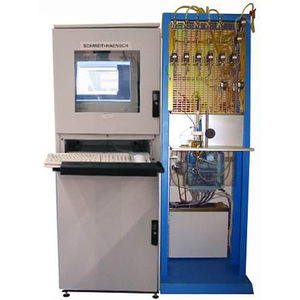 liquid analyzer
analysator
... the factory. The automatic on-line Ca++ analyser system measures and calculates the Ca++ contents of thin juices by means of a complexiometric titration. The active decalcification column will trigger the analyser ...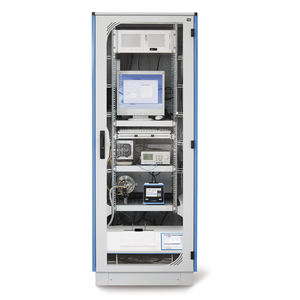 ... work On-line purity analyser The automatic purity analyser is the first system worldwide capable of online measurements of sugar factory juices. Samples out of continuous sugar production will be taken ...

oxygen analyzer
ZKMA ZKMB
Fuji Electric zirconia oxygen gas analyzers are widely used; not only in industries of high energy consumption (such as steel, power, petroleum/petrochemicals, ceramics, paper/pulp, food, and textile industries) but also ...
See the other products
FUJI ELECTRIC France

laser analyzer
ZSS-D; ZSS-S
... single beam analyzer (ZSS-S) ZSS is installed directly on the flue pipe where target gas flow to be measured. Preparation is not required for measured gas to be introduced to the analyzer ( which is ...
See the other products
FUJI ELECTRIC France

process gas analyzer
ZPAF BIOGAZ
ZPAF gas analyzer can simultaneously measure the concentration of CH4, CO2, H2S and O2 components in the biogas. ZPAF provides high-stability and ease-of-maintenance incorporated into a space-saving design. CH4 and ...
See the other products
FUJI ELECTRIC France