How to choose this product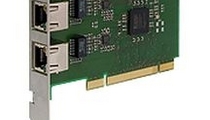 Interface cards are computer cards fitted either internally, on a motherboard bus (PCI, ISA, etc.) or externally on a peripheral bus such as a USB. They can extend existing functions (especially communications and network) or allow access to new ones. More generally, interface cards are used to functionally link together two distinct entities.
Applications
Interface cards provide gateway functions and allow computers or similar devices to communicate via an as-yet unavailable communication protocol. They can provide inputs and outputs for data acquisition and allow different types of communications between a computer and its environment.
Technologies
Regarding communication functions, models exist for every standard and professional bus type: PCI express, PC/104, compactPCI, with PROFIBUS protocols, CAN bus, Gigabit Ethernet, via serial links, wireless communications networks, in imagery or in command-control. Interface cards can be equipped with processors and memory units.
How to choose
The card's operational velocity will be the main element to consider.