How to choose this product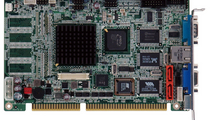 An ISA (industry standard architecture) bus is an expansion subsystem for the addition of cards within a computer. This PC norm is dated, but is still used where data transfer requirements are modest.
Applications
The ISA bus continues to be used in certain industrial processes that do not require high date transfer rates. It is inexpensive and can be used in older systems.
Technologies
The first ISA buses were eight-bit, while today's versions are 16 bits wide. Clock speed is 8.3 MHz, with a theoretical maximum output of eight MB per second. The card's male connectors are printed on both sides of one of the long edges and fit into a slot on the motherboard. The 16-bit version has 36 additional pins added to an extension of the 62-pin, eight-bit version.

The EISA bus is a 32-bit version running at the same clock speed. The connector has two rows of contacts. The 90 additional contacts of the first row fit into the bottom of the slot, while the second row occupies the same position as the ordinary ISA. Thus, EISA slots can handle ISA cards; improper installation is prevented via color coding, a skirt or another system.

The ISA bus is not self-configuring, but requires dedicated drivers supplied by the manufacturer. It is being replaced by the higher-performance PCI bus.
Advantages
- Inexpensive cards
Disadvantages
- Low data transfer rates.