How to choose this product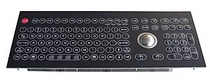 A keyboard is a human-machine interface (HMI). This essential computer input device enables its user both to enter text and other characters, and to send commands to a computer by pressing its keys. It may be equipped with a pointing device, such as a trackball, a touchpad or a joystick, and/or accompanied by a mouse.
Applications
Though keyboards are primarily intended for use with computers, they also can be found in HMI terminals, and in POS (Point of Sale) devices, in which case they are often rugged and vandal-proof.
Technologies
A distinction is to be made between standard rigid keyboards and flexible (or membrane) keyboards.

A wide range of keyboards exist for different applications: stainless steel hygienic keyboards for medical or food-industry environments, rugged or waterproof keyboards for industrial environments requiring great resistance (chemicals, corrosives, humidity, etc.).
How to choose
Intended use and environment are the paramount criteria for choosing a keyboard.