The Online Industrial Exhibition
{{#pushedProductsPlacement4.length}} {{#each pushedProductsPlacement4}}

{{#if company.requestButtonsVisibility.requestButtonQuestion == "ACTIVE"}}
{{elseif company.requestButtonsVisibility.requestButtonWhereToBuy == "ACTIVE"}}
{{/if}}
{{product.productLabel}}
{{product.model}}
{{#each product.specData:i}} {{name}}: {{value}} {{#i!=(product.specData.length-1)}}
{{/end}} {{/each}}
{{{product.idpText}}}
{{#if product.newProduct}} {{/if}} {{#if product.hasVideo}} {{/if}}
{{/each}} {{/pushedProductsPlacement4.length}}
{{#pushedProductsPlacement5.length}} {{#each pushedProductsPlacement5}}

{{#if company.requestButtonsVisibility.requestButtonQuestion == "ACTIVE"}}
{{elseif company.requestButtonsVisibility.requestButtonWhereToBuy == "ACTIVE"}}
{{/if}}
{{product.productLabel}}
{{product.model}}
{{#each product.specData:i}} {{name}}: {{value}} {{#i!=(product.specData.length-1)}}
{{/end}} {{/each}}
{{{product.idpText}}}
{{#if product.newProduct}} {{/if}} {{#if product.hasVideo}} {{/if}}
{{/each}} {{/pushedProductsPlacement5.length}}

beverage analyzer
Inline Beverage Analyzer
Next-generation inline beverage analyzers Building on more than 40 years of industry-leading expertise in the beverage industry, Anton Paar introduces the next generation of its inline beverage analyzers. Installed ...

liquid analyzer
Modulyzer Unlimited Class
... Viscosity: Lovis ME pH: pH ME Color: Lovibond PFXi from Tintometer These may be integrated using the powerful laboratory automation software tiamo™ from Metrohm. Powerful modularity allows you to set up your ...

particle analyzer
Litesizer™ 500
The LitesizerTM 500 characterizes size and stability of nanoparticles and submicroparticles in dispersions and solutions by using light-scattering. It determines particle size, zeta potential, and molecular mass by measuring dynamic light ...

laboratory analyzer
Sucrolyser
... system for sugar factories. It is used in the quality control of sugar cane as a part of pay analysis or as an extended laboratory system for multiple methods of sample preparation and chemical factory control. Depending ...

laboratory analyzer
Betalyser
The Betalyser is a computerized laboratory system for the quality control and analysis of sugar beet according to official ICUMSA methods. The sugar content estimated by polarimetric measurements is not clear evidence ...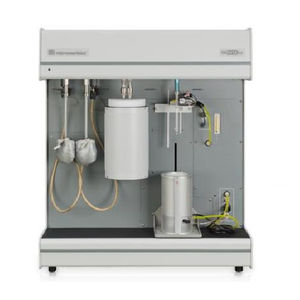 gas analyzer
ASAP 2020 Plus series
... designed to provide high-quality surface area, porosity, chemisorption and physisorption isotherm data to materials analysis laboratories with ever-expanding analytical requirements.The ASAP 2020 Plus provides maximum ...
See the other products
Micromeritics

... operated ports. Features: High Performance - High Throughput - The ASAP 2420 system is designed to help today's busy laboratories expand their work flow while providing highly-accurate and precise surface area and ...
See the other products
Micromeritics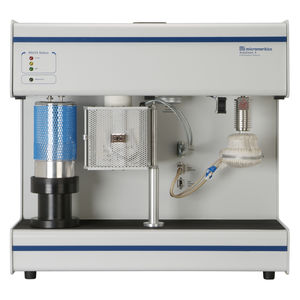 metal analyzer
AutoChem II 2920
... Catalyst Characterization System - A catalyst characterization laboratory enclosed in one cabinet. The AutoChem II 2920 is a fully automated chemisorption analyzer that can provide your laboratory ...
See the other products
Micromeritics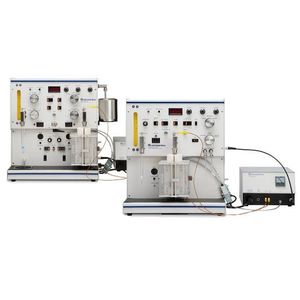 chemisorption analyzer
ChemiSorb 2720 / 2750
... system without the TPx option makes chemisorption and physisorption analyses affordable to even the most modestly funded laboratories. The instrument rapidly and accurately performs pulse chemisorption studies and surface ...
See the other products
Micromeritics

particle size analysis analyzer
Elzone II 5390
... with other particle sizing methods Low quantities of sample are analyzed accurately and easily Compact size conserves laboratory bench-space Plot overlays make comparing analysis results with those of product standards ...
See the other products
Micromeritics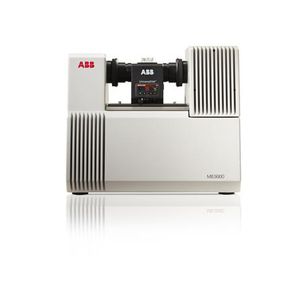 process analyzer
MB3600-CH10
The MB3600-CH10 is an FT-NIR laboratory analyzer for oil and fat applications. It uses Fourier Transform Near-Infrared (FT-NIR) spectroscopy for analyzing oil and fat products. This product is pre-measured ...

electrical network analyzer
Olympus DELTA research & discovery handheld XRF analyzers are suitable for Mg to U elemental analysis, from PPM to 100%. The devices can analyze more than 25 elements and provide quick results on the location. This ...

X-5000 Mobile XRF System has an EDXRF power and performance similar to a laboratory equipment. It is recommended for powders, liquids or solids for mobile labs or at-line incoming/outgoing material inspections. It features ...

particle analyzer
CAMSIZER X2® | 0.8 µm - 8 mm
The quality control of fine powders can be substantially improved with the new CAMSIZER X2: More precise and faster analysis of particle size and particle shape helps to improve the product quality, reduce rejects and save labor costs, ...

particle analyzer
CAMSIZER P4 | 20 µm - 30 mm
... powders and granules. CAMSIZER produces results that are fully compatible with those of sieve analysis making this compact laboratory instrument the number one choice for replacing this time-consuming and error-prone ...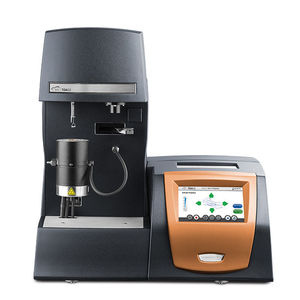 thermogravimetric analyzer
TGA 550
... position autosampler. The performance, flexibility, and ease-of-use, make this an excellent TGA for research and multi-user laboratories where a wide variety of TGA experiments are conducted, and where future expansion ...
See the other products
TA Instruments

gas analyzer
Discovery TGA series
The TGA 5500 is designed for the researcher that requires the highest level of performance and features in one package. Built to maximize temperature control and minimize drift, the TGA 5500 has less drift than any competitive TGA – even ...
See the other products
TA Instruments

thermomechanical analyzer
Q400 TMA
The Q400EM is the industry standard research-grade thermomechanical analyzer (TMA), with unmatched flexibility in operating modes, test probes, fixtures, and available signals. The 0.400EM Enhanced Mode allows for dynamic ...
See the other products
TA Instruments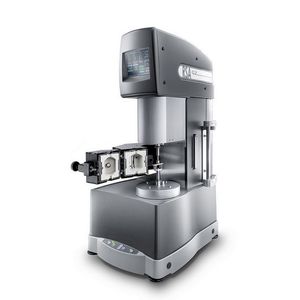 ... to the quality control lab. This new high-performance instrument represents the fourth generation of dual head mechanical analyzers, featuring a new force convection oven for precise and accurate temperature control, ...
See the other products
TA Instruments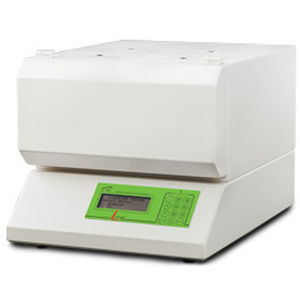 The FOX 200 Heat Flow Meter is an accurate, easy-to-use instrument for measuring thermal conductivity according to ASTM C518 and ISO 8301. Operating in standalone or PC-controlled configurations, the FOX Heat Flow Meter provides rapid, ...
See the other products
TA Instruments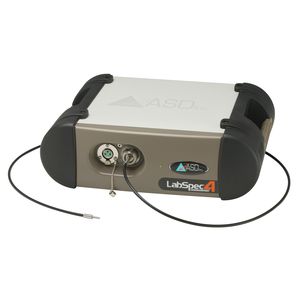 organic material analyzer
LabSpec 4 Standard-Res
The lab analyzer for fast, non-destructive analysis to optimize your workflow The 3 nm VNIR, 10 nm SWIR spectral resolution of the LabSpec® 4 Standard-Res lab analyzer is ideal for precise spectral analysis ...

organic material analyzer
LabSpec 4
... product line in a cost-effective benchtop analyzer Configured specifically for fixed-location analysis with AC power, the LabSpec 4 Bench benchtop analyzer provides all the performance of ASD's LabSpec ...

cement analyzer
CNA Pentos-Cement
... control for the cement industry The CNA Pentos-Cement is the fifth generation of the world's most advanced online elemental analyzer. Like its predecessors, it is based on the Sodern neutron technology, pulsed fast and ...

particle analyzer
NanoSight LM10
Affordable, highly flexible format with interchangeable lasers. The Malvern NanoSight LM10 instrument provides an easy-to-use, reproducible platform for nanoparticle characterization. The LM10 allows rapid and accurate analysis of the ...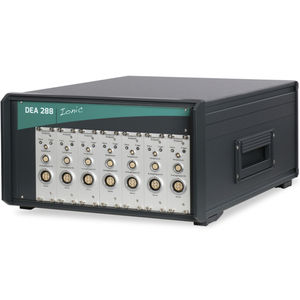 dielectric analyzer
DEA 288 Ionic
... the material. A complete dielectric analyzer consists of the DEA electronics and a sensor. Disposable sensors are connected via an adaptor box. Four models of DEA 288 Ionic are available: the regular laboratory ...

... sample matrices including food, feeds, milled products, and agricultural materials, making it a versatile solution for many laboratories. Cornerstone Mobile remote software keeps the user updated from their smartphone ...
See the other products
LECO

nitrogen analyzer
Dumas Protein Analyzer Macro (3g) | TruMac N
The TruMac N is suitable for nitrogen/protein determination in various organic matrices from foods and feeds to soils and fertilizers. Within a short span of time, the TruMac N can measure characteristically heterogeneous, difficult to ...
See the other products
LECO

nitrogen analyzer
Dumas Protein Analyzer | FP628
The FP628 by Leco is a Dumas protein nitrogen analyzer which features its performance and reliability. This assembly is composed of a hardware and software technology which is a main factor in increasing its performance. ...
See the other products
LECO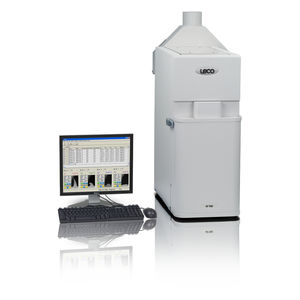 coal analyzer
AF700 | ASTM D1857 | ISO 540 | DIN 51730
... of ash cone deformation, temperatures in coal ash, coke ash, biomass ash and mold powders. The device helps in increasing laboratory throughput by means of a predefined ash fusibility temperatures such as IT, ST, HT, ...
See the other products
LECO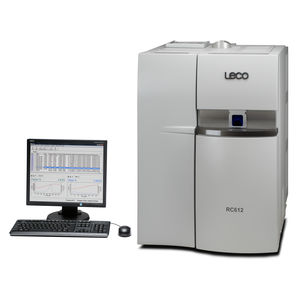 The LECO RC612 edition is a multi-phase carbon and hydrogen/moisture determinant that is engineered to analyze the carbon and hydrogen content present in various organic and inorganic samples. It is also capable of identifying the source ...
See the other products
LECO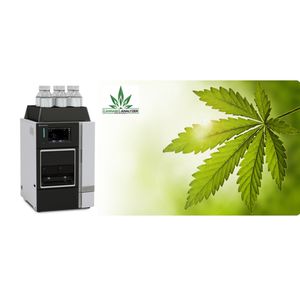 A simple solution, complete with a column, methods, batches, and reports. Allows for sample submission to reporting in just a few mouse clicks, with easy and minimal workflow for the inexperienced analyst.

amino acid analyzer
PPSQ-31B/33B
... technique for the first time, the intuitive software and robust Shimadzu hardware will make protein sequencing easy on your laboratory. Features Analysis of PTH-Amino Acids Using Isocratic Mode Performing ...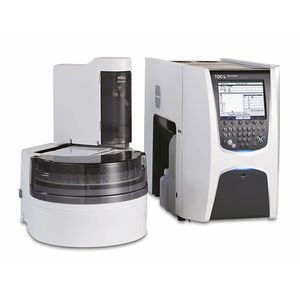 total organic carbon analyzer
TOC-L Series
The TOC-L model, manufactured by Shimadzu Europe, is a total organic carbon analyzer which is a device that adopts the 680 °C combustion catalytic oxidation method. This analyzer is built to detect a ...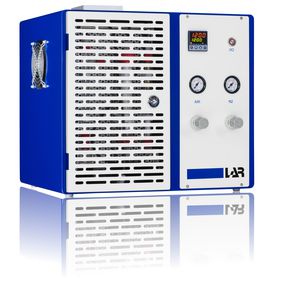 COD analyzer for laboratories LAR's QuickCODlab is a COD analyzer for the determination of chemical oxygen demand (COD) in laboratory applications. This innovative analyzer ...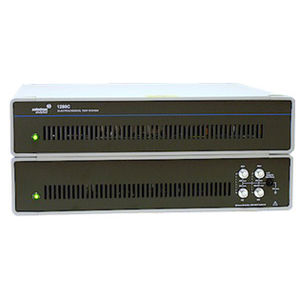 electrochemical analyzer
1280Z
... it is equally at home measuring corrosion rates on grounded oil pipelines as it is in the laboratory. For safety reasons, it is often necessary to ground laboratory equipment such as autoclaves, a major ...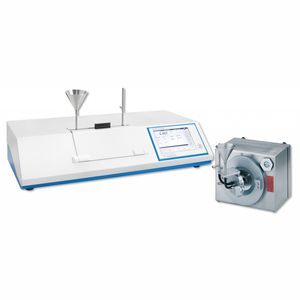 ... calculation No external PC is needed ICUMSA compliant calculation Independent use of each single instrument Purity analyser The new purity analyser system of SCHMIDT + HAENSCH is a follow-up development ...

... 20 min including Automatic cleaning of the system Release of laboratory personnel Ash color turbidity analyser SCHMIDT + HAENSCH has developed modular, computer aided automated laboratory ...

oxygen analyzer
ZKMA ZKMB
Fuji Electric zirconia oxygen gas analyzers are widely used; not only in industries of high energy consumption (such as steel, power, petroleum/petrochemicals, ceramics, paper/pulp, food, and textile industries) but also ...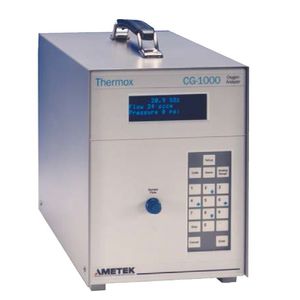 Thermox CG1000 is a portable oxygen analyzer made for industrial, and laboratory operations. It is equipped with a wide operating range from 0.1rpm to 1005 O2 in autoranging. This tool offers fast response ...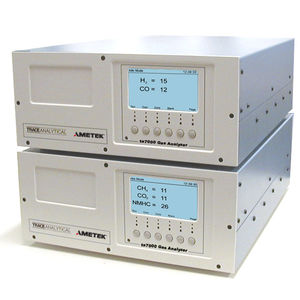 gas analyzer
ta3000 series
When it comes to bulk gas, environmental and research laboratory applications, this item is exactly what you need, especially if one of the factors of your application is the presence of trace impurities in ambient air ...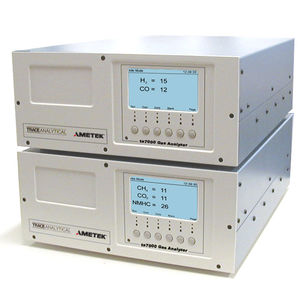 ... environmental danger. The Trace Analytical ta5000F (Flame Ionization Detector) and the ta5000R (Reduction Gas Detector) Gas Analyzers serve as a key to this problem, as they are extremely precise from parts per million ...

electrical network analyzer
TMDRA 100
... even if no real test object is available. The TMDRA 100 can be used to perform two-channel measurements on-site or in the laboratory, and is directly connected to the DIRANA. With dimensions of only 30 x 65 x 115 mm ...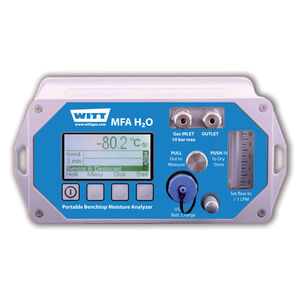 ... accuracy with greater cost-effectiveness make the instruments a technological leader. The Laboratory and Process Control applications for the moisture analyzers meet the needs of a wide range of industries: ...

The CG1000 is a compact oxygen analyzer that is specially developed to be used in numerous industrial and laboratory operations. It is integrated with a broad operating range of 0.1ppm to 100%. This is ...

particle analyzer
HAVER CPA 2-1 HR
The development of the HAVER CPA 2-1 HR meets your expectations for efficient measurement of even finest powder in laboratories and guarenteed a measuring range from 10 µm to 4 mm. Combinated with a dispersion technology ...

particle analyzer
HAVER CPA 2-1
The HAVER CPA 2-1 is a laboratory unit for photo-optical size and shape analysis of dry and non-agglomerating particles of bulk material in the measuring range from 20 µm up to 30 mm. It is a base model with best cost-performance ...

particle analyzer
HAVER CPA 4-1
... its robust construction it is designed to handle large sample quantities. The user-friendly software of this device for laboratory and pilot plant works under current Windows operating systems. Right in the middle ...

particle analyzer
HAVER CPA 4 CONVEYOR
The HAVER CPA 4 CONVEYOR can be used in the laboratory or pilot plant and has been designed with a conveyor. In particular longish particles in the measuring range from 96 micron to 220 mm are separated to avoid incorrect ...

water activity analyzer
HygroLab C1
The HygroLab C1 by Rotronic AG is a Water activity analyzer which is designed for measuring water activity that uses a four probes. The probes are used for measuring water activity in certain materials such as cheese, ...

water activity analyzer
HygroPalm - HP23-AW-A
... product stability and indicate shelf life. The HP23-AW-A is suitable as a mobile laboratory unit. Equal to the HygroLab C1 the HP23-AW-A is perfect as a portable analyzer with two probe inputs for any ...