How to choose this product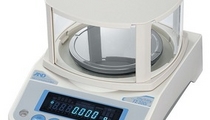 Laboratory scales are designed for the laboratory environment. They include features such as counting, percent weighing, specific gravity and totaling that are commonly required in laboratories.
Applications
Laboratory scales include certain functionalities that are specifically intended for laboratory applications. They can measure the relative humidity of a substance by weighing it before and after drying in an oven. They can also perform percentage weighing for mixtures or ingredients for certain chemical experiments.
Technologies
Most laboratory scales are protected to a certain degree against the incursion of oil, water, moisture, dust and harmful chemicals that might damage internal parts.
How to choose
Make sure to specify all the functions you would like your laboratory scale to perform when asking for a quote. Also, be sure to specify the required scale capacity and resolution, and the weight and size of your weighing samples.