How to choose this product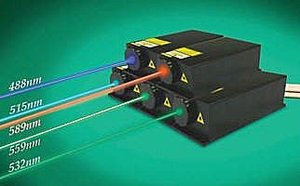 A laser is a light source (UV-visible-IR) emitting a focused beam of temporally and spatially coherent light.

Lasers are composed of a gain medium that can be solid (crystal, diode), gaseous or liquid (dye lasers). The gain medium generates and amplifies photon-emission.
Powered by an external energy source, an optical or electronic pumping source (flash lamp, diode, etc.) generates photons through stimulated emission. The photons' narrowly-defined frequency determines the laser's wavelength.
Applications
The numerous industrial laser applications depend on their properties. Lasers generate localized energy that can melt materials (welding, cutting, piercing, ablation, localized fusion, etc.). Operating mode (pulsed/continuous) and limited pulse duration (femtoseconds) further increase emitted energy.

Telecommunications lasers can transmit information over long distances without data loss and without being affected by electromagnetic disturbances. Lasers also are used as highly-coherent light sources in spectrometers.
Technologies
Lasers are categorized by the optical cavity gain medium. Common categories are:

- Solid-state lasers (Nd:YAG crystal lasers, diode lasers, DPSS lasers, among others)
- Gas lasers (excimer, CO2, HeNe, etc.)
- Liquid lasers (dye lasers...)
- Active optical fiber lasers

Lasers can also be categorized through particular properties: femtosecond lasers, pulsed lasers, terahertz lasers...
How to choose
Laser choice depends on the application and required power level.