How to choose this product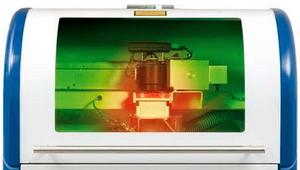 Laser engraving and laser marking refer to the same process using a laser beam to engrave or mark an object. The machine concentrates beam energy at a single spot on the object corresponding to the beam's optical focal point. The laser's light energy is converted to heat where it strikes the surface, vaporizing the material.
Applications
Such devices are used in numerous domains including jewelry and cutlery making, the personalization of possessions and on production lines to mark objects with lot numbers or expiration dates.
Technologies
The effectiveness of the process depends on the interaction of the laser and the material to be engraved. Wood and other natural materials, plastics, metal and most other substances present no problems. However, stone, glass and certain other materials do not vaporize easily. In this case, the laser fractures the surface, detaching small bits.

These machines operate rapidly and can create very fine detail. This reliable, non-contact process involves no moving parts which might injure the operator. Marking takes place in a closed chamber form which the vaporization fumes must be extracted through a filter.
Advantages
- Speed
- Precision
- Productivity