How to choose this product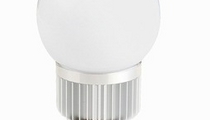 An LED light bulb uses one or more light-emitting diodes instead of an incandescent filament.
Applications
LEDs have long been used in electronics. The recent development of high-power LEDs makes them suitable for lighting. While their current use is limited, they should eventually replace traditional filament and compact fluorescent bulbs because they avoid the disadvantages of other lighting types.
Technologies
The LED bulb produces light through the electroluminescent effect present in some semiconductors. Several LEDs must be grouped to produce a sufficiently powerful light bulb.
How to choose
The LED bulb is chosen on the basis of its socket type and light output. The traditional luminosity scale used for incandescent or compact fluorescent bulbs is not applicable to LEDs. Manufacturers indicate the power consumption, brightness in lumens and an incandescent output equivalent.
Advantages
- Efficiency
- Longevity
- Instantaneous start
- Color range and temperature
Disadvantages
- Cost
- Discontinuous spectrum
- Cold light sometimes unsuitable