How to choose this product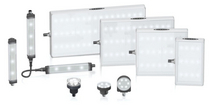 LED lighting uses light-emitting diode bulbs, which are very efficient and have an extremely long useful life. This technology reduces operating temperature and saves electrical energy.
Applications
LED lamps and ceiling fixtures are used to illuminate work areas. More powerful models are found in tunnels, warehouses and gymnasiums. Some are intended for industrial vision systems. Others are used in magnifiers, flashlights and headlamps, constituting explosion-proof illumination for the mining, petrochemical and gas sectors.
Technologies
This lighting is rated by its power in lumens or in lux, luminous flux per unit area at a given distance. Color temperature is another characteristic. To our eyes, a color temperature of 5500 K resembles natural daylight. LED lights can have a prismatic or opalescent cover to protect against glare. Some are guarantied free of flickering, infrared and UV emissions. A broad spectrum light ensures good contrast and color rendition.

LED office lights give off little heat, eliminating burn risks. More powerful units are used for public and urban lighting, including street lamps. Non-glare models are found in road and tunnel illumination. LEDs can run on direct or AC grid current. The camera lens of an industrial vision system can be equipped with an annular LED fixture.
How to choose
In addition to the characteristics mentioned above, choice will depend on power consumption, nominal bulb life and the width of the light beam.
Advantages
- Saves energy
- Long useful life