The Online Industrial Exhibition

DN: 0.5 in - 8 in
Size: from ½" to 8" Class: from 150 to 2500 Materials: carbon steel, stainless steel, duplex, super duplex, incoloy, exotic materials, bronze, titanium. Conforming to the latest NACE MR 01-75 and MR 01-03. Base material + CRA weld overlays ...

Temperature: -50 °C - 200 °C
Pressure: 20 bar - 420 bar
DN: 15 mm - 1,400 mm
Valves suitable for Oil & Gas production, processing, transportation, distribution, chemical and petrochemical refining. GENERAL CONSTRUCTION Trunnion ball valves have the obturator bounded by ...
See the other products
ERREESSE srl

FLOATING BALL VALVE TWO PIECE SIDE ENTRY Bolted closure Antistatic device Anti-blow out stem design Firesafe design Double barrier for static and dynamic seal Available with Flanged or Buttweld ends
See the other products
Cam SpA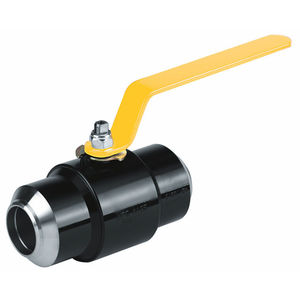 valve with butt weld ends
300 Series – Art. 320/TE - 310/TE
DN: 200 mm
Fully welded ball valve, standard model, available in the sizes up to DN 200 (8") full bore or to DN 300 (12"x8") reduced bore, PN 10÷50 or ANSI 150-300, in carbon steel with floating ball in stainless steel or nickel ...
See the other products
Negri Fratelli srl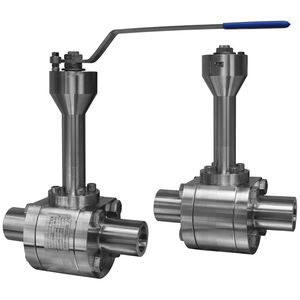 ... -Loaded Packing and Anti-Static Capable Fugitive Emissions ISO 15848 PCTFE(KEL-F), TFM, CTFM, and Metal Seats Available Valves are degreased, cleaned and packaged prior to shipping Custom Face-to-Face Lengths Available ...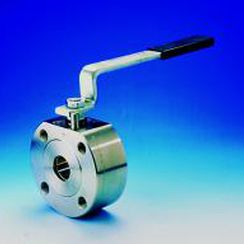 wafer valve
117/118 FB series
DN: 15 mm - 125 mm
Suitable for use in industrial chemical complexes, for gas and water distribution and food industry Body material from bar (A 105 or AISI 316) Thread ball body-cover Flanges drilled acc.to ANSI Possibility of equipment with handlever, ...
See the other products
THERMOMESS S.r.l.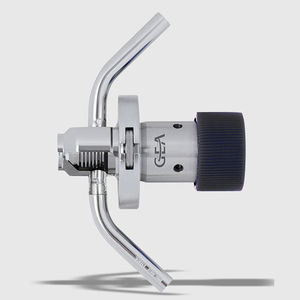 sampling valve
Aseptomag® PV
Temperature: 135 °C
Pressure: 10 bar
Aseptomag® single-seat sampling valves are used for the safe sampling in UltraClean and Aseptic processing plants. When not actuated, the internal assembly seals the valve seat in a leakage-free manner ...

Temperature: -25 °C - 180 °C
Pressure: 64 bar
DN: 0.25 in - 10.5 in
Full bore stainless steel ball valve Nominal pressure: PN 64 Working temperature: -25° C. / +180° C.
See the other products
Valvo Robica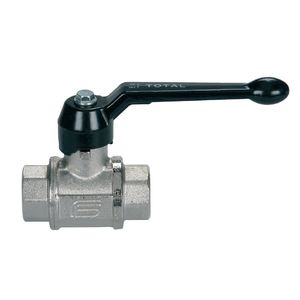 Temperature: -20 °C - 130 °C
Pressure: 40 bar - 100 bar
DN: 6 mm - 80 mm
... request NPT and BSPT. Operation devices: Aluminium lever, aluminium T-handle, square cap, underground adaptor, lockable sealing cap from 3/4". Available colours: black, red, yellow. All the valves ...
See the other products
EFFEBI

DN: 50 mm - 300 mm
Use : Intended for the division of corrosive, aggressive fluids and high purity. Body shape : Wafer
See the other products
INTERNATIONAL FLUIDES CONTROLES

Pressure: 10, 16 bar
DN: 50 mm - 600 mm
KBL is pleased to offer top-of- line product in pipeline flow control. Kirloskar wafer and lugged Butterfly valves have been developed with extensive application, design and manufacturing expertise. These products are ...

floating ball valve
AOP CB, DB series
Pressure: 1,500 psi - 5,000 psi
DN: 40 mm - 100 mm
... floating ball valves have a two-piece body and bolted construction that allows for disassembly on the job site for easy service and repair. AOP Series CB floating ball valve bodies are constructed of ...
See the other products
CAMERON VALVES

Pressure: 16 bar - 25 bar
DN: 80 mm - 900 mm
The valve is desinged for heavy duty industrial applications, for shut off and modulating service.

Temperature: -20 °C - 50 °C
Pressure: 300 bar
DN: 4.8 mm
Application: High flow and high pressure valve used for CNG applications, instrumentation, hydraulic and pneumatic pipes, control panels, moderate vacuum systems, chemical research and gas analysis. Key Advantages: ...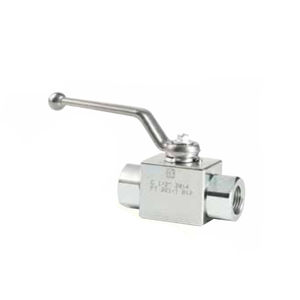 Pressure: 500 bar
DN: 0.25 mm - 2 mm
Two-way ball valves for high pressure up to 500 Bar ( depending on the size ) available in sizes from 1/4" to 2"
See the other products
F.lli TOGNELLA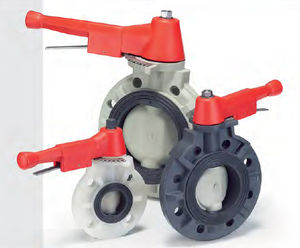 DN: 50 mm - 200 mm
... is a lever handle-type butterfly valve complies with the JIS, ANSI, and DIN standards. The body of the unit is available in either UPVC, PP, PPG, PVDF, and CPVC. The disc of the valve ...
See the other products
Shie Yu Machine Parts Industrial Co., Ltd.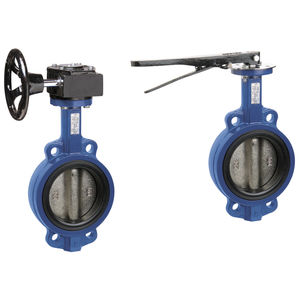 butterfly valve
4020/4025/4029
Temperature: -10 °C - 110 °C
DN: 1.25 in - 24 in
... or stainless steel discSeat in EPDM (NBR also available for steel disc version)Available in the following versions:● with lever (lockable in both open and close position)● with manual gear● with CUTTER (DN≤200) or CUTTER-XL ...
See the other products
VIR

Temperature: 20 °C - 150 °C
Pressure: 0 bar - 20.7 bar
DN: 0.25 in - 2 in
See the other products
SBU - Sociedade Brasileira de Usinagens Ltda.

See the other products
Sumake

... with .040 thick coating. Valve body can be supplied with translucent armoring. 6" lever handle.

ball valve
8150996x series
Pressure: 4,568, 5,800, 7,250 psi
Specification:• Steel construction• Steel ball• POM ball seat• BUNA-N stem seal• Max pressure: 5,000 PSI
See the other products
Intradin (Shanghai) Machinery Co., Ltd.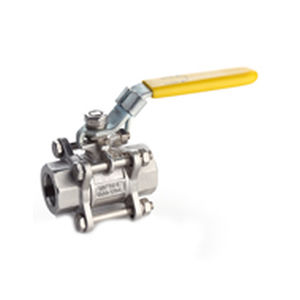 DN: 15 mm - 50 mm
Pennant ball valves have been designed for long life, economy, ease of operation and, above all, safety. The design offers safety features because it does not allow the seal to get squeezed and break due to line pressure ...
See the other products
Pennant Engineering

Description Robust chemical valve with clip seal Stainless steel spindle for reliable power transmission Additional, double shaft seal Hand lever with practical locking function O rings included in the ...
See the other products
DAB Technology Pte. Ltd.

Temperature: -20 °C - 80 °C
Pressure: -1 bar - 20 bar
DN: 0.125, 0.25, 0.375, 0.5 in
See the other products
SENGA